How to Install and Setup WordPress Stats Plugins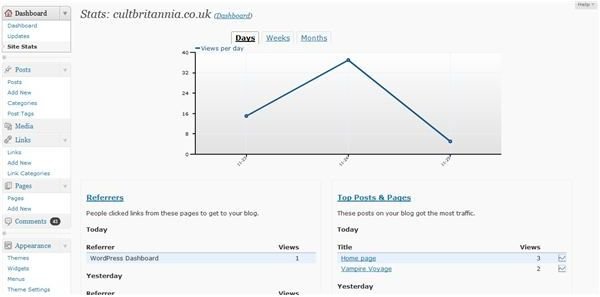 What is a WordPress Stats Plugin?
Running a blog can be a cathartic exercise in self-expression, a project driven by a desire to succeed, an example of enterprise, or anywhere in between. There is only one way to judge how you connect with your audience, however, and that is via the comments section. This can often be hit and miss, particularly in the early days.
Thanks to various tools that are available for free you can measure exactly who your audience is as well as determine what sort of posts strike a chord and get the most responses. These are generally known as WordPress stats plugins, and can be installed with the minimum of fuss from your WordPress blog dashboard.
Installing Plugins
Before you find and identify a plugin, a quick word on installing them. There are two ways, one is via the WordPress Dashboard and the other is to download the plugin from the WordPress.org website and then upload to the wp-content/plugins directory on your server. If you run a hosted blog at WordPress.com, then only the first option is available to you.
To install via the dashboard, go to Plugins > Add new and search for the plugin you want. Check compatibility with your version of WordPress and use the Install button. Follow the displayed instructions and then once installed, click Activate to begin using the plugin.
To install following an upload to the wp-content/plugins directory, go to Plugins > Installed and browse the list to find the new plugin. Click Activate to begin using the plugin.
For more details on this, see How to Install WordPress Plugins.
Best WordPress Stats Plugins
You cannot move in the WordPress plugins library for code to help you few your blog stats, but there are three WordPress stats plugins that I would recommend, either in conjunction or separately.
Note that these aren't the only solutions; in fact you don't even have to use a WordPress plugin to view your blog's stats as Google Analytics can provide the same service.
What these plugins will do is integrate your viewing of your stats with your WordPress blog dashboard, thereby making the experience of checking stats more convenient.
WordPress.com Stats
This is sort of the "official" plugin for WordPress blogs requiring statistical information on how often they are visited, what posts are most popular and the referring websites.
If you choose this plugin note that you will have to register with WordPress.com to get an API code if you don't already have one – usefully, WordPress.com Stats are collected offsite in order to reduce load on your server.
A WordPress API is also used for the Akismet anti-spam tool, so if you have this plugin running you can use the same code.
WP-Stats-Dashboard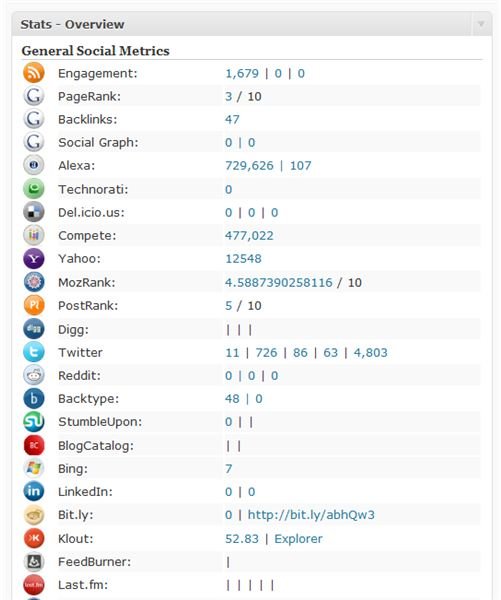 Like WordPress.com Stats, the WP-Stats-Dashboard can be viewed directly from your blog's Dashboard, and offers a huge variety of metrics from standard post views (again using the API) to listing your blogs popularity based on sites like Twitter, its Google PageRank and much more.
WP-Stats-Dashboard provides a much wider look at the web and how your blog is viewed in the wider world than a set of visitor stats ever could.
WP SlimStat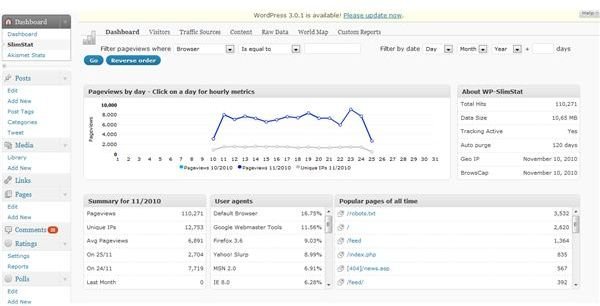 Currently my favourite WordPress stats plugin, this takes the basic but useful information provided by the WordPress.com stats and basically runs with it in every direction you can think of! WP SlimStat enables you to view pageviews by day, drill down for hourly stats and view popular page stats and keywords being used to visit your site.
Unlike the other two plugins, WP SlimStat doesn't require a WordPress.com API to run, although it will be using your server resources to collate data.
(Images by author)