Top 5 Web Button Makers with Animation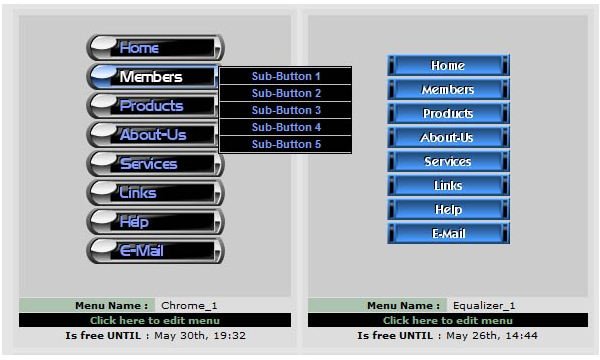 Need Animated Buttons for Your Web Site?
If you're not a graphics guru you may think you need to go without buttons on your website. But what happens when you get tired of the same old text links in your side bar? What happens if you want to try something new? You could always use Adobe Illustrator to create your own beveled buttons. But if you don't have the time or the money to purchase Adobe Illustrator, there are now hundreds of websites that offer web button generators for you choose from. In this article you'll get to see five great websites that can help you generate a button or menu for free with just a few clicks!
ButtonGenerator
ButtonGenerator is a great website for those looking for free website buttons and free website menus with eye-catching effects and hundreds of different styles. They include a button generator as well, allowing you to create specific buttons at a moments notice. They also offer a year subscription for just under USD $20, so you can take advantage of menus that aren't free for public use yet. Without the subscription, you are somewhat limited to what buttons may be available, but it is always worth it to check when the buttons or menus you would like will become free to use. They also require that you place a link back to their website from yours.
Cool Text

Cool Text is another website that provides a button generator, as well as logos, fonts, and graphics. However, their choices of buttons are somewhat limited. The buttons don't have much on-click animation and there are no menus that can be generated on this website. You get a total of five different button designs which you get to customize both font and color for each and any button you choose. Cool Text has no special terms of usage, which means that you can use any of the things you generate on their website in whatever way you want and you do not have to ask for their permission.
GRsites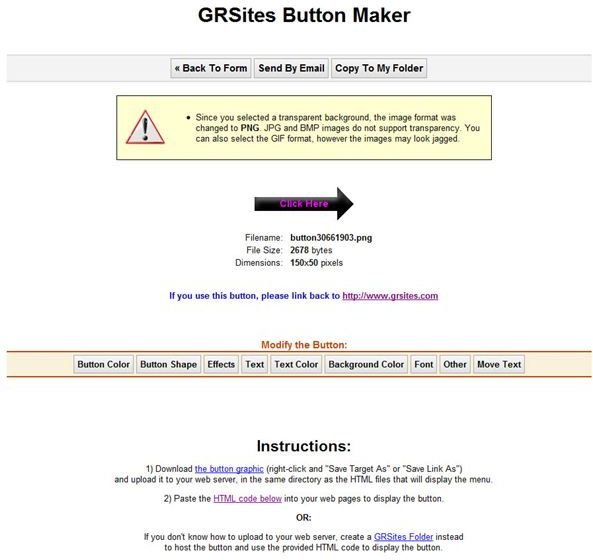 GRSites offers not only buttons, but menus, background textures, 3D text logos, and custom text boxes as well. You get a decent amount of button and menu templates to choose from, and several include animation and on-click animation. They include step by step instruction on how to insert the menu code into your website, as well as provide all the images in a handy zipped file. Free users are limited to the size of the buttons they can create, but GRSites does not limit your usage of anything you create on their website.
The Free Web Stuff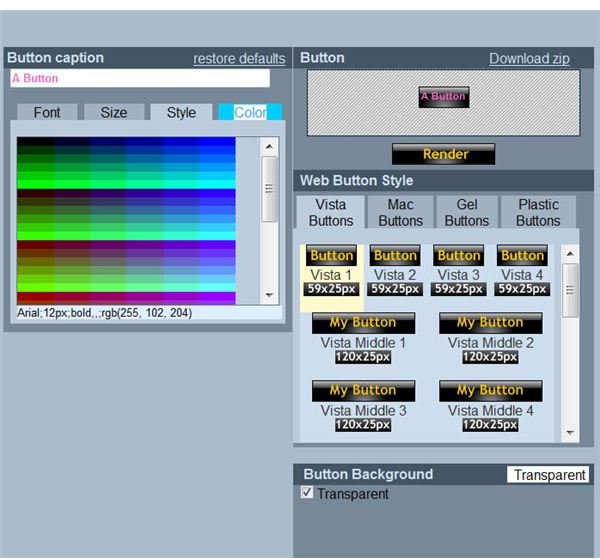 The Free Web Stuff offers quite a few preset options that all have a nice, subtle on-click animation. You get to choose the color of your buttons as well as the font and size of the button. They include the option to download the zip file containing your button images and HTML code. All the buttons generated on The Free Web Stuff is 100% free and have no special usage rules. Anything you create on on The Free Web Stuff is yours to use wherever you want, as much as you want.
Hoover Web Design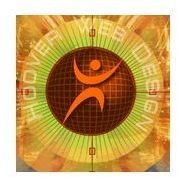 Hoover Web Design offers several different free website button generators, including animated buttons, dynamic buttons, 3D buttons, and even rollover buttons. The designs of the buttons are similar to that of classic Windows message box buttons, or those used for text fields on internet forms. They even offer the ability for you to upload your own images and turn them into buttons. Hoover Web Design has no special usage terms, all the buttons you create on their website are completely free for you to use.