Simple Free CSS Templates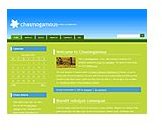 What is a CSS Template?
CSS (Cascading Style Sheets), in essence, is a style sheet language that can easily change the formatting and overall look of a web page. Written in either HTML or XHTML, these sheets can give both professional designers and the average web user a simple way to make creative and beautiful web pages.
If you are looking to use a more Web 2.0 style, the professional web designers have the knowledge to really make those CSS pages stand out. Here we are going to take a look at some great looking and simple to implement CSS pages that are being offered for free from professional web designers.
For more information on web development templates check out, Creating Dynamic Web Templates in Microsoft Expression Web and Free Business Web Template Designs.
Professional freecsstemplates.org
The site freecsstemplates.org, created by node thirty three design (n33) has an extensive selection of CSS templates. All four hundred and twenty-two free templates are available for download in .ZIP format and range from simple fixed width design to fluid width that can be made widget ready.
Each template that n33 has created is labeled with its own design name and is offered with a preview option to check out the template before downloading. To the left you can see a preview of the chasmogamous template. To check out all of the free templates that n33 has to offer visit: www.freecsstemplates.org
Spyka Webmaster Templates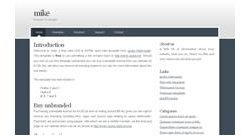 The spyka Webmaster group has also designed simple free CSS templates that are available for download. This UK based web design company is continually working with CSS design and is offering thirty-six different templates for free with a link back to the designer's site. Users do have the option of buying out the template if they do not want to include the link back.
The template that you see to your left is one called Mike and is based on clean simple lines with a monochromatic color design. To view all of the CSS templates that spyka has to offer, visit their site at: www.spyka.net
Rambling Soul Templates

Rambling Soul is the creatively named business for web designer Roshan. Through this site, he has created various color themed CSS templates. All are in XHTML and are Web 2.0 compliant. Each template comes with instructions in the download and Roshan is available should you have any issues implementing the template.
To the left is a thumbnail of the Reinvent CSS template. To check out all of the free CSS templates that Roshan has created, visit his web site at: ramblingsoul.com
Viklund Templates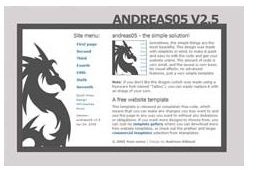 Andreas Viklund is a multi-faceted web designer, musician and writer from Jokkmokk, Sweden who is offering a selection of free CSS templates. Each template is created in XHTML and they are free to use for personal and business purposes. The only requirement that Andreas has in using these templates is that a small credit link stating "Design by Andreas Viklund" remain somewhere on the page that is using the template.
The templates offered are mainly themed using a light color pallet and include styles, tables, forms and background images in the menu bar. Empty pages are also included in the download file to allow the user to modify the template to fit their usage needs. To the left is the andreas05 template with gray dragon embellishment. To check out the other templates that are available by Andreas, visit his web site at: andreasviklund.com