7 Free Minimalist Website Templates - Adsense Template and 6 Other Free Templates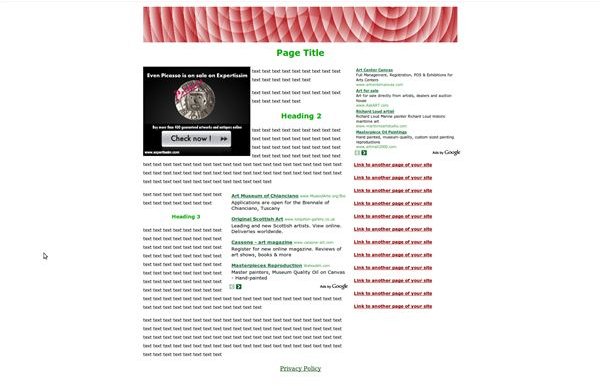 What Is a Minimalist Website Template?
Minimalism is the approach of the rich – I own enough, so I can put to use only what I need, rather than put everything I have. Different designers have differing views on "what I need" and as a result, you can find minimalist website templates that have more than you personally are happy with.
Basically, when a website template is labeled as minimalist, this usually means it is stripped off of any (or most of the) unnecessary clutter, leaving onscreen only the essential page elements. Minimalism is a friend of usability and this is why minimalist templates are so popular.
After this necessary clarification of what minimalism is, here are some minimalist templates you can use for your site. Some of these templates can be further simplified but even in their present state, they convey the idea perfectly.
1. A Free Adsense Minimalist Template
Adsense sites have special demands in terms of layout and functionality. The basic rule here is that your ad blocks must be in visible places, preferably close to the article text. Any unnecessary design elements, especially the presence of other ads, compete for users' attention and this seriously decreases the amount of clicks you get. This is why you need a really simple template – just your text and the Adsense blocks.
The template in this link is exactly what you need – it has 3 blocks of Adsense (the maximum allowed), a very simple structure, and can be easily modified. You can change the header image and the color palette if you prefer alternative colors. In order to use this template, you only need to upload the articles, put your Adsense code in the correct places, add the links to your other pages in the right bar, upload a Privacy Policy (it is mandatory for Adsense sites to have one, so don't skip this page element) and you are ready to go. You can download the template from here.
Note: If you discover that the three Adsense blocks cannibalize each other, you can remove the leftmost one. When you have more Adsense blocks, this is theory increases your earning potential but since more blocks also means more low-value ads, the grand total might be lower. This is why you need to leave only these one or two blocks with the highest revenue.
2. Winterplain Free Minimalist Template
The Winterplain template is one truly minimalist template. It has no images and the use of colors is very moderate. It is available as a WordPress template as well and in my opinion it is more suitable for a blog than for a conventional site because it has sections, such as comments, tags, and archives, which typically are not featured on a good ol' HTML site. Still, you can use it for a plain HTML site without any worries.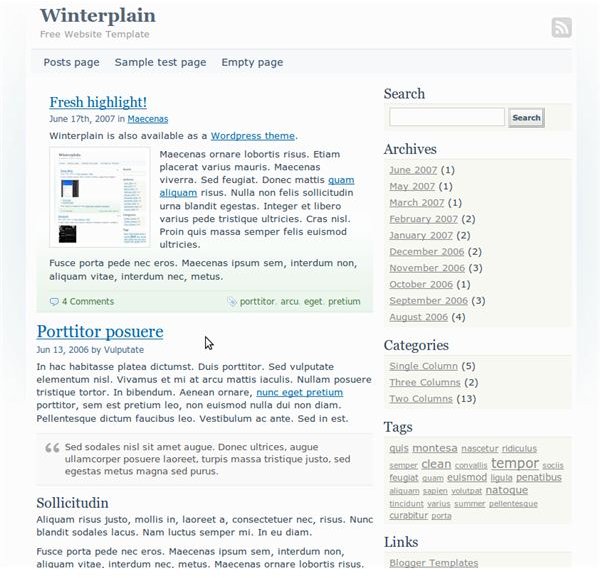 3. A Dark Theme Free Template
I generally don't advocate dark backgrounds because this is not in line with usability requirements but this template is an exception. It is stylish and in fact user friendly – you see right away the important stuff. Anyway, because of the dark background, which makes reading the text difficult, I wouldn't recommend to use this template on a site with a lot of text – your users' eye will appreciate my advice.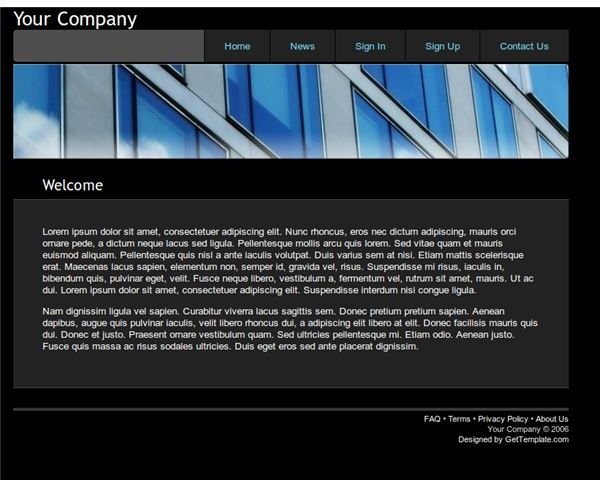 4. Simple Beauty – a Simple and Beautiful Template
This template lives to its name – it is simple and beautiful. It is great for a small site – be it personal or corporate. Simple beauty is an example how valuable and pretty simple things in life are. You can use this template on all kinds of sites.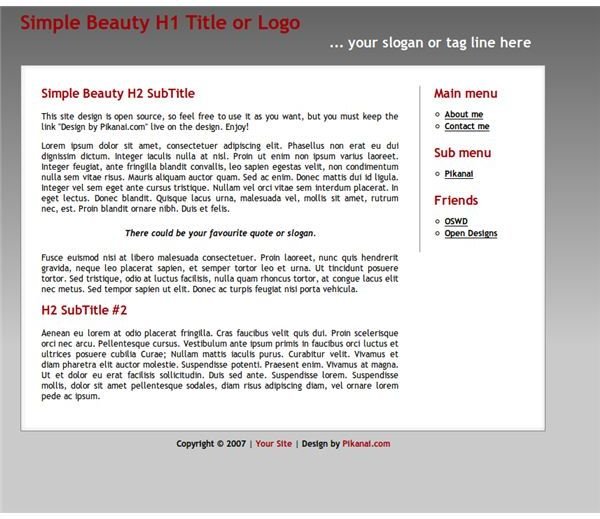 5. Keep It Simple – Not a Very Simple Template
Compared to the rest, this template has tons of stuff but since this stuff is not unnecessary junk, I will list it as a minimalist template. I would call this template a rich minimalist template and it can be used as an example that even a minimalist template can contain a lot of boxes and sections. I admit, there are elements I personally would remove because I can do without them but since not everybody finds these elements needless, it is OK to keep the structure as is. The layout of the template is more suitable for a blog than for a conventional HTML site.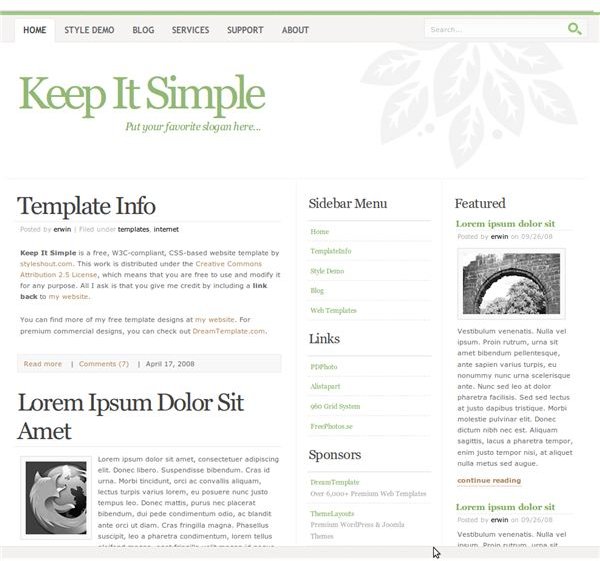 6. Touching – a Touchingly Minimalist Template
Now, this is a truly minimalist template with great design – nothing to add, nothing to remove! The template is very simple and neat. The color combinations and images are just magnificent. This template is especially suitable for a ope-page affiliate site because the content area has a lot of room but you won't make a mistake if you use it for any business or personal site.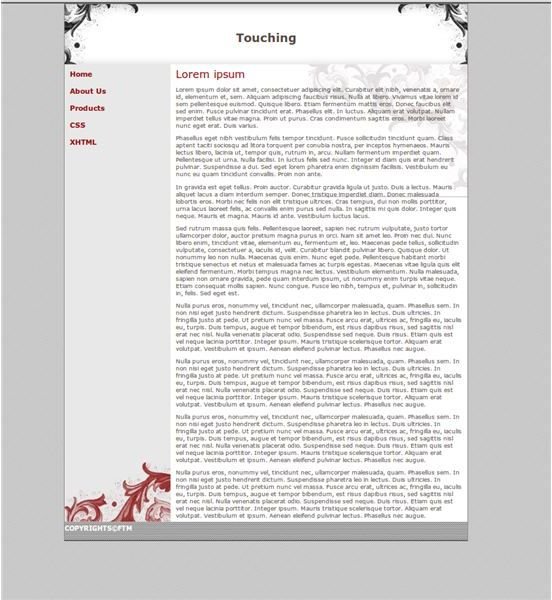 7. STASEO – A Minimalist Design with SEO in Mind
It is rare to find a website template designed with SEO in mind and it is even rarer to find a minimalist SEO template. Fortunately, STASEO is one of the exceptions. The template is optimized to be easily spiderable, cross-browser compatible, and to load fast – all these are important for SEO success and for site usability. In addition to being SEO-friendly, it is visually appealing with its rounded corners and clean interface. A truly minimalist template!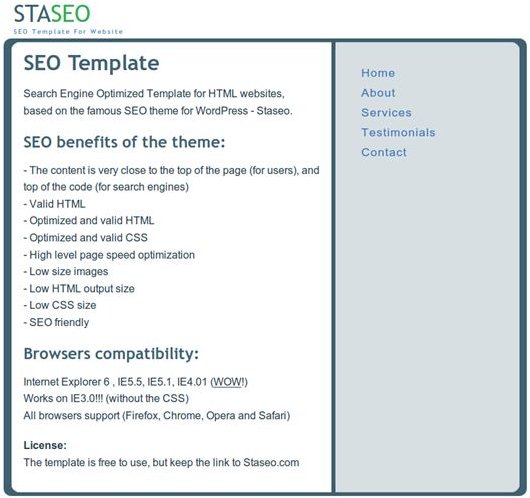 If you browse the Net, you will find many more free minimalist templates. If you are a web design newbie you might wonder how somebody can like a minimalist template because it looks so plain. However, as you advance and you encounter all sorts of sites cluttered with every imaginable widget you can think of, you will appreciate the numerous advantages of minimalist templates. Users are fed up with rich sites that load forever and have so many elements that it is hard to navigate the site and see the really important stuff. A tasteful minimalist template is an eye-candy and this is why design pros prefer it.
Image Credits & References:
All screenshots are taken by the author.
1. Adsense Template - Design by the Author
2. Winterplain Theme - https://templates.arcsin.se/demo/winterplain-website-template/
3. Dark Theme Theme - https://www.mytemplatez.com/livepreview/230/Template/CSS-Templates/Category/Business/Dark-Theme.html
4. Simple Beauty - https://www.oswd.org/design/preview/id/3697
5. Keep It Simple - https://www.styleshout.com/templates/preview/KeepItSimple11/index.html
6. Touching - https://www.oswd.org/design/preview/id/3692
7. STASEO - https://www.openwebdesign.org/design/5966/staseo/