How to Add a Flash Element to a Web Page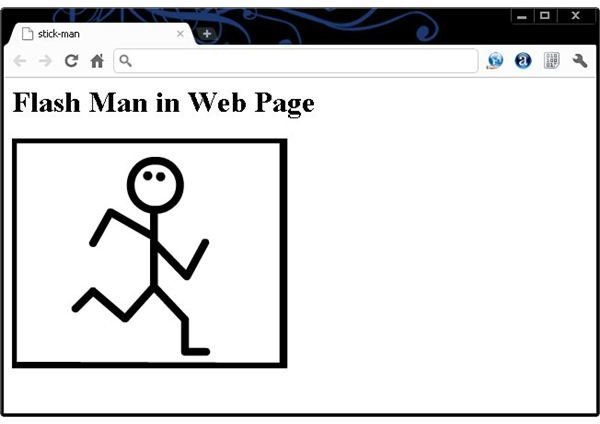 Introduction
As I show you how to add a Flash element to a web page, it is best we are on the same page of what we kind of Flash elements we are discussing here. A Flash element can be anything from a banner ad, a web form, a Flash movie clip, a game or whatever your content you desire. Here is an example of a Flash Dice roller simulator. Whatever the content in your Flash element there is a single basic way of adding it into a web page.
Getting Your Flash Elements Ready
To create your Flash content you will need to have the appropriate Flash content authoring software application, in this case any version of Adobe Flash will do. Here is an example of how you can make a contact page in Flash in case you are not sure how to generate Flash content.
If you do know a little bit about Flash elements, you will know that they can run under several media formats. They can run as stand alone executable applications, plugins in other applications or even embedded into a web page running in a web browser. This last option is going to be of interest to us. So as we prepare our content there are some settings to do with publishing that we must look out for.
Under the File menu, in the Adobe Flash software you will find a menu item labeled Publish Settings. Clicking on this will open a dialog box with a list of formats that you can publish your Flash element. Here you need to make sure only Flash (.swf) and HTML (.html) options are checked. One the same dialog box under the HTML tab make sure the Flash Only option is selected in the Template drop down list. The rest of the items can be left in their default state. Once that is done you can click on the Ok button.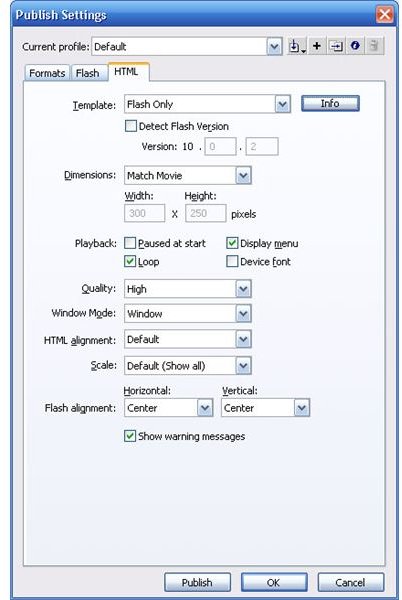 Publishing the Flash element can be done by clicking the File > Publish menu item. This will create two files in the same folder in which you saved your Flash file. One of the files will be the actual Flash element and the other will be the HTML page.
The HTML Page Content
The HTML page is a sample page for previewing you Flash element. This file is important as it has got vital code that has been generated automatically. Open this HTML file in a text editor and scroll to the place where you find a similar block of code to this:
You will have to copy and paste this code into the HTML of your web page in the location you would like the Flash element to appear. There you have it. This is how to add a Flash element to a web page.
Source: author's own experience.
Screenshots provided by writer.