10 Extraordinary Free About Us Page Templates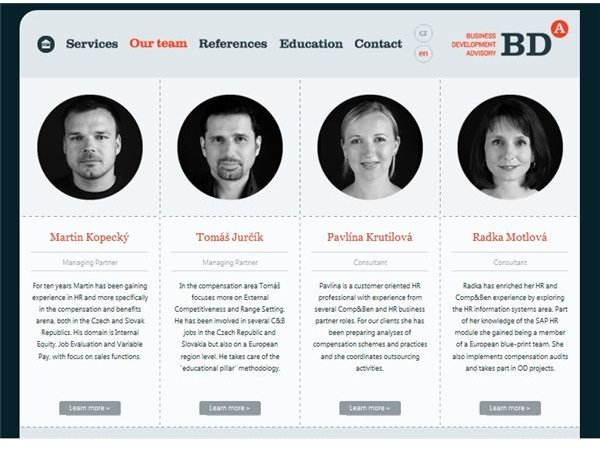 If you're looking to create an extraordinary about us page, there are many approaches you can take to give your readers succinct information about you or your company in an entertaining and creative way. Naturally, you'll want to cater your about us page to suit your field and target audience. Looking at how other professionals have built their pages is a clever way to develop your design, and can also effectively generate ideas for free about us page templates.
Need a Few Ideas?
One key to establishing trust with your readers is to make your about us page personable. Business Development Advisory, a company that focused on enhancing businesses, does a fantastic job of this by displaying headshots of their staff, along with important information about each. Consider including a headshot in your about us page to help establish a connection with your visitors.
Two Giraffes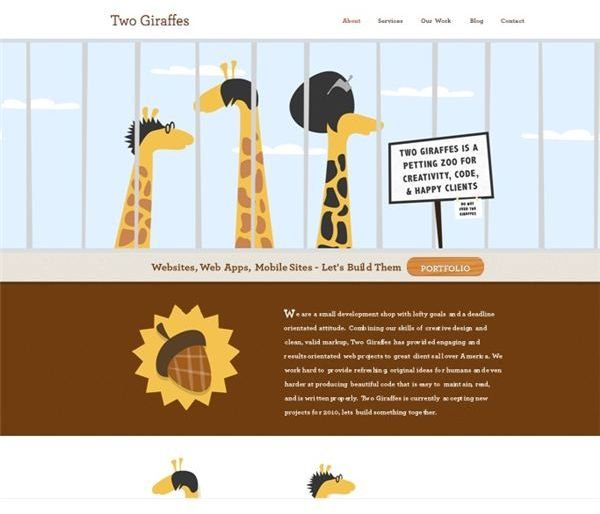 Using colorful graphics splayed across your about us page may be another option for an about us page template, especially if it suits your readership. Two Giraffes, a web design company, highlights their skills on their about us page, displaying large whimsical graphics, which is fitting for their creative-minded customers.
Adrian Botea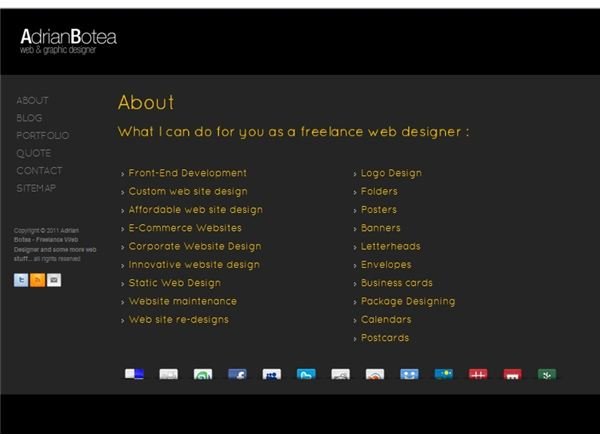 Some about us pages simply allow their portfolio to speak for them. Adrian Botea, a freelance web designer, posts a list of links on his about us page that informs readers of what he can do for them, each page detailing different aspects of his business. If your work is sufficient to create a sense of confidence from your visitors, you could use this approach to highlight your business.
Lila and Claudine's Yarn and Gifts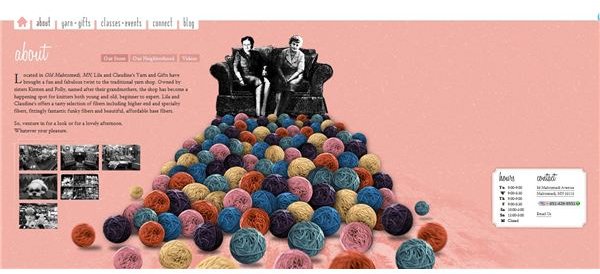 You might try including other useful information on your about us page that could benefit your readers, and show them that you care. Lila and Claudine's Yarn and Gifts mixes modules on their about us page, featuring black and white photos of their shop that spring into color, and a video that takes visitors on a virtual tour. It also includes a list of local business the readers might find helpful, further establishing credit.
37 Signals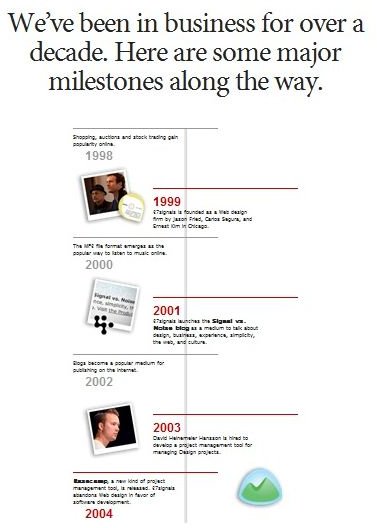 Including a timeline of your business maybe a useful way to give your readers a general history on your about us page. For example, 37 Signals, a web application development company, features a vertical timeline that highlights major milestones and gives readers the impression that it's a long-standing company.
ProBlogger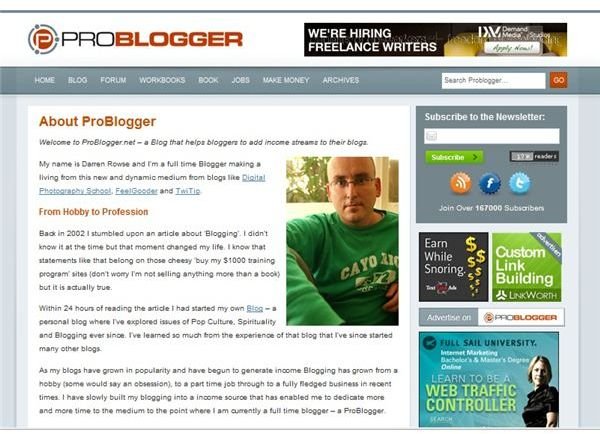 A little background story with various pertinent links is another way to develop reader trust. ProBlogger's Darin Rowse, explains in concise words how his business came about, it's purpose, and how readers can connect and get involved. Consider using ProBlogger's approach and tastefully sprinkle links to various pages on your site in your about us page.
Andrew Weifman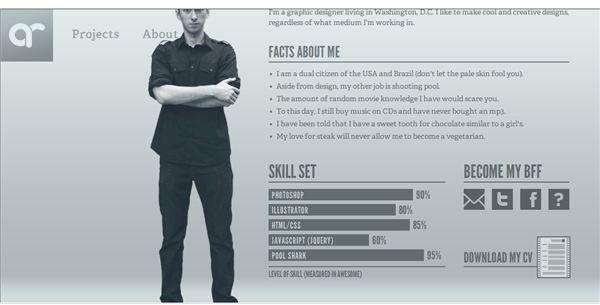 Quirky titles and visual representations of professional skills is another clever feature on many free about us page templates. Andrew Weifman, a Washington D.C. web designer, includes a bar graph of his skills, a download of his cv, and titles his social media section "Become my BFF." If your audience is receptive to unique, contemporary styles, try adding flavor to your site using some of Weifman's tactics.
Body Mojo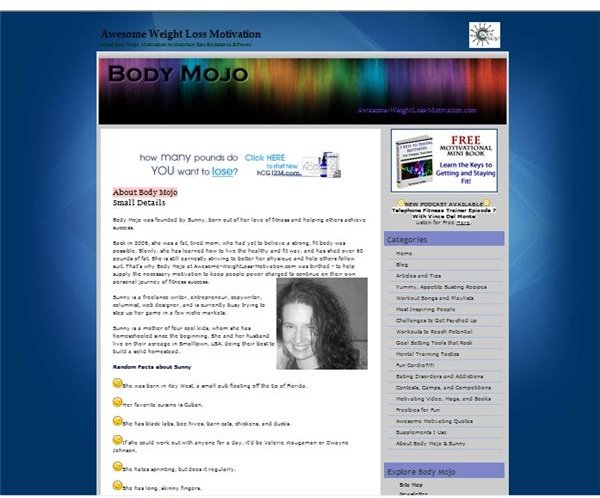 For personal and small business websites, including a list of random facts may be a quick way to give readers a sense that they're dealing with real, personable people. Body Mojo, a fitness motivation site, uses this approach by listing random details and facts, as well as a personal background story. Try using this method on your about us page as a way to foster rapport.
Travis Schmeisser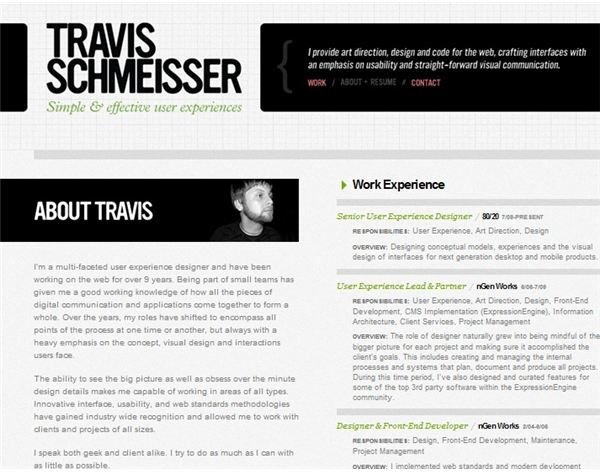 Some about us pages feature items such as resumes and previous clients on their about us pages to display experience and integrity. Travis Schmeisser, a designer and developer, lists his work experience, education, clientele, and social media contacts on his about us page. Consider using this approach if your resume is strong and exemplary of your work.
Raw Food Artist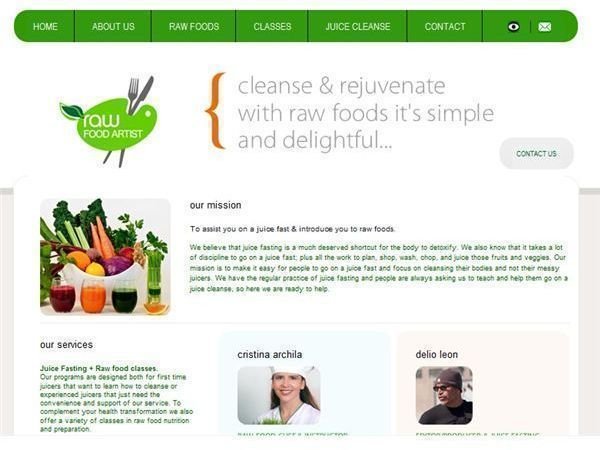 In addition to general information about your site, consider including your mission statement on your about us page. On the Raw Food Artist about us page, they feature the company's mission, as well as available services and staff bios. This might be a useful tactic if your site has a philanthropic angle.
Try developing your own about us page using a mix of solid ideas and techniques. Professional about us pages give readers a fuller sense of your company and can serve as a way to build trust and authority.