The Top 10 HTML Email Templates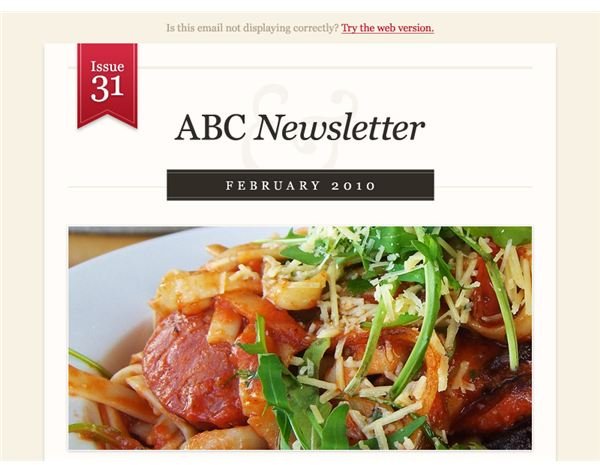 Classic By Newism
First up is a simple design that's versatile in uses. One big benefit of this template is the fact that it's free to download and use! You won't need to invest any money in this theme and you'll be able to get some of the similar benefits as the other templates that cost money on this list. You can add your own large photograph to the very top of the newsletter to draw attention, or simply leave it without one. For those who have a food blog or website, this is an excellent design to select. It's clean, simple, and professional. It'll also work out great for those of you who are promoting your artwork or similar.
Xperience By ChocoTemplates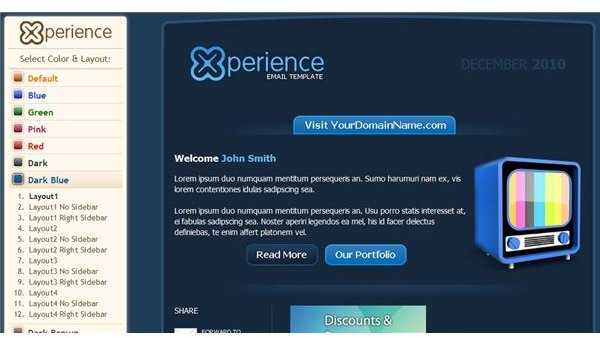 Xperience is a high-quality newsletter design with great color contrast and just an overall pleasant layout. There's room for three or more updates in the main column where you can write a little teaser about a specific update and have a link for readers to keep reading on your main website or blog. Another great feature is the fact that this template allows your readers to share the content through forwarding or Facebook, or follow your blog on Twitter. There are also spots available for you to monetize it within the right or left columns with little advertisements.
ChocoTemplates also allow you to customize a large variety of different options such as the color scheme or layout. Xperience is available for $22, but doesn't include the Photoshop files. Instead, you should probably opt for the $32 version which includes the Photoshop files for easy editing. A simple, straightforward, and professional theme that can rake in some money for you through advertisements; not bad!
Parcel By Meagan Fisher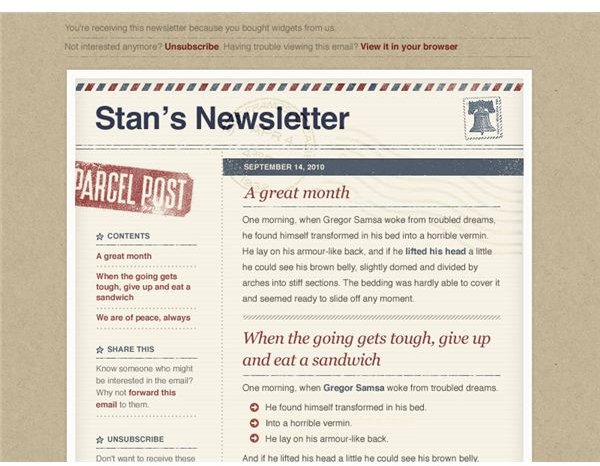 Another freebie, Parcel have a variety of different customizable features and components. You're able to switch the layout between one column or two columns, and you're also able to select which side you want the sidebar on; left or right. In the main column, there's a spot for your three or more big stories that you want readers to read. In the sidebar, there's a spot for your readers to forward the newsletter to friends and a "Contents" box. This little section is very hand for your readers. It gives them a quick overview of what's in the newsletter and allow them to head to a topic of interest immediately via clicking its title.
Overall, Parcel is a very nice design that's not too complex nor too plain. It might not have the color customizations available that ChocoTemplates have, but it's certainly an excellent option considering it's free.
eMail By ChocoTemplates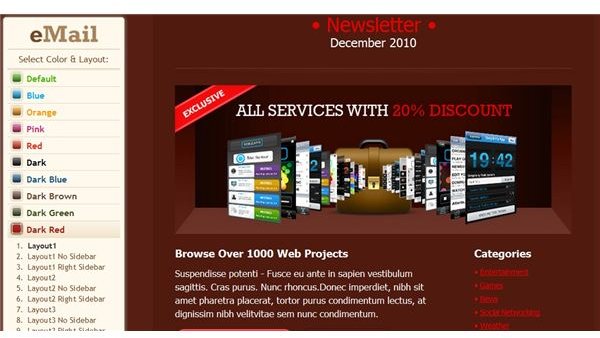 Although it's not nearly as fancy or aesthetically pleasing as the other templates by ChocoTemplates, eMail is certainly worth investigating. It may have a slightly simple design, but it's perfect for those individuals who don't need some complex and vibrant theme. There's a spot for readers to follow your blog or website through Twitter, Facebook, or RSS.
Also, another interesting component is the location for advertisements. These can be used as a way to monetize your newsletters. There are various different color schemes that you can select from and try out until you find an appropriate one, and you're also able to remove or change where the sidebar is. Costs $22 to $32, but it's better to go with the $32 version because of the files included.
Fabric By Meagan Fisher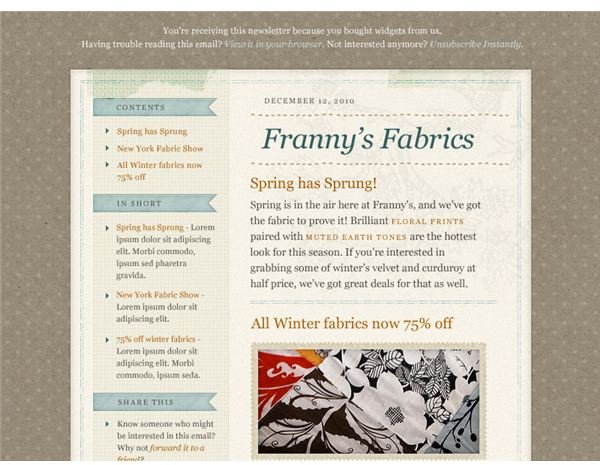 Another template by Meagan Fisher, Fabric has a lot of the same features as the Parcel template. It's free to download, install, and use. It's customizable in terms of sidebar location and whether you want it. Also, the "Contents" section is a big benefit that you'll love having.
Similar to Parcel, this section displays a quick menu of the contents and gives your readers the ability to read something of interest to them immediately without scrolling through your entire newsletter. It may seem like a small benefit, but it's definitely helpful for your readers and can make a difference! Although it doesn't have an as appealing feel or look as the other templates, it's still a great option especially for those who own a sewing blog or website. Even a clothes website could use this template successfully without the theme looking out of character.
Brace By Veerle Pieters
Brace is an interesting design because it almost looks like a mini-blog so to speak. That's only if you opt to have one column, but it still looks great with a sidebar. It has a vibrant and clean design with beautiful color contrast, and although it doesn't have the same Facebook or Twitter options as a lot of the other templates features, it's still a fantastic design to use. Best of all, it's free and can be used for a variety of different websites or blog regardless of which industry you're in.
FocusMail By ChocoTemplates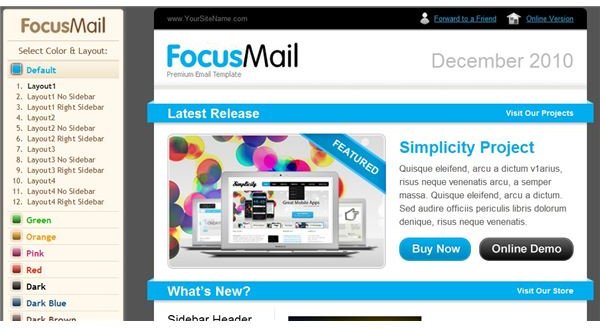 One thing you're sure to love about FocusMail is the fact that it has a large, featured story at the very top of the newsletter. This is a great way to grab the attention of your readers so that they know about some specific announcement, breaking news, a product sale, or a new product release; to name just a few potential uses. There are spots for three other stories in the main column and some less significant stories in the side column, all of which have links readers can click to read the full content.
Readers are able to share the newsletter through Twitter, Facebook, RSS, and many other mediums. Color and layout customizations are also available to you via a few simple clicks.
Retro Green By Simon Collison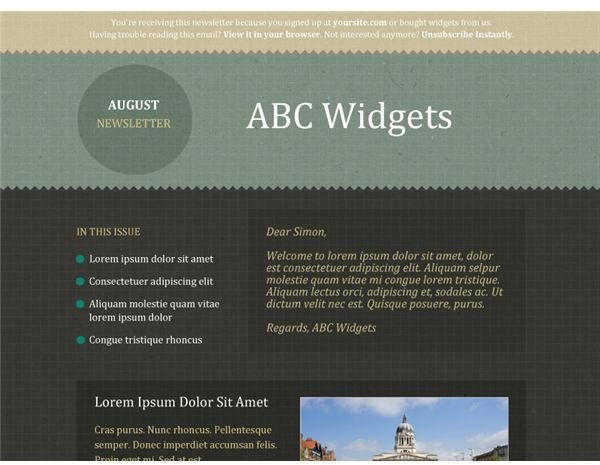 This is a very, very high-quality design. It features a beautiful color scheme and is just so professional and clean. It gives a great impression for first time readers and keeps them staying subscribed. It has a small "In This Issue" section which works similar to the "Contents" section in Meagan Fisher's designs. This, of course, is beneficial for your readers. Also, there's a small spot to include a note where you can write a small note to your readers and include a personal photograph. This helps keep a "personal" connection or relation with your readers.
If you don't want the note section or don't think you'll use it, you can always remove it via customizing. Retro Green is available for free and is a great option for any type of industry.
Textile By Veerle Pieters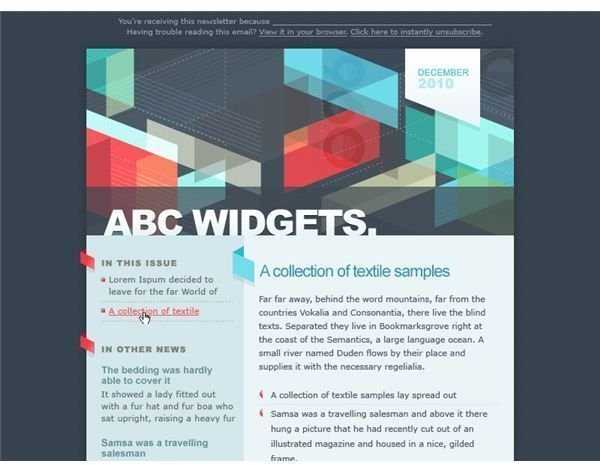 Yet another theme by Veerle Pieters, Textile certainly tops the list of HTML Email Templates with respect to free ones. As with almost all other templates featured on this list, you're able to customize the columns and layout. If you want a sidebar on the left side, you can have one; if you want a sidebar on the right side, you can have one. It's really your personal preference.
The one big factor that makes this design excel from all others is the aesthetic appeal. Textile has a clean and simple yet interesting color scheme that just captivates whoever looks at it. It's professional and appealing without being too busy or complex. You can write your main stories in the main column and include small teasers that link to your blog posts or website pages in the sidebar. Textile is definitely worth downloading and using if you need a free email template!
JumpMail By ChocoTemplates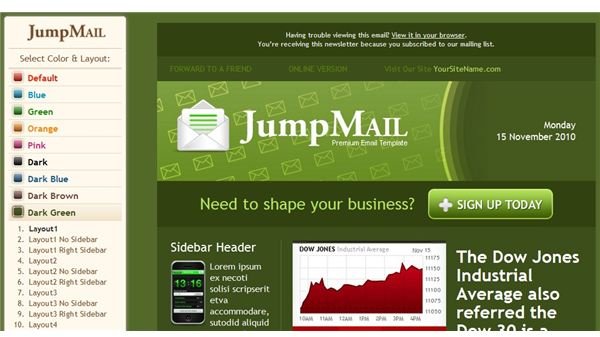 Another template by ChocoTemplates, Jumpmail is far better looking than Xperience. It's available at the same price too, $22 to $32 depending on which version you purchase. Of special note is the top banner where you can upload your own image and logo for personal branding. In the main column of the template, you can type your "big" stories so to speak while writing any smaller or less important blurbs in your side column. Readers can forward the newsletter, but aren't able to share it via Facebook as was the case with Xperience. As with all ChocoTemplates though, you're able to fully customize and personalize the layout, color arrangement, and decide whether or not you want a sidebar and which side it's on.
And The Winner Is…
Really, the "winner" is whatever theme you select. All of these have their obvious pros and cons. Some of them are more flexibility than others while others are free. Whichever theme you select really depends on your personal situation and industry, but all of the listed templates are sure to provide you with a great look and feel for your email newsletter.