Add Social Links to Your Blog: Learn Tips & Tricks Here

The Importance of Social Links
Social networking is becoming an increasingly important part of our lives, with Facebook and Twitter in particular enjoying much prominence.
Each social tool is an opportunity for readers of your blog or website to share interesting material with others, and you don't even need a Twitter account to take advantage of this, just the right links in the right place on your website or blog. It's up to you to decide where to position the buttons, but don't let them takeover or unbalance your page layout.
There are various ways that you can add social links to your site, from plugins for a WordPress site to adding specific code into your web pages.
Add Social Links to Your Website with Generated Code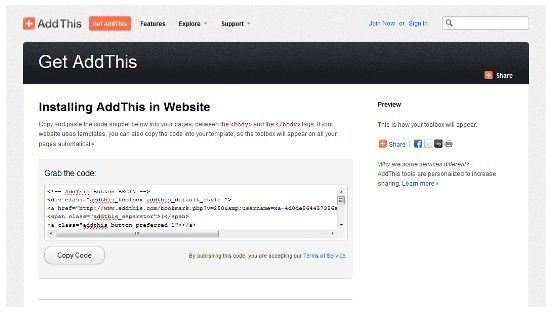 There are various websites that supply links for you to create a small panel of social links to your site. Such a website might allow you to specify exactly which links appear on your site, or they might offer a small subset of the most common links.
Bear in mind that there are various design considerations when dropping in a piece of code such as this – too many links and your website might look unbalanced.
One popular website for acquiring such code is www.addthis.com, where you can choose between four buttons, some that display specifics like Facebook and Twitter, and some that display the number of times the page has been tweeted or "liked".
To use www.addthis.com, simply visit the site, choose the style of social link you want to add, decide whether you want analytics on shared content (this requires you sign up for an account) or just the button, and then click Get your button. The code will then be displayed, ready for you to paste it into your websites template.
Add Social Links to a WordPress Blog
While the above method can be used for any website (including a WordPress blog), plugins always make the practice of adding features (such as website statistics) a lot simpler on WordPress.
From your WordPress dashboard, go to Plugins > Add New and search for social to find suitable plugins.
Among the results you should then find the plugin that will suit your needs the best. Check the details of each, and particularly take a look at the Screenshots tab to see how the plugin might look – this should give you an idea of how things might appear on your website.
Plugins you might opt to take a look at include WP Socializer (which provides buttons for many different social networking and bookmarking services) and Socialize, but as ever with a WordPress plugin, check compatibility with your WordPress version.
With your chosen plugin installed, configuring it will be a case of managing how your chosen social links are displayed via the plugin menu in your WordPress dashboard.