Free Online Phishing Checker
Phishing Checker
A phishing site or fraudulent website can be checked or verified as a phished site by using online services by some security vendors or groups of researchers that keep databases of reported pages containing phishing content. Below are some of the best phishing website checkers to use when you come across suspicious links during web searches or links in email messages.
PhishTank and Norton Safe Web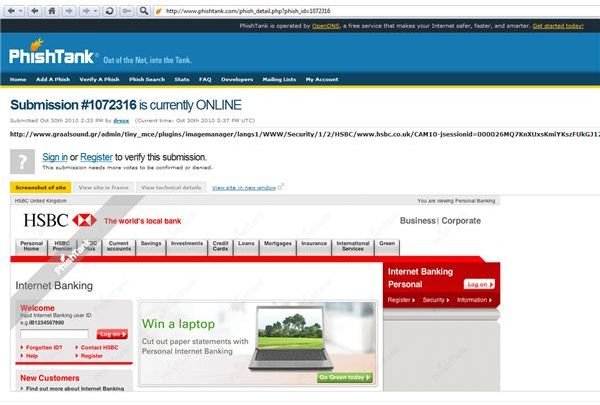 PhishTank is a service by OpenDNS that keeps records of phishing websites. The PhishTank database is used by several vendors to protect their customers or end-users from visiting fraudulent websites. PhishTank SiteChecker is available online at https://www.phishtank.com or as an add-on for the Firefox browser. This phishing checker by PhishTank displays a preview of the fake pages and the status of the website and whether it continues to be online or offline already. The image at the left is an example report by PhishTank users, which helps not only the community but security software vendors that add the PhishTank database into their phishing detection signatures.
Symantec also provides URL or domain checkers for malware and phishing called Norton Safe Web online. The service is located at https://safeweb.norton.com.
VirusTotal and hpHOSTS Online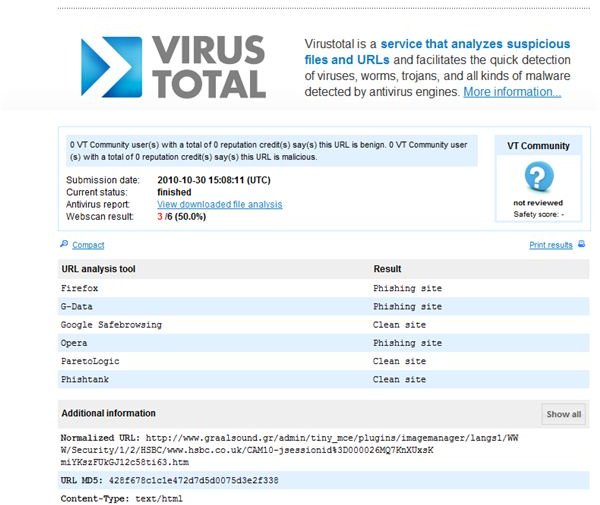 VirusTotal is quite popular to the security community that sends samples of malware for online analysis by multiple virus scanners. They recently provided a new online service by allowing users to scan a submitted URL or website. The URLscan service by VirusTotal.com includes a report from PhishTank, Firefox, G-Data, Google Safe browsing, Opera and ParetoLogic. The image at the left is an example URL scan on an active phishing website.
One of the widely-used hosts files that blocks malicious and unwanted phishing websites and pages that have exploits is provided by hpHosts. The online service by hpHosts is located at https://hosts-file.net/ and you can search the database for known or reported phishing URLs.
Web of Trust, SiteAdvisor and AVG
Web of Trust (WOT), AVG and McAfee SiteAdvisor do not only provide a browser security add-ons but also an online service to manually check a website's status. This includes whether it has a bad reputation due to phishing, malware, rogue software or other unwanted content or services:
AVG Webpage Scanner - AVG webpage scanner is an online service. AVG LinkScanner is an add-on for a browser running Windows or Mac. You can also use the other website by AVG that provides online website scans. It is located at https://linkscanner.explabs.com.
Web of Trust - Search the database of Web of Trust for every website reported as bad, good or suspicious. The WOT add-on is available for Internet Explorer, Firefox and Chrome browsers.
McAfee SiteAdvisor - Visiting siteadvisor.com lets you enter a domain or website to check for phishing, malware or any unwanted content in a website or page. The SiteAdvisor add-on is available for Internet Explorer and Firefox for systems running Windows or Mac OS.
URLVoid and Google Safe Browsing
Other online service that help identify if a website is a fraudulent website include the Google Diagnostic website and URLVoid:
Image credit: Screenshots taken by the author.