How Do I Block and Unblock Internet Sites in Different Browsers?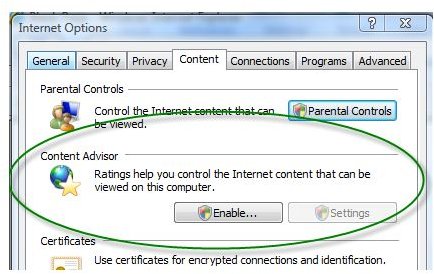 Some web browsers let you block and unblock a website or a list of websites. Below are example of browsers that can block or allow websites through a managed list:
Internet Explorer includes a Content Advisor tool that lets you control the types of content that a user may view or access on the Internet. The Content Advisor tool is disabled by default and you can enable it from Internet Options. To open Internet Options, type inetcpl.cpl in the run command in Windows or open it via the Internet Explorer tools menu or from the Control Panel in Windows. Click the Content Advisor tab and then click the "Enable" button to start using and managing the settings for the tool.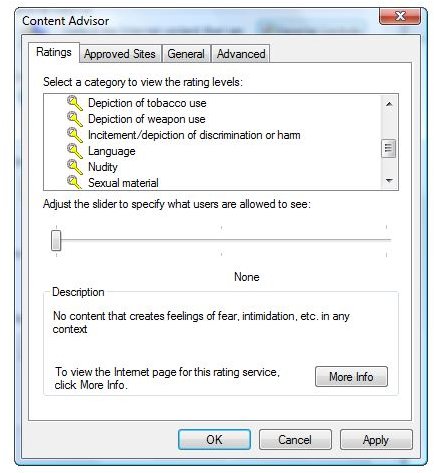 Mozilla Firefox does not include a built-in Content Advisor, but you can install a third-party extension to block websites. Examples of such add-ons are BlockSite, ProCon Latte and FoxFilter.
There's no option to block a website within Google Chrome but you may install the SiteBlock extension in the Chrome browser.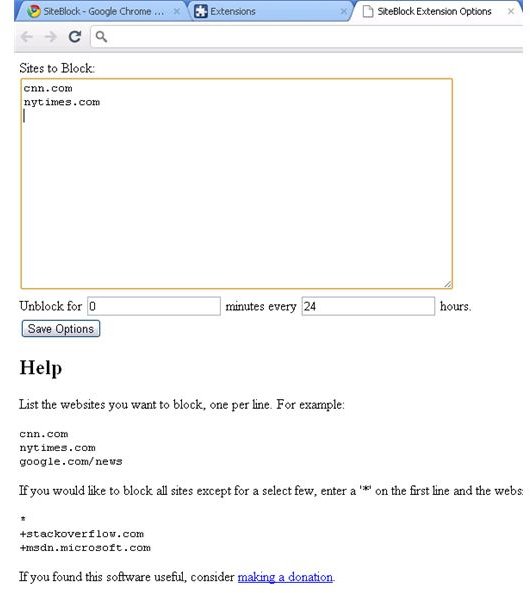 You can block or unblock websites in the Opera browser by entering the URL or IP address via the Blocked Content option. Navigate through to Tools > Preferences > Content. Click on "Blocked Content" and then click the "Add" button. Enter the URL or IP address to block it.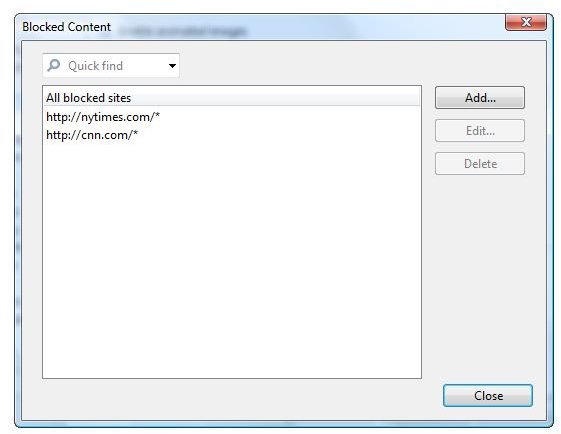 How Do I Block and Unblock Internet Sites Using Software?
Windows and the Mac OS have built-in parental control software allowing guardians, parents or system administrators to restrict or block websites. There are also other web-filtering software sets and services that provide parental controls. Read more about this type of software in the article, The Best Parental Control Software.
Some firewall programs include a feature to block IP addresses or websites. Outpost Firewall Pro and Online Armor ++ are both firewall programs that offer this. Find out about blocking IP addresses and websites in "How to Block Malicious IP Addresses".
How Do I Block and Unblock Internet Sites Using a Hosts File and Router?
Many security-conscious users are aware that a custom Hosts file in Windows lets you block and unblock websites for free. All you need to do is customize the default Hosts file by adding the website addresses to be blocked and let it use the local host for IP addresses. Check-out the article "Understanding the Windows Hosts File" and "Top Two Free Hosts File Managers" to help you manage the Hosts file in Windows.
You can use a program to lock the Hosts file so that unwanted modifications are prevented. The downside of using a Hosts file is that the program that can lock it may not have a password to prevent other users from unlocking the hosts file. Examples of software that can lock a Hosts file are Spybot-Search & Destroy and WinPatrol.
If you are using a router with access to a router control panel, you might want to check the available options for it. Some routers let you block and unblock websites so anyone who uses the home or office network is automatically blocked from visiting a website on the blocked list.
Unblocking Internet sites can be done as long as you havepermission to modify the block list. It is best to consult with your parents, guardians or system administrator whenever you find a website that you need to visit but is currently blocked. The administrator of a web content or website blocker may allow some users to enter a supervisor password to modify the settings.
Image credit: Screenshot taken by the author.