Is The Free Version of AVG Internet Security Good Enough?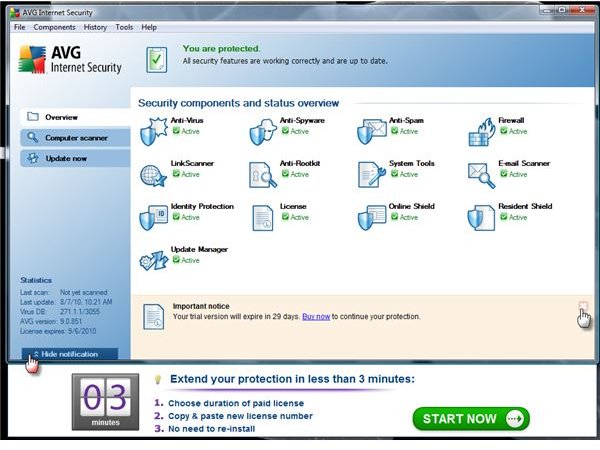 Free AVG Internet Security for 30 days
AVG Technologies provides this free version - AVG Internet Security, allowing users to try the program for 30 days. You can extend the protection to 2 years without having to re-install the program or download another installer. People who want to use a security suite solution will get real-time protection from viruses, Trojans, worms, spyware and other types of malware. A rootkit scanner is also included in the program. A link scanner and an online shield for both websites and instant messenger are also part of the package. If you want an anti-spam solution too, you'll have it too in the AVG security suite.
Installation and Performance of Free AVG Internet Security
The installer for the free AVG internet security package is available on the AVG free website or on the trial/download page of AVG.com. The installer lets you customize the package, but you can simply use the standard installation method. An AVG Security toolbar is offered but optional, whether you choose the custom or standard installation.
A reboot is required after installing AVG and it will disable Windows Defender application, if found installed or running in XP, Vista or Windows 7. There is also an option to either continue to use the Windows Firewall or allow AVG to disable it and use the firewall in the AVG internet security program. A program updater is built-in and you can schedule the updates and scans.
A scan optimization is also offered by AVG after the reboot of Windows. Allowing the optimized scanning will let AVG find trusted files so they're not scanned again whenever you run a computer scan. Note that running optimization scanning using AVG does not actually look for viruses or any type of malware. You will need to run a computer scan to check your system for any infections.
AVG's memory usage is acceptable but if you happen to find a performance issue using the program, check-out the troubleshooting article, "Is Your Computer Running Slow After AVG Installation?"
Like other malware scanners, a false positive can happen during a scan. Below is an example of a false detection by AVG: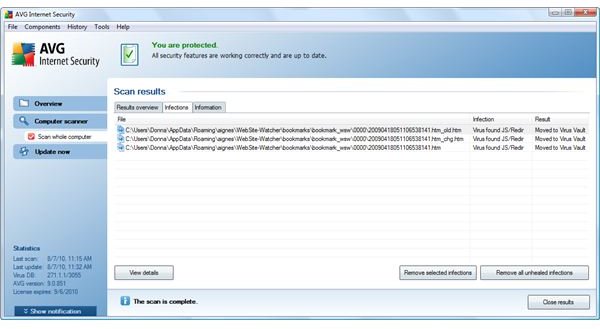 You don't have to panic because AVG is configured by default to keep a copy of detected threats in the virus vault (also known as the quarantine manager), where you can easily restore the false detection. Also see, "How to Recover a File AVG Has Deleted"
Malware Protection and LinkScanner
The malware protection offered by AVG Internet Security is around 90%. I determined this with a little experiment. I transferred 350 malware samples to the system drive where free AVG internet security was running. The resident shield of AVG caught 267 out of 350 malware samples: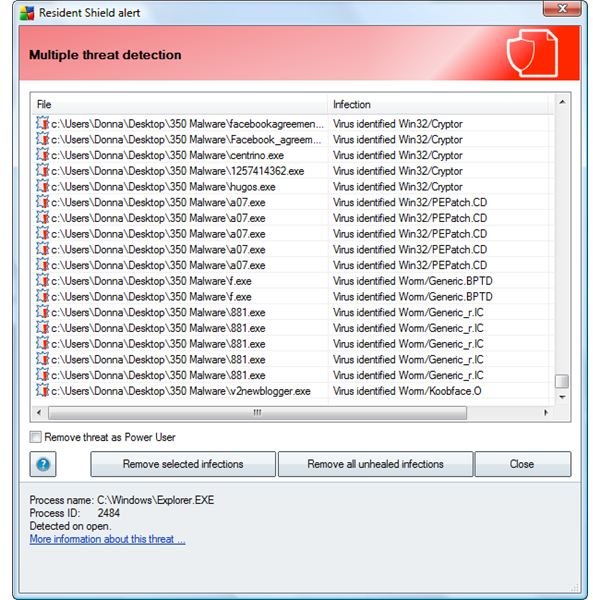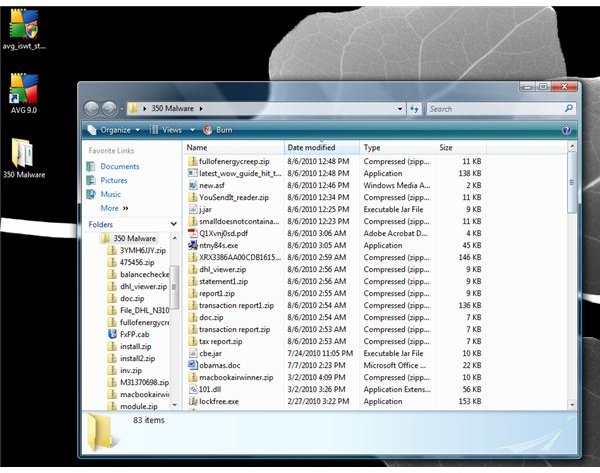 Since AVG also has a scanner to help defend and protect a computer against malware, I ran its on-demand scanner and allowed AVG to scan the directory in which the 83 malware files resided. AVG successfully detected another 50 malware samples, leaving the computer unprotected from 33 pieces of malware: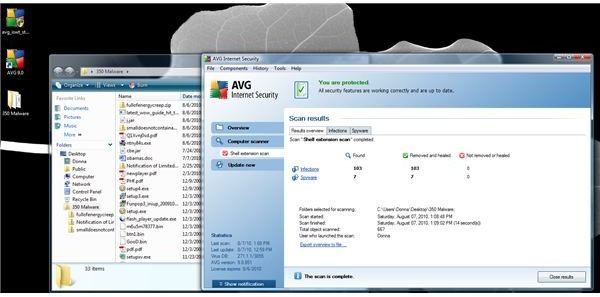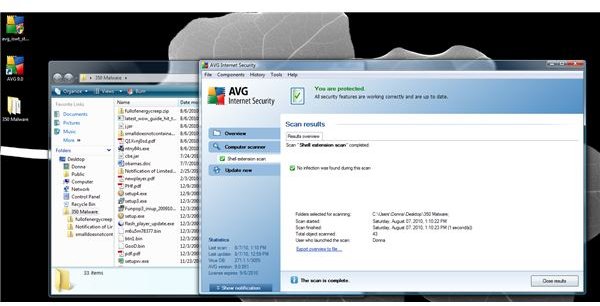 Please note that the settings for AVG Internet Security suite are at the maximum settings. This means that I configured AVG to detect everything that it should detect, such as spyware, potentially unwanted programs, infected archives, etc.
AVG also includes a LinkScanner that should be useful for protecting users from visiting malicious websites when searching. Have a look at the recent article, "Get, Install, and Use AVG LinkScanner for Windows and Mac PCs." if you need help with it. Note that AVG Internet Security includes AVG Identity Protection, which might help protect your valuable information.
Is Free Version AVG Internet Security Good Enough?
To answer the question, "is free AVG Internet Security good enough?", you need to understand that it depends on the user. If you are cautious enough online and use the best practices for browsing, then the 90% protection offered by AVG is good enough. If you are a careless Internet user or depend heavily on protection from an antivirus program, then I don't think AVG or any other free antivirus program will be good enough. Computer users who want more complete protection or something offering more than 90% security protection should check out Kaspersky PURE or the standalone AV solution by the same vendor, ESET Smart Security or NOD32, VIPRE Premium by Sunbelt, Panda Cloud AV, Avast or Avira AntiVir.
Image Credits: Screenshots taken by Donna Buenaventura