Worry Free Computer Networks: Security and Privacy Advice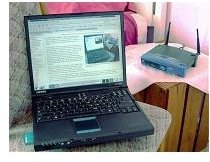 The Risks
Many users set up their home network and never think twice about computer network security. They follow all the steps for setting up network cards, running cables (if necessary), configuring a router and ensuring all devices connect. Security, sadly, is the farthest thing from their mind. Without proper security, your home network is a free-for-all for any hackers that may be driving by.
Your home network allows you to share files, devices and an Internet connection. If it's in your home, what is there to worry about? If you have a wireless network, there is plenty to be concerned about. A wireless network can be found by users outside your home, such as neighbors and passers-by. These people may or may not be trustworthy. While you're busy surfing the web or printing recipes on the networked printers, someone outside your home could be accessing your computer's files.
While there is less of a chance of someone logging into your wired network, there is still a risk. If someone was to hack into just one computer on the network, they suddenly have access to every computer on the network. This includes all devices and even networked storage devices, such as backup drives.
With all the personal information floating around on home computer networks, security and privacy should be your number one concern. Luckily, it doesn't take long to secure a network. Even beginners can take the necessary steps to keep them safer while sharing a network with others in their home.
Image Credits: WikiMedia Commons / Porao
Protecting the Network Itself
When you set up a network, your router has a default administrator password. When you open the local web page used to manage your router, which is usually the local IP address or router manufacturer's name, change the default password to something harder to guess. If someone knows your router's password, they can quickly change settings to allow themselves better access.
You can change both the user name and password whenever you want. Don't lose them, though. Otherwise, you'll need to manually reset the router, which forces you to set up your network again. This works well for both wired and wireless networks.
With a wireless network, encryption is key. This is what prevents those outside the network from seeing any information transmitted on the network itself. The two most common types are WPA and WEP. In order for this to work, all networked devices must support the encryption method. Change your encryption settings through the router settings or through your computer's network settings window.
By default, your router chooses an SSID, or service set identifier. This is basically the name of your network. Anyone trying to hack in can easily tell whether this has been changed or not. Any networks that use the default SSID become prime targets. Hackers see these networks as less secure and less likely to have any encryption. You have full control over the SSID. Before you start connecting devices, change the SSID in your router settings.
While changing SSID settings, change how the SSID is broadcast. Unless you have a public network, the SSID does not need to be broadcast. If others don't know the network exists, they won't hack in. Inside your home, broadcasting isn't necessary. Only people with the SSID will be able to connect.
If you are looking for a more advanced security method for your home network, try MAC address filtering. Every device that connects to your network has a unique MAC, which is used to identify your device. Though this isn't hack proof, it does deter some hackers. All you need to do is choose to only allow specific MAC addresses to connect to the network. Without the proper MAC address, a device cannot connect.
Securing Individual Networks
There is only so much you can do with the network itself. Your network is only as secure as your weakest device. If one computer is vulnerable, the entire network is at risk. One of the easiest things you can do is enable the Windows firewall. This is built-in for Windows XP and higher computers. It is free to use and protects against many outside threats. It can be accessed by going to Control Panel and choosing either Windows Security or Windows Firewall, depending on your operating system.
The next thing to do is set secure user names and passwords for logging on to the network. Many home networks don't bother with logons, but if you do use them, ensure every password uses a combination of upper-case and lower-case letters along with at least one number. This is especially important for any website logons to prevent someone from hacking you while online.
Many viruses are known for hijacking entire networks. Once it downloads onto one computer, all the others are infected if they are not protected. Prevent the problem in the first place with anti-virus software. Scan at least once per week and ensure all virus definitions are up-to-date. This is easily done by allowing the software to update automatically. Anti-virus software must be installed on each individual computer. You can obtain multiple licenses or use free software. Some companies actually offer both free and fee versions.
Don't let your network be compromised by poor security from a single computer. Keep each computer secure and you'll find your network is much safer.
References
Software Engineering Institute – Home Network Security
About.com – 10 Tips for Wireless Home Network Security