Blinx Video Search Tips and Tricks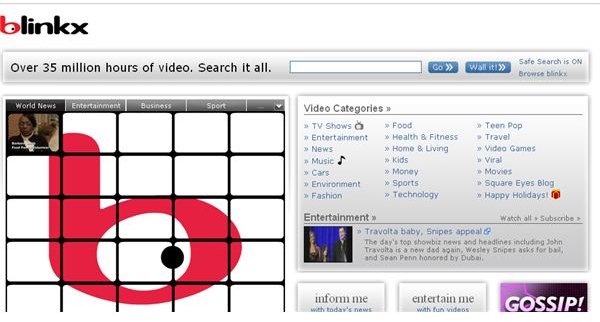 How to Use Blinkx to Get Optimal Video Search Results?
Blinkx is a video search engine that lets you search movie clips, news shows, music videos, full repeat telecasts of television soaps, audio clips and podcasts by retrieving results from popular video sharing sites like YouTube, Dailymotion, Google Video, Meta Café and MySpace. All you have to do is visit Blinx video search and type in the keyword or phrase in the search box to get access to a variety of video clips. You can also search for a music video by typing in the lyrics. All you have to do is type in any line from the song and hit the Go button to get a comprehensive list of music videos – original, remakes, and parodies relevant to the lyrics typed on the search box. Here are some more tips to get the most out of Blinkx:
Get the Most Out of Video Categories on Blinkx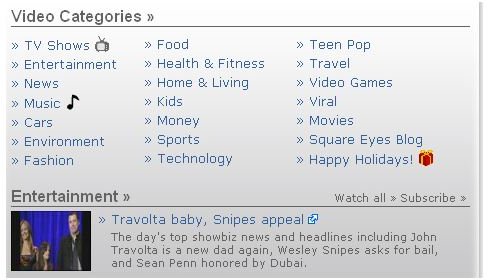 Visit https://www.blinkx.com. On the right hand side is the Video Categories section. There are different categories ranging from TV shows, Technology & Video Games to Movies and Travel. Click on any category to view a list of the best videos, which are further categorized into three more sections. For example, if you click on Food, you will be taken to a new page with a 'Recipes', 'Restaurants' and 'Cooking' Shows section. If you are interested in new recipes, just click the 'Recipes' section to watch video clips on world-famous recipes.
Just below the Video Categories section is a section which displays a random category with a small thumbnail preview of the most-watched video clip. So, if today a video clip from the Entertainment category is displayed, tomorrow it may be a brand new video from the Video Games category.
The Great "Wall" of Virtual TVs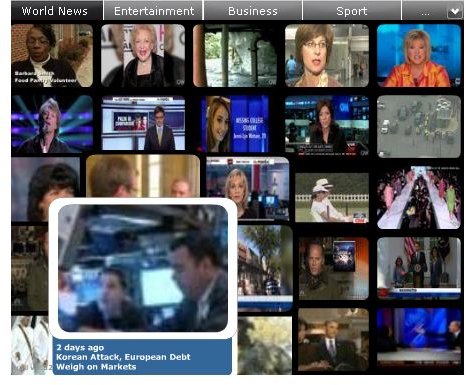 On the left hand side of Blinkx Video Search front page, you will see a 5x5 matrix of the most popular videos on the web. This "wall" of virtual televisions lets user "channel surf" popular videos. It plays tiny thumbnails of video clips compiled from various different categories, including business, sports and world news.
If you roll over any of the thumbnails, you will see a slightly bigger preview of the video clip. Click on it to view a larger size display.
The Wall, as Blinkx adorably calls this 5x5 matrix, has various categories of videos. Notice the top section. You will find different categories such as Business, World News and Sport. You will also notice a small drop down arrow list, which shows a list of additional categories such as automotive, gaming and travel. Click on any category and you will find a series of relevant thumbnails of video clips.
Using the Blinkx Video Search Box
Blinkx claims over 35 million hours of video, and going by their never-ending list of video clips, this claim may be quite true. You can watch any video clip of your choice by typing in the keyword or phrase. For example, typing SpongeBob SquarePants will return a list of cartoon video clips from various video sharing resources like YouTube, DailyMotion, Web Video, CBS4 etc.
Using the Blinkx Wall It Button

The Blinkx video search "Wall It" button lets you create your own 5x5 matrix of video clips. All you have to do is type in the keyword and press the button. So typing in the Kermit the Frog key phrase and pressing the Wall It button would return a "wall" of your favorite Kermit TV shows. What's more, you can share you own wall on your blog or MySpace profile for all your friends to watch. Below you will find an embed code, which you can copy and paste to your site or MySpace profile.
The Blinkx Advanced Video Search Option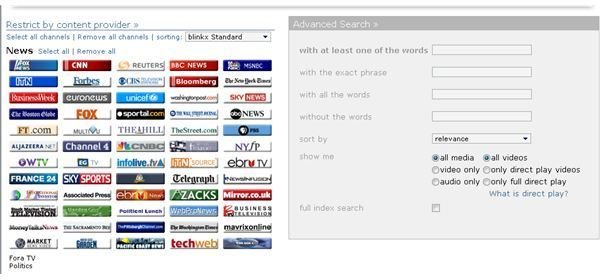 Use the Advanced video search option to filter your search results accurately. To enable this, click on "Browse Blinkx" and select Advanced Search. On you left you will notice list of content providers and on the right is the advanced search option where you can search video clips by typing in the exact phrase (in quotes), or at least one of the keywords to narrow down your search. The content provider section lets to choose the content provider of your choice. So if you want your preferred video clips only from CNN, click on the colorful button.
You can also sort by relevance or date, and if you want only audio clips, then click the audio only radio button in the "show me" field to retrieve audio clips.
If you want preview only, select direct play. However, if you want videos that can be played in their entirety, click the only full direct play radio button.
Once you have set your own filter list, click on the Go button to get video results.
Is Blinkx Safe For Kids?

Blinkx video search engine does have a Safe Search option that can be turned on and off. You will find the safe search link just besides the "Wall It" button. So, if you want your kids to stay away from adult-themed sites. Just make sure this feature is turned ON.
More Tips to Get the Most of Blinkx Video Search
If you want a marathon list of funny video clip previews, click the "entertain me with fun videos button".
To get the latest news, click the "inform me with today's news" buttons.
Blinx video search is easy and fun to use. However, the video "Wall" may not be suitable for epilepsy patients. You must have a high speed Internet access to watch the video wall; else the thumbnails will take time to load.
The video search engine is safe for kids, provided the Safe Search is on. However, certain kid-related queries did not yield family-friendly results, so families must ensure safety before letting their children watch videos on Blinkx.