Firefox Won't Open New Window - Causes And Fixes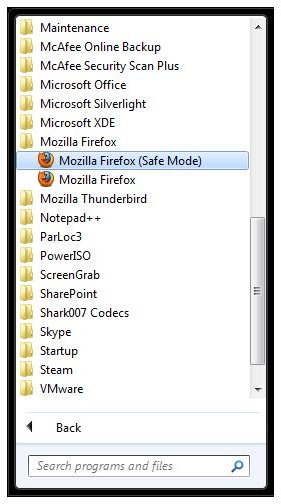 Can't Open New Tabs and Windows in Firefox?
Firefox is a popular browser alternative to Internet Explorer, and is equipped with tabbed browsing and a number of ways to increase its functionality, through extensions and add-ons.
Under some circumstances, Firefox won't open new windows or tabs when you right-click on a link and select either Open Link in New Tab or Open Link in New Window – and this can prove to be quite frustrating.
The cause of this problem can usually be traced back to one of a number of extensions or add-ons, and these will need to be removed in order for the problem to be resolved.
Start Firefox in Safe Mode
In order to work out whether the problems opening links in new windows or tabs are indeed caused by an extension, or if the fault originates with the web page you're visiting, (entirely possible) you will need to open Firefox in safe mode.
Opening in safe mode basically means that the browser runs without these additional features installed.
There are a number of ways to do this – in Windows, the simplest way is to go to Start > Programs > Mozilla Firefox > Mozilla Firefox (Safe Mode).
Another way to launch Firefox in safe mode is to go to Start > Run and enter:
firefox -safe-mode
In Windows 7, type this same command in Start > Search and press enter straightaway.
You should now navigate to the web page(s) where you previously experienced difficulty with Firefox if it still will not open in a new window. If the problem is extension related, then you should see that the issue is resolved with this action.
(Launching in Safe Mode can help you troubleshoot many Firefox issues).
Firefox Won't Open New Windows or Tabs – The Fix
To get to the bottom of this problem, the normal set of steps would be to disable all of your add-ons one by one, and remove each of your Firefox extensions one at a time to narrow down why Firefox won't open new windows and tabs to one particular extension or add-on.
Fortunately, however, several users have already gone through this, and we now know from experience that this fault is related to a Skype add-on, Microsoft .NET framework add-on or Java.
There is also a chance that other user-installed Firefox features are to blame, but as a general rule removing any or all of the above will get your browser working properly once again.
These extensions can be disabled via Tools > Add-ons > Extensions – simply select the one you want to remove and click Disable. Restart Firefox each time you do this to ensure the function has been disabled.
Ultimately, however, this may not resolve the issue; a reinstall of Firefox may be necessary.
Screenshot courtesy of author.