Free Blogger Template Codes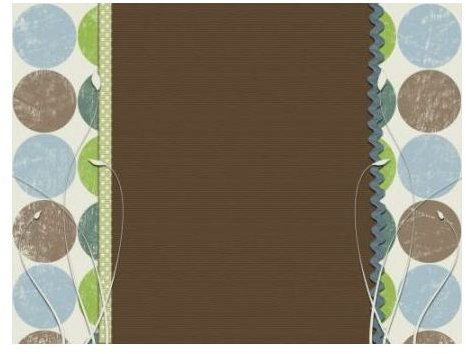 What is Blogger?
Blogger started out as a small blogging tool that was created by Pyra Labs back in 1999. As popularity of online blogging took off, Google started to look at ways to integrate blogging into their bevy of services and bought Blogger out in 2002. Since then, the Blogger platform has grown with use because people who had Google accounts could blog using Google Docs and even e-mail into Blogger to update posts.
One of the many advantages to using Blogger is in the ability to customize the layout of the blog. Many places online offer free blogger template codes that can help bloggers go beyond the standard layout themes that come with the blogging application. Here we check out some of the top links that offer free quality styled templates that can be used in the Blogger system. For more general information on Blogger, see How to Use Blogger to learn more about getting started with blogging through this platform.
Using the Free Blogger Template Codes
In order to use any of the following templates that will be listed here, log into your own Blogger account.
After you are logged in, click on the Edit HTML link under your dashboard. When the code editor is open, you will then want to clear all of the code that is currently shown there. Keep in mind though that you will need to update your links once you copy/paste the new code from a new template into your code editor. Then copy/paste in the new code, save your changes and then when you look at your blog again then a new template will be showing.
Cutest Blog On The Block
This web site created by Ashley and Becky, two mom friends who have a passion for creativity and fun design. The ladies started their site with templates that could be used for Blogspot and then updated them to the Blogger format.
This site breaks their backgrounds down into searchable categories because the collection includes thousands of cute and creative designs. The categories for the free blogger template codes that they have to offer range from two and three column basics to seasonal themes and color bases. In the image to the left is their Bumbleberry background. To see more, click through here: Cutest Blog On The Block Blogger Backgrounds
Gecko & Fly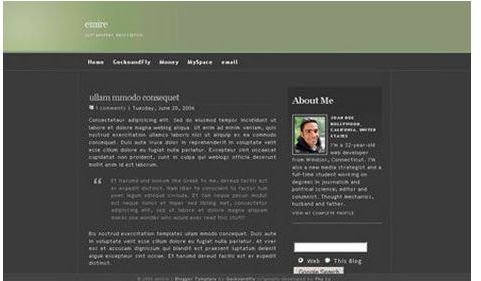 The Gecko and Fly is a collaborative web site that showcases different designer talents from those who contribute. One designer who has created a collection of several free blogger template codes are now listed as open source, meaning that you have to ability to change the working code to fit your needs when you use it for Blogger.
The collection includes twenty-five templates and range from monochromatic through to minimalist designs. In the image to the left is the Emire template. To check out the full list that comes with instructions for each one click through here: Gecko & Fly Blogger Templates
All Blog Tools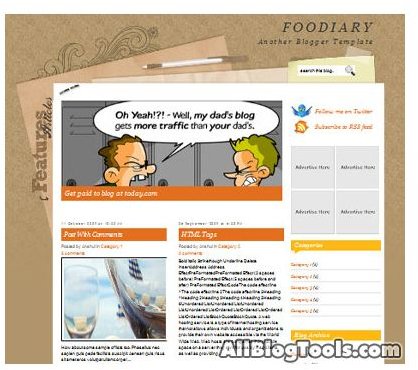 The AllBlogTools.com web site was created back in 2008 to offer people easy and free tools that could be integrated with the Blogger platform. They have a wide selection of tools, widgets and free blogger template codes that can be used by anyone. Trouble shooting areas and answers to code editor questions are also addressed by the AllBlogTools.com team.
Thousands of templates are available through this site from Web 2.0 looking templates through to cutesy and more environmental type designs. In the image to the left, you can see the Blogger template called Food Diary. To see all of the templates that they have to offer, click through here: All Blog Tools Blogger Templates
You can find more information on dealing with widgets in Blogger through, The Best Blogger Twitter Widgets where you can learn how to show Twitter updates within the main template of Blogger.
*images are provided by and © Copyright 2010 TheCutestBlogOnTheBlock.com, © 2006–2010 Gecko & Fly and AllBlogTools.com © 2009.