Copyrights for Google Video Player Explained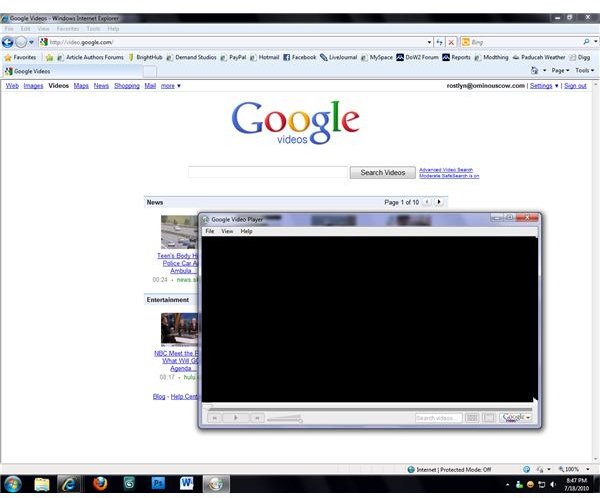 Google Videos and Google Video Player
Google Videos was created in 2005 as a video-sharing site similar to YouTube. With Google's acquisition of YouTube in 2006, the purpose of Google Videos began to shift as searches on the site now included results from YouTube and other video hosting websites as well. Google Videos continued to evolve into a powerful video search engine, eventually ceasing the hosting of user files in 2009 to focus exclusively on finding relevant content on YouTube and other websites.
While Google Videos was still accepting user uploads and actively competing with other video hosting sites, it introduced a media player designed specifically to play videos in the Google Videos encoding format; this was the Google Video Player. The player underwent a number of revisions during its lifespan, both to improve video quality and to deal with the issue of copyrights for Google Video Player videos.
Copyright Concerns
Copyright infringement is a major concern for websites such as Google Videos that host video content online. Copyright infringement on media sharing sites generally consists of individuals uploading content such as movies or videos without the consent of the copyright holder. By hosting these videos and movies, the media site opens themself up to potential legal action by the individual or company who holds the copyright. Since Google owns both Google Videos and YouTube, two of the most popular media sharing sites on the Internet, they have a legitimate reason to be concerned about possible infringement.
The creation of the Google Video Player increased Google's potential liability in regards to copyright violations, since Google Videos users who had the video player would be able to use it to download content from the website and view it from their hard drives. If the content downloaded in such a way was protected by copyright, Google Videos would not only be infringing on the copyright by hosting it but would also be guilty of the unauthorized distribution of copyrighted materials.
Enforcing Copyright Protection
Because of the serious implications of copyright infringement, Google needs to be able to enforce copyrights for Google Video Player and those videos found at Google Video. The videos that were actually hosted at the Google Videos website were routinely screened for copyrighted content, and users browsing the site had the option to flag videos that contained copyrighted material for review. Any videos that were found to infringe on copyright were removed from the site, though uploaders had an option to appeal this decision if they did in fact have the rights to the material.
To help prevent copyrighted material from being downloaded, the Google Video Player used special files known as "pointer" files when users wished to download videos for use on the player. These pointer files did not contain video themselves, but instead told Google Video Player where to download the video data from; if the video had been removed due to copyright infringement, the player would not be able to retrieve and play the video.
Image Credit: Screenshot by J. Edward Casteele