Gmail is a free, advertising supported webmail service provided by Google. As a result of number of reasons, many Internet users search alternatives to Gmail expecting a better service and features.
Gmail
Gmail combines the best features of traditional email with Google's search technology. Gmail as of July 2009, had 146 million users monthly. They currently provide over 7400 MB of free storage and it can be upgraded from 20 GB (US$ 5 per year) to 16 TB (US$ 4096 per year). This space is shared between Picasa Web Albums and Gmail. Their email storage space is about 1.7 GB. This storage was increasing at a rate of 0.0144 MB/h as of January 18, 2010. Despite these attractive features many people prefer alternatives to Gmail because of lack of security, poor Rich HTML formatting, issues in policies, showing contextual ads, and many more reasons.
Yahoo Mail
Probably the best Gmail alternative may be Yahoo Mail. With over 280 million users as of 2009, it is the largest web-based email service. They offer two versions of Yahoo Mail as Yahoo Mail Classic and Yahoo Mail. Yahoo Mail Classic is their traditional mail system. The free version of Yahoo Mail offers you unlimited Mail storage, 25 MB attachments, 100 filters to automatically sort incoming messages, better spam protection, POP3 support, Mail forwarding facility, etc. But those accounts not logged for four months get deactivated. This can be retrieved later but all stored data are lost.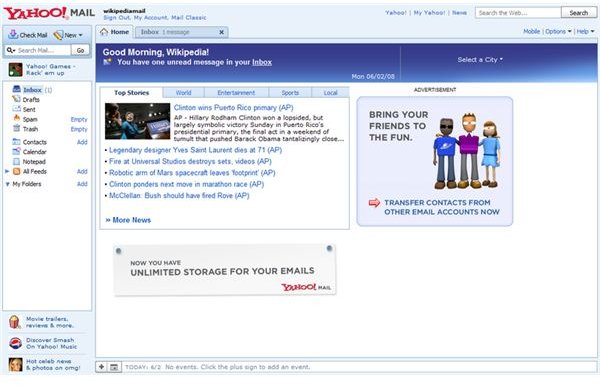 Yahoo Mail Classic is better than Yahoo Mail in terms of spam protection, but lacks a powerful plain editor. Also Yahoo Mail Classic doesn't thread messages. New Yahoo Mail integrates email, instant messaging and SMS text messaging. Also it is enjoyable and easy to use because of keyboard shortcuts and a desktop-like interface. Cons of New Yahoo Mail include not providing IMAP access for desktop email programs, inability to label messages freely, lack of smart folders, and relatively poor spam filtering. Still many Internet users prefer Yahoo Mail as an alternative to Gmail.
Windows Live Hotmail
For those who are looking for a good alternative to Gmail, Windows Live Hotmail would be a good answer. Windows Live Hotmail is the second most popular web-based free email service with over 270 million users as of 2008 and it was previously known as MSN Hotmail. Users can select a domain address from @hotmail.com, @live.com or @msn.com. Windows Live Hotmail has a simple and user friendly interface with attractive features. It includes storage of 25 GB with a size limit of 10 MB for a message. Spam filtering and virus scanning, support for POP access, better searching capabilities, etc. are some of its features. Windows Live Hotmail also lacks virtual folders and the spam filter is not up to the desired level. It has lost emails at least once in the past.
AOL Mail
AOL Mail is another good alternative for Gmail. They also offer unlimited storage for emails and maximum message size is 16 MB. Although they support IMAP, POP3 is not supported. AOL Mail has most of the features that other major email services provide. These include spam filters and reporting, virus scanning, image blocking, creating folders, custom filters, auto reply capabilities, Mobile access, etc.
Inbox.com
Inbox offers you a fast and functional way to deal with your email. Although the storage space is only 5 GB, it is a great alternative to Gmail when considering the sleek interface and number of attractive features. Their spam and virus filters are very strong and can be accessed via a desktop mail program using POP. Drag and drop and keyboard shortcuts make it easier to use. Inbox.com doesn't support IMAP access and can't setup smart folders. Another issue is not supporting encrypted mail and digital signatures.
Fastmail
Free email services often have the bad aspect of showing so many ads and slow loading. But these are no more problems with Fastmail. Fastmail rarely display ads and is very fast to load. With its keyboard shortcuts and flexibility, it is quite easy and enjoyable to work with Fastmail. These reasons have made Fastmail is a very attractive alternative to Gmail. Offering only 10 MB of storage space for free service and lack of integration to third party services are notable issues. Paid service includes storage space up to 6 GB.
If you dissatisfied with all of these services you may consider other free email services like Mail.com, Goowy.com, GMX Mail, or BigString.com. It is better to use Yahoo or Windows Live as an alternative to Gmail if you are looking for a long term usage. Because these three email providers always try to offer a better service than other two to retain their customers. Therefore you may expect a continuous increase of benefits from them unlike other mail services.
This post is part of the series: Gmail
Gmail is one of a leading free web-based mail service provider on internet. It also allows you to have many more related services. In this article series you may learn about Gmail, its features, how to use it effectively, and many more information.