Find jobs more effectively using Google Serach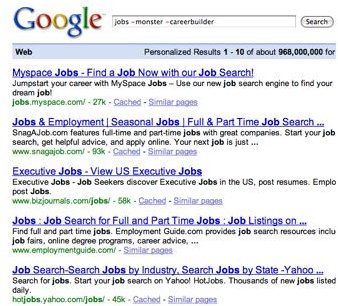 Experienced job hunters concentrate their search on different job boards like Career Builder, Hot Jobs and Monster, as well as vertical job engines like Simply Hired and Indeed. Despite so many resources to use to look for jobs, it is still tough to search out meaningful information about the jobs and companies. Amazingly, there is a wonderful tool that you are likely to utilize everyday, and is also the best job search engine; "Google".
If there is any relevant information present on the Internet then Google finds it for you. This guide will help you learn how to use Google jobs more efficiently. This guide will assist you in creating new career opportunities that you were not aware of. It helps you locate appropriate jobs for you and saves you from applying for jobs that are not a good fit.
In order to use the Google Job feature to your best advantage you have to be a great searcher. Google is not magic but it best organizes information so that people locate the stuff they are looking for; most of the times. For example, when you type " jobs" in the Google search engine, the search results will take you to major job boards since many people are looking for them. If you wish to gain specific information including names of the companies and vacant positions then you have to follow a particular pattern. With a little effort you can enhance the quality of jobs and the kind of results you obtain.
Google's search engine spiders extract the precise information based on the type of words you enter in it. Here are few basics that will help you refine your search results:
Using Quotes:
When you make use of quotes in Google search engine, you are able to locate the exact phrase. So if you insert words as "Jobs Boston", you will locate all kinds of pages that include both words: Jobs and Boston. However if you type Jobs in Boston then you will be presented with only those pages which contain this specific phrase in them. Such results can be very helpful for locating specific information that you may be looking for.
Like search terms
Now you can further refine your research by putting ~ in front of the term. For example if you search using Boston~jobs than it will provide you with results containing Boston Jobs, employment, careers and like terms.
Addition by subtraction
Many times you may find Google gives you too many results. To find the information more easily you can exclude words by using a "–" before the term that you would like to exclude. So if you are looking for jobs in Boston but you do not wish to see results from Monster and Career Builder you can write "jobs in Boston-monster-career builder" in the search engine.
Search by a top level domain or a given site
Sometimes you will locate a company's website but there is no link for career information anywhere on the website. Presuming that company will be looking for people in next few years, you may nose around the website, using search tools, until you see what you actually want.
Other tid bits:
If you wish to look for multiple terms then you can use "or" between two or more terms for better search results.
To search websites using a particular keyword in their URL's, you may use the command "inURL:" For example, to locate a site with jobs in their URL's you may type "inurl: jobs"
You can also use the zip code of your city or the place where you are looking for job listings. You can write zip code and word jobs in the search engine and you will be taken to page results with a link to Google base Jobs listing.
Try using plurals, acronyms and abbreviations. Try alternative methods. Sometimes Google notices and understands the abbreviations but you can research both ways to go through all the listings.