All About Google News, It's Features, and How To Use It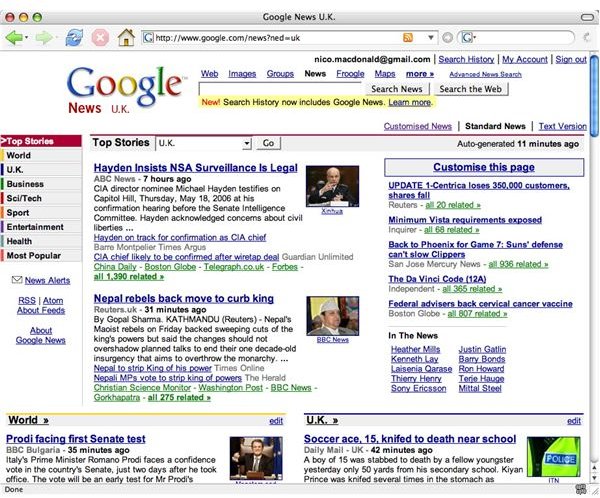 Google News
That is however, if you use Google. Google offers just about everything these days, and now it is one of the best places to read the news. Rather then using a complete website or blog to post articles, Google utilizes their already impressive search engine technology and focuses it into a news aggregator. Google news, searches and pulls news stories from many credible sites around the web, and then organizes them into a single news page. You can go directly to the Google news page by following the link "https://news.google.com/" or simply by clicking the news tab located at the top row of the Google search page.
What websites does Google use to get information for the Google news page? The websites with the higher pageranks and better credibility. Some notable ones being: New York Times, Washington Post, CNN, Wall Street Journal, and Associated Press. However, if you have a news blog or website and would like to have Google consider featuring some of your stories on the Google news page; you can submit your site for review here.
Categories and Layout
By default, when you navigate to the Google news homepage it will show you the "top stories" for the day. However, if you are looking to browse through additional categories or topics, it also features many other choices by way of the navigation list located along the upper left hand side of the home page. Topics include: world news, U.S. news, business, science and technology, entertainment, sports, health, and most popular. For a news reader that may need a different language pack, Google news can be easily translated via the drop down language menu located along the upper left hand side of the page as well.
Reading an Article
Because Google news is a search engine news aggregator rather then a blog or website, it mainly only posts links. It does not host any of the actual articles within the Google news site. So, when you click on an article that you would like to read, you will immediately be taken to the article source. Ex. New York Times website. If you want to keep the Google news page open so that you can read other articles as well, open the links within a new window (recommended).
Why Google News?
Google news is very efficient because it is so widespread. Because it draws news from so many websites, you will get a very unbiased variety of news every time you read. For example, if you were to set your homepage as simply the Washington Post everyday, you would only have direct access to Washington Post articles by WP writers. Also, much of the news from that site would be local. With Google news, you are scanning thousands of publications within one nicely set-up homepage.
Compare
Many may say that Google news is much like the websites digg or technorati. However, Google news does have one distinct advantage. That is, it uses Google's patented search engine and pagerank technology so that it only brings in the most accurate news. Digg's news is majorly submitted by web surfers and promoters. Technorati only searches blogs.