Learn How To Use Gmail Themes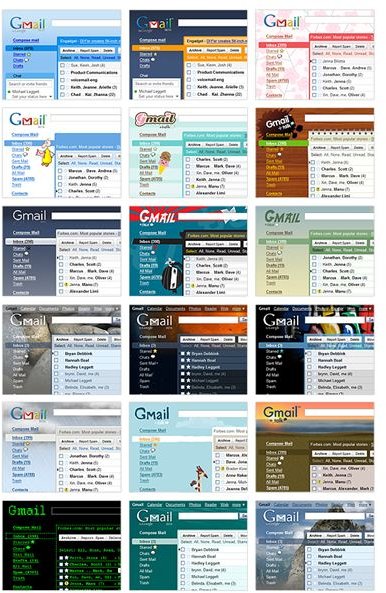 What is Gmail Themes
Gmail themes are custom layouts that lets you change the appearance of your email account. You may just want a new theme for the sake of style or change of scenery. But, it can actually be quite helpful for those who may be uncomfortable with the text and background in Gmail's default look. A new theme can help them read their emails more easily. Here's what you need to do to get started.
.
Images
Gmail Settings
Go to the Settings menu located on the upper right corner of your Gmail homepage.
Tabs Menu
Here you will come across tabs that show you several options like "Labels", "Filter", and "Chat". You will want to click on "Themes", the last tab on the far right.
Themes Section
Once you click on the tab, it will open up all the available themes with about 30 to choose from. Some will basically have a new color theme like "New Blue" and "Green Sky"; other themes will include images of nature, designs, and cartoon characters. You can easily preview any one just by selecting it . If the chosen theme doesn't suit you, then just try something else or return to the default theme located at the beginning.
The names of these themes will give you an idea of what your email can look like: "Ninja", "Tea House", "Graffiti", "Mountains", "Pebbles", "Desk", "Bus Stop."
Make Themes Change Their Appearance
There is another option available that lets some themes change its appearance according to what country and city you live in. This is the location feature which is at the bottom of all the themes. Once you finish typing in the country and city you're from, the theme will now change depending on the time of day of where you live; it will correctly match the sunrise, sunset, and/or weather according to your location. For example, the "Beach" theme will have a sunny appearance during the morning, while at evening, it will turn into a night setting.
Choose Your Own Colors
If you don't like any of the themes, there is another option that lets you change all the colors in Gmail yourselves. This option can be found next to the last theme at the end, where there will be a box with the words, "Choose Your Own Colors." Click on that, and a new window will pop up; here, you can change the colors of your texts and background, from the links to the inbox. There are various colors available so it shouldn't be an issue.
Anytime you feel you need to start over again customizing your theme, just click on the "Reset" button. Choosing your own colors is especially helpful for those who may have visual disabilities; they can now easily pick the colors of the text and background to personally suit them.
Third-Party Support
Google does not support any third-party themes; all you have are the ones located under the "Themes" tab, all developed by Google. The company is concerned third-party software may actually cause technical problems for your email, slowing it down and causing other errors; they believe it's best if all the themes came directly from them instead.
What Browsers Will Work With Gmail Themes
Understand that Gmail Themes doesn't support all browsers. So far these are the browsers that will be compatible:
1. Internet Explorer 7.0+
2. Firefox 2.0+
3. Safari 3.0
4. Google Chrome
There will be no "Themes" tab under the settings menu for any browser that doesn't support Gmail Themes. Anyone who is using Internet Explorer 6.0 will not be able to use Gmail Themes.
Friendly To Use
Don't be afraid to experiment with all the options available for you in Gmail Themes; that's why Google made it easy to always return to the default theme, with a simple click of the mouse, in case you made a mistake or didn't like the results of your customized theme.
Gmail Help
Here are other articles that can help you with Gmail:
1. How to Create Mail in Gmail
2. How to Delete Mail in Gmail
3. Google Labs for Gmail