Find Out How to Set up a Gmail Account - Step-by-Step Instructions on Google Gmail Here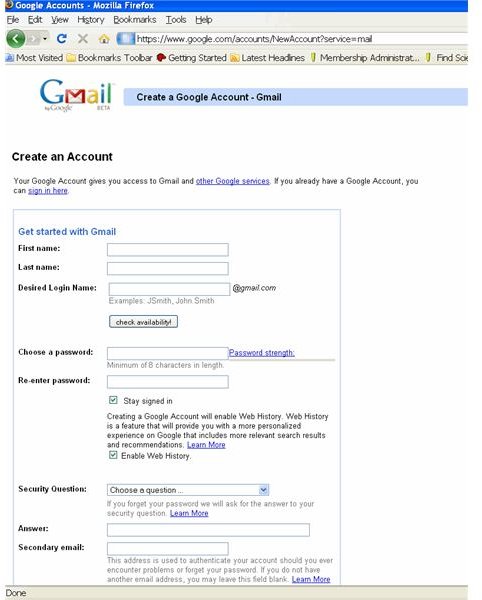 When Google first started up its free email program, it was through invitation only. Now Google's email program, known as Gmail, is free to anyone who wants to set up an email account. Gmail is now used by hundreds of thousands of people in over 40 countries.
Setting up a Gmail account through Google is quick and easy. Just follow the steps below and you will be ready to use your new email account:
Once you have finished these steps, you can personalize your Gmail settings and start using the account with all the great capabilities that come along with it.
1. Go to www.mail.google.com to open your new Gmail account.
2. On the Create an Account page, start by filling in the following information:
Your first name, Your last name, Your desired login name (be sure to click on the check availability box to ensure you get the login name you want.)
3. Select an 8 character minimum password. There is a password strength indicator that can let you know how strong your password is. This is an optional step that you can take, but it will ensure that your password would not be easy to "crack".
4. Once you have decided on a password, you can check the "remember me on this computer" if you want Gmail to automatically insert your password once you have entered your login name. You can also check the "Enable Web History" box if you want Google to keep track of the sites that you visit most often.
5. Enter a security question from the drop down menu. Try to choose one that would not be easy for someone else to answer.
6. Type in the answer to your security question.
7. If you choose, you can type in a secondary email account that will authenticate your Gmail account if there are ever any problems or if you forget your password. This is an optional step and can be skipped over if you do not have a secondary email or do not wish to enter it.
8. Select your Country location from the drop-down menu.
9. Type in the characters that you see for the word verification.
10. Review the Google Terms of Service. If you accept the terms, click on the "I accept. Create my account" button.
Read more about your Gmail account with How to Create Mail in Gmail, How to Delete Mail in Gmail and Creating and Managing Contacts in Gmail.
Extra Features of Gmail
Gmail has loads of user-friendly extras that make it a great email program to work with.
There are great spam filters (with no extra software needed to use them), users get instant mail search that takes the guess work out of where a certain email is, there is a ton of storage space, it can be used in conjunction with Outlook Express or can be accessed on a mobile phone and there are auto responders for when you are out of town or on vacation, plus many more features.
Images