Create Custom Sub-Domains for Google Apps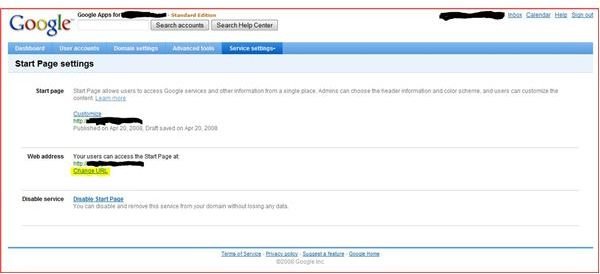 As the Internet continues to grow exponentially in size, Eeb addresses to access accounts become more complicated in order to accommodate the large number of users. Google Apps provides an easy way to customize the Web addresses for your services through the use of sub-domains, which is a specialized name under your main domain. Using your own sub-domain with Google Apps services provides a more professional image for your organization while creating an easy to remember Web address for you and other users.
When you first set up your Apps account, Google provides a default Web address for all of your services. For example, users would sign-in at https://mail.google.com/a/yourdomainname.com to access their email accounts. Google provides the option to create your own custom URL, such as https://mail.yourdomainname.com. When users enter the simple, personalized URL, they will automatically be redirected to the https://mail.google.com/a/yourdomainname.com site.
Before you get started, make sure that you have the user name and password needed to access the advanced domain name tools for your account on your domain registrar's Web site.
Go to your main start page, and sign in. On the top right, click Manage this Domain to access the control panel.
Click Service Settings on the main navigation bar. From the drop-down menu, select the service you want to customize: Start Page, Email, Chat, Calendar, Docs or Sites.
On the settings page for the service that you selected, go to the Web Address section, and click Change URL.
Click the radio button for the custom address. In the empty field, type the custom url that you would like to use. Examples include mail, m, calendar, events, start, main, and docs. Click Continue. If you would like to change and customize the Web addresses for all of your services at the same time, click Change URLs for all domain services at the top of the page.
Change your CNAME records with your domain registrar so that your new custom sub-domain will point to your Google Apps services. Google provides extensive instructions on how to do this with almost all domain hosting companies. If you purchased your domain name through Google during the sign-up process, you do not have to complete this step. Google will automatically work with GoDaddy and eNom to create the sub-domains for you.
Once you have changed your CNAME records, go back to the Apps control panel, and click I've completed these steps.
It can take up to 48 hours for Google to verify your new sub-domain and to set-up redirection to your services.
Images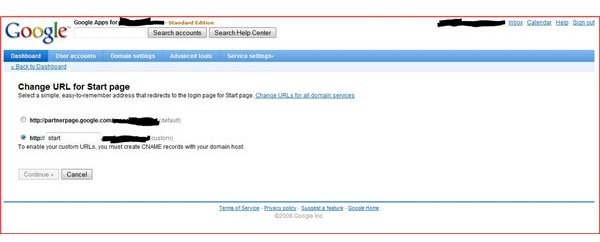 This post is part of the series: Guide to Google Apps For Your Domain
A comprehensive guide to set up, customize, and use Google Apps for Your Domain.