Learn about the Google Keywords Report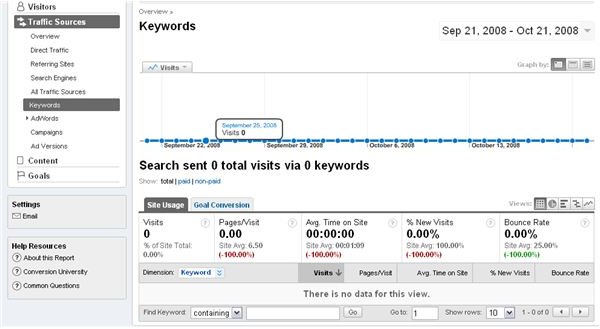 Report Overview
The Google Analytics Keyword report can be found by logging into your Google Analytics Dashboard. Click Traffic Sources, then Keywords. This will show all the keywords which brought readers to your site from search engines. You will be able to sort them by total, paid, and unpaid.
On this report, you will see the same information you see in other reports about your traffic like:
Visits: The total number of visits to your site in a 24 hour period.
Pages Per Visit: The total number of pages a visitor looked at while on your site. This is an average for the total number of pages against the visitors who came to the site.
Avg. Time on Site: This is the average amount of time a visitor spends looking at your site.
% New Visits: This is the percent of visits out of all of them from people who had never been to your site at all.
Bounce Rate: This is the percentage of visits which ended very quickly because the user did not find what he or she was looking for or expected to find at your site.
Your screen should look something like this:
Below the graphic representation of visits, you will be able to find more detail regarding each keyword which brought in visitors—learning which keywords netted the most visitors. You'll be able to see which keywords brought how many visits, within the specific timeframe you're searching under.
If you need to change the date range to see a more specific range of dates, you can do so by clicking the arrow at the right of the date range and entering the timeframe you wish to see.
How the Report Helps You
So what does all this data mean for you? It helps you see which keywords are working for you. If these are not the keywords you are aiming for, or expecting, you can determine where adjustments need to be made in your content to make things work the way you'd prefer.
If you need to adjust your content to better bring in visits with keywords consider doing some keyword research. There are a variety of tools in help you make sure you are targeting your content. Conducting keyword research allows you to see what people are searching for in order to make sure you come up somewhere in those results. There is more to search engine optimization than just the keywords your content is aiming to rank on. However, this is a major component, and is a great first step.
Keyword Research Tools
This post is part of the series: Learn More About Your Website Traffic with Google Analytics
Learn all about the sources of your web traffic so you can find out what works and what doesn't. This will help you decide what to do with your advertising budget.