Customizing Settings in Google Talk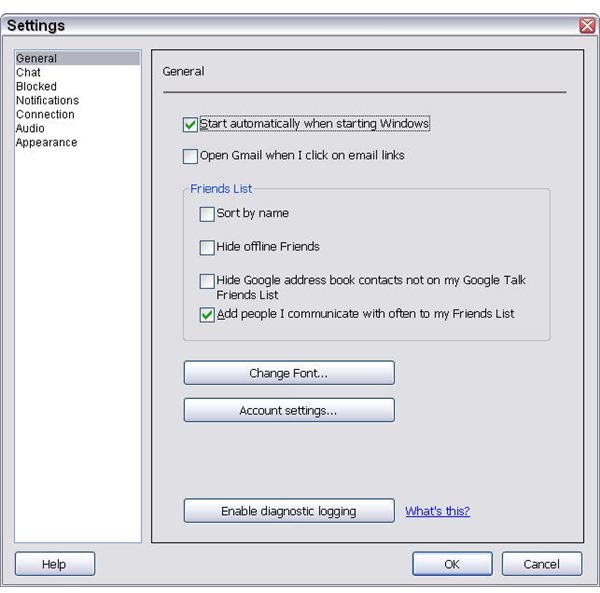 The settings menu is an important part of setting up your Google Talk application. It lets you customize some of the ways that Google Talk behaves.
When you click the Settings link in the top right corner of the Google Talk window, a settings dialog box appears, like the one shown to the left.
By default, the Settings dialog box appears on the General page, but on the left side of the window that opens is a list of seven other pages that also contain settings options:
General: The General page allows you to change how Google Talk opens and behaves. From this screen, you can also set options for your friends list, change your account settings, and troubleshoot the program.
Chat: The Chat page lets you decide whether you want to keep logs of your chats or not. Logs are a great way to keep a record of instant message conversations.But keep in mind that they contain the entire conversation, so if you say something you don't want getting around, you might want to remove the chat log or turn off the logging capabilities.
Blocked: This is a list of the names that you have blocked from instant messaging or calls using Google Talk. From this screen, you can also unblock other users.
Notifications: On this screen, you set how you're notified about incoming instant messages and call indicators that show your friends are online. There are also controls here for email notifications.
Connection: Change the way you connect to Google Talk.
Audio: Set your audio preferences on this screen. You can change how your audio behaves when you're on a call and when you have an incoming call. There's also an option to share your Music History with Google's Music Trends service.
Appearance: On this screen, you can change how your contacts appear in the Google Talk window. Use the options here to choose a style that contains or does not contain pictures, and that meets your style.
The settings option is about making Google Talk more convenient (and more fun) for you to use. Use these settings to personalize Google Talk, and then you're ready to begin using the program.
References
This post is part of the series: Using Google Talk for Communications
Google Talk offers VoIP (Voice over Internet Protocol) phone service and instant messaging, along with other features that help you stay connected to people around the globe. This series of articles covers getting started using Google Talk for all your communication needs.