How to Download and Install Google Talk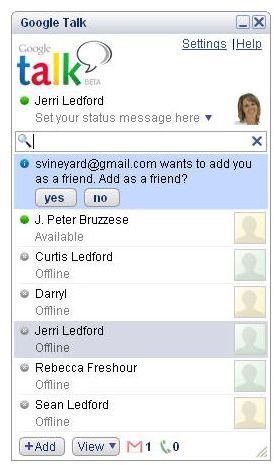 The one aspect of Google Talk you might find slightly unappealing is the program's download procedure. Because Google Talk allows you to talk to or instant message with other people, you need some type of indicator on your computer that authorizes and ehlps to complete calls and instant messages. That capability is included in the download you'll need to perform if you want to use Google Talk.
Downloading and Installing Google Talk
To get started using Google Talk, go to the Google Talk homepage. When you log on to the Google Talk home page for the firs ttime, you'll see information about the program and a link to download the Google Talk software. Click the Download Google Talk button.
The download should begin automatically. Select a location on your hard drive to save the file, and when the download is completely, close out of all of your windows, navigate to the file, and then double-click it to begin the installation.
Installation is short and, when it's finished, you need to sign into the Google Talk window that launches, using your Google account information or your Gmail account information.
How Google Talk behaves after you sign in is determined by whether or not you have a Gmail account. If you do have a Gmail account, when you sign into Google Talk for the first time, the program will be populated with the contact information that you've stored in Gmail, as shown in the figure below.
If you don't use Gmail, then Google Talk will open but your contact list won't automatically populate. You'll have to manually add the people with whom you would like to communicate. But you'll learn more about that later in this series in the article titled "How to Set Up Your Google Talk Contacts List."
Navigating Google Talk
For now, let's look at how you get around in Google Talk. In the figure below, you can see each of the cammands and navigational aids for Google Talk labeled.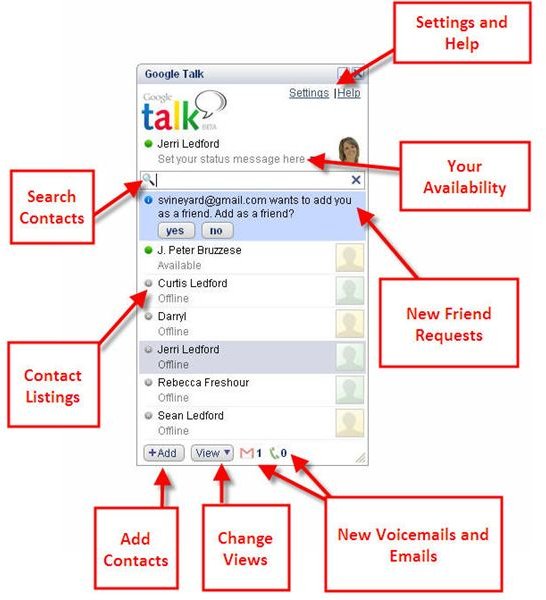 Search Contacts: Quickly find your contacts using the search capabilities included.
Contact Listings: This is a list for each of your contacts. By default, Gmail contacts are listed first in alphabetical order and then all other contacts are listed in alphabetical order. You can click a contacts name for options on how to communicate with him or her.
New Email and Voicemail: These two icons show you how many new emails and voicemails you have available. If you click either icon, you are taken to your Gmail account email or voice-mail view.
New Friend Requests: In order for others to talk to you through Gmail Talk or instant messaging, you must be listed as a friend. This notification let's you know if you have any friend requests.
Change Views: You can change how your view your contacts from this option.
Add Contacts: Use this button to add contacts to your contact list.
Most of these options have submenus that allow you to perform more tasks and organize your communications in a manner that's convenient for you. The Settings menu is an important on, however. It's covered in Part 2 of this article.
[This article is excerpted from Google Powered: Productivity with Online Tools by Jerri L. Ledford (ISBN: 978-0470109656, Wiley, Jan. 2007).]
This post is part of the series: Using Google Talk for Communications
Google Talk offers VoIP (Voice over Internet Protocol) phone service and instant messaging, along with other features that help you stay connected to people around the globe. This series of articles covers getting started using Google Talk for all your communication needs.