Learn about Direct Traffic Sources in Google Analytics Reports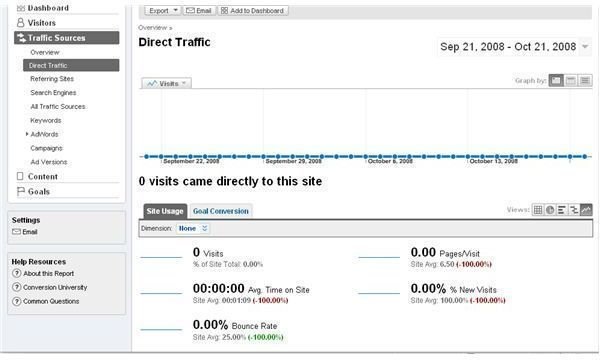 Direct Traffic Report
The Google Analytics Direct Traffic report is found by clicking Traffic Sources and then Direct Traffic. On this report, you will find statistics regarding visits to your site that came by directly going to your site in the browser, be it from directly typing the URL, or from a bookmark in the user's browser. When you see the Direct Traffic report, you will see a screen which looks something like what you see on the left.
People who come from directly typing the URL have likely found it through your offline advertising via phone book ads, flyers, or business cards. Though it s not an excellent indicator of how these offline marketing tactics are working, it helps.
The report is going to show you all of the same data you have seen in the visitors reports:
Visits: The total number of visits to your site (directly)
Pageviews: The total number of pageviews from these direct site visits
Pageviews/visit: The average number of pages each visitor looked at while browsing your site directly.
Average Time on Site: The average amount of time the user spends on the direct visit to your site.
% New Visits: The total number of new direct visits
Bounce Rate: The percentage of time the user comes to your site and then leaves because he or she cannot find what she was looking for or came to the wrong site.
The difference is this report will show you this information only as it pertains to the people who have come directly to your site.
As with many other Google Analytics Reports, you can alter the view of the report by clicking on the icons at the upper right corner of the last box on the screen. You may change the date range on the report by clicking the arrow next to the date range and changing the dates you want to look at.
Choosing a dimension from the drop down menu shown via the graphic on the right will help you to better classify and segment the information you see based on all of the factors you see in the menu.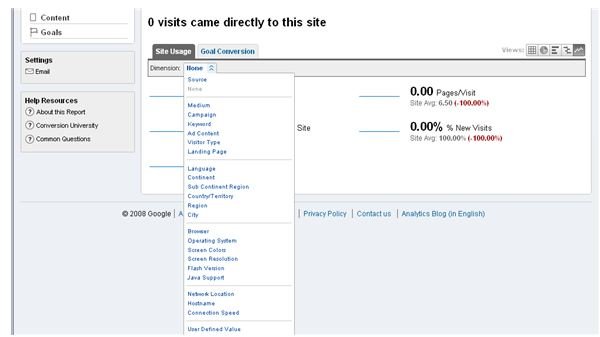 If you begin to see your domain being used as a keyword which is in bringing in traffic that technically should count as direct, you may use the code _addIgnoredOrganic('sitekeyword') to remove the keyword from the list and have it tracked as direct traffic.
In a future article, we will discuss tracking campaigns and setting up variables so as to better be able to differentiate between your referring and direct traffic.
This post is part of the series: Learn More About Your Website Traffic with Google Analytics
Learn all about the sources of your web traffic so you can find out what works and what doesn't. This will help you decide what to do with your advertising budget.