Top 5 Flickr Add-ons Offer Great New Options and Flexibility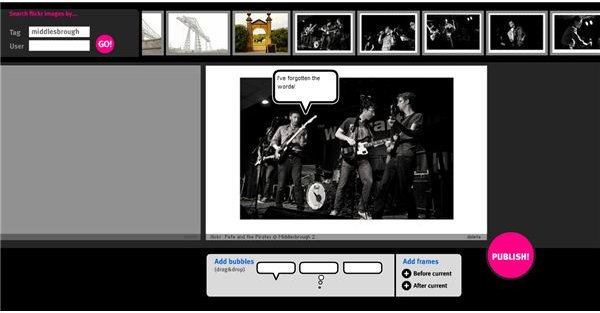 The Flickr photo and image gallery website remains a popular choice for people proud of their photo collection despite the success of Facebook and the photo upload service of that site. In truth, Flickr is a more suitable home for photos and if any of them require sharing with Facebook, there is a useful button that makes sharing possible.
As popular and versatile as it is, though, Flickr is short a few useful functions such as the ability to create slideshows, tools for downloading galleries in bulk and adding quirky elements such as speech bubbles. This is why so many Flickr add-ons have spring up over the past few years, offering an extension to the basic functionality of the software by tapping into your account and providing you with a new set of tools.
Several such add-ons are available; below is a collection of great tools that can be used with Flickr.
Bubblr
You can certainly have a lot of fun with Flickr, not least with the Bubblr add-on, a useful method of adding speech bubbles to your photos!
To use this fun feature, head to www.pimpampum.net/bubblr and either enter a tag and click GO!.
When the resulting images are loaded up, you can then drag these to the main window to add speech bubbles, captions and thought bubbles. Type in a few words and then hit Publish. The finished sequential artwork can then be shared via email.
This is a great way to use some of your less interesting Flickr images.
Screenshot provided by author.
Picnik
One of the main complaints about Flickr is that it does not have any editing tools – but with useful Flickr add-ons like Picnik, it doesn't need them.
To use this service, head to www.picnik.com and click the Get started now button. On the Home tab, look for the Flickr icon under the Open your photos from wherever they are heading, click Connect and then sign in to Flickr. Once signed in you will be able to crop and resize images, repair faults, add special effects and other similar enhancements from the comfort of your browser, without downloading any additional software!
Note that Picnik is not limited to Flickr. You can use it to edit images on MySpace, Facebook and Picasa – and the various tools that it offers can (such as changing eye color) also be applied to any photos that you have stored on your computer.
Screenshot provided by author.
Flickr Uploadr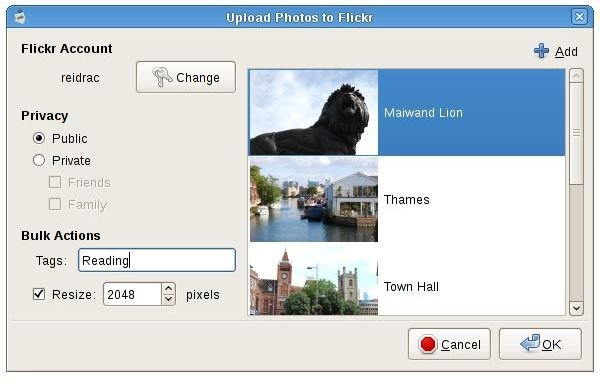 The usual method of uploading images to Flickr can be quite drawn-out, especially when you have a bulk upload planned. The best way around this is with an uploader tool, and there are several available for use with Flickr whether you are running on Windows, OS X or a Linux distro.
Windows and Mac users should head to www.flickr.com/tools and download the latest version of Flickr Uploadr. Once installed, this tool will sit on your desktop waiting for you to drag images from an image folder onto the uploader. It is quick and easy, and will allow you to get as many photos and other digital images as you like onto your Flickr photostream.
Linux users, meanwhile, should use Nautilus (pictured), available from www.usebox.net/jjm/nautilus-flickr-uploader. This is just as easy to use as the official uploader, and works by adding a context menu item. Simply select the photos you wish to upload, right-click and choose to open them with Nautilus.
Image credit: https://www.usebox.net/jjm/nautilus-flickr-uploader/
Flickr Slideshow Generator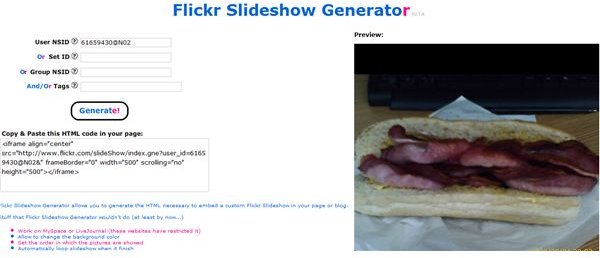 This useful tool allows you to create the necessary code to create slideshow that can then be added to your website or blog.
Head to fabiocavassini.com.ar/SlideShowGenerator.html to start using this add-on, where you will be prompted to input a user NSID code in order to create the slideshow.
So what is a user NSID code? Well, it's a type of identifier associated with your Flickr account, but you probably won't have seen it, or know what it is. To find out, head to idGettr.com, where you will be able to input your photostream or group pool URL (for instance, the photostream URL would be https://www.flickr.com/photos/[USERNAME]/) to reveal the NSID.
With the NSID copied, paste it into the Slideshow Generator tool and click Generate!. A preview of the slideshow will be displayed alongside the necessary code that you can paste into your webpage HTML file.
(Note that Live Journal and MySpace have blocked this service.)
Screenshot provided by author.
Fotobounce
This ad-supported free application (a premium, ad-free version is also available) can be downloaded for Windows and Mac from fotobounce.com/download and allows you to download an entire Flickr gallery owned by a friend or family member.
Once setup, all you need to do is sign in and you can then use the utility to either upload your own photos or download those of your friends as part of a wider, private photo sharing network.
Of course, this does mean that your contacts will need to be using Fotobounce as well, but with the ability to import not only Flickr but also Facebook and Twitter images for sharing; this is clearly a very useful application to have at your disposal, particularly if you have privacy concerns.
References
www.usebox.net/jjm/nautilus-flickr-uploader/
fabiocavassini.com.ar/SlideShowGenerator.html
Author's own experience.