The Google Art Project - A Gallery Free of Unruly School Tours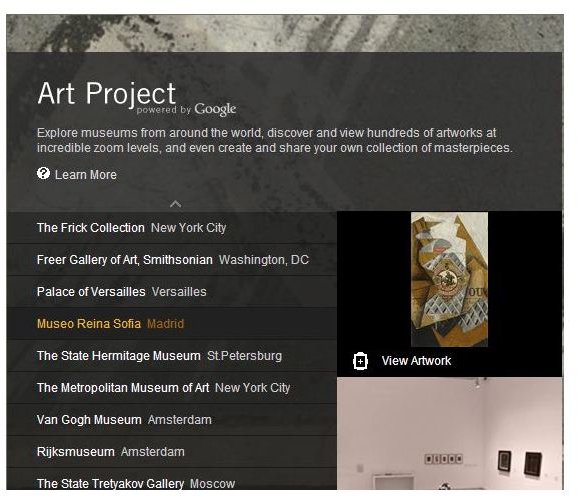 What Is the Google Art Project?
In February of 2011, the almighty Google stepped up to the plate to bring world renowned art to anyone with a computer and Internet access. Partnering with 17 museums, Google Art Project allows users to explore over 1,000 works or art by some 400 artists.
This is a must see website even if you're not an art lover. You may have heard of Starry Night by Van Gogh or the Seed of Areoi painted by Van Gogh's colleague and perhaps harshest critic, Gauguin. Now you can see them from home at absurdly high resolution, even the bright, stunning Haiti-inspired paintings of Gauguin.
You can find the Google Art Project here and what you can do once you're there in cyber-mode is amazing. There are so many things to see, do and explore, and it will fascinate anyone for hours.
MS. Blog offered up that of all the 400 pieces of artwork, only 3 are from women—all in European museums so forget about locating an up-close view of a Georgia O'Keefe. MS Blog also states that even though there are only 3 women artists over 83% of the nude artwork pieces are female—a good point indeed so let's hope Google plans on including more work by women artists in the future as they plan on adding to the website.
Partners of the Project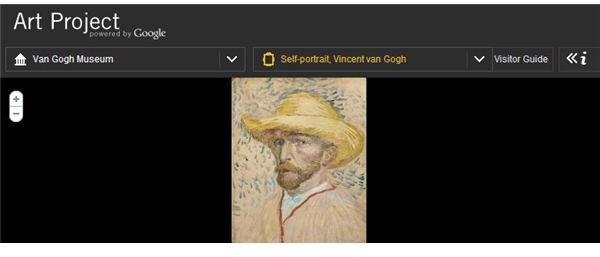 Google partnered with 17 museums to explore including:
Alte Nationalgalerie, Berlin Germany

Freer Gallery of Art, (Smithsonian) Washington DC

The Frick Collection, New York

Gemäldegalerie, Berlin Germany

Metropolitan Museum of Art, New York

Museum of Modern Art, New York

Museo Reina Sofia, Madrid Spain

Museo Thyssen-Bornemisza, Madrid Spain

Museum Kampa – Prague Check Republic

National Gallery, London

Palace of Versailles – France

Rijksmuseum, Amsterdam, The Netherlands

State Hermitage Museum, Russia

State Tretyakov Gallery, Russia

Tate Britain, London

Uffizi Gallery, Italy

Van Gogh Museum, The Netherlands
Features of the Art Project

Upon your first visit to the Google Art Project, it's best to watch the YouTube video—it's a short video that explains how to use the website—worth a quick watch.
Choose from the drop down list of museums and click on the floor plan feature that's laid out in a "you are here" fashion to see 360 degree views of each room—you can even stop in a room, zoom in and take a close-up look of some of the famous and infamous paintings. Click on the floor plan to jump from room to room and even level to level.
If 360 viewing isn't your thing, choose specific artists/artworks from the drop down menu and zoom in to see even the most delicate touches that have lasted over centuries. Most of the artwork allows you to zoom in and the sidebar offers a history of the piece including when created, size, type of art (oil, watercolor, etc.), and a brief history of the artist. The artwork history tab will tell you the owner of the artwork and a timeline of where it's been and where it sits.
Note that Google Art Project does have a disclaimer that not all of the artwork has the zoom capability due to ownership rights which is apparent as you'll see a blurry image upon zooming in—but this is only on a minuscule number of pieces so don't fret.
Create Your Own Art Collection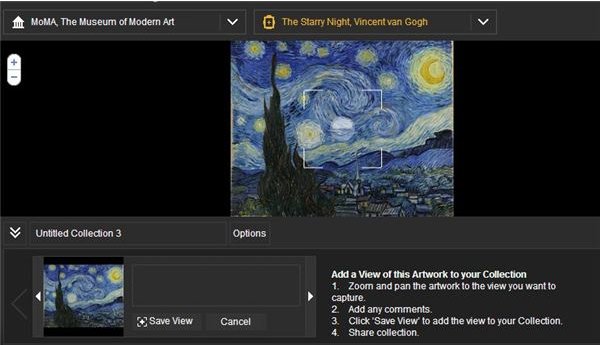 For each image that is not protected via a copyright, you'll see a tap to the bottom left that offers "create your own art collection." This is perhaps the best feature of the Google Art Project. Once you choose this feature simply drop and drag pieces of art you love, save your collection and share it with friends on social media websites like Facebook, Twitter, or use your Gmail account to send it to your less social media savvy friends.
Collections can be deleted and you can add comments to each piece. One thing to keep in mind is in order to create a collection, you must be signed into your Google account. If you don't have one, the website allows you to easily create one.
Other Neat Features

You can also cyber-explore every art gallery using the upper right hand navigation tool as seen in the screenshot to the left (click to enlarge). Click on any museum from the home page and use the menu on the right hand side to visit the museum's website, view a floor plan and learn the history of the museum.
Once in any museum, click on the "other works in this museum" tool to see additional works or use the drop down box menu at the top of the screen. A click on the "location" tab and you're shown an interactive Google map.
Each museum offers up a "share this gallery" tab that allows you to send it instantly to friends via email or social networking tools.

Explore and let the artist (or non-artist) in you reach out to these pieces of art you may never be able to see up close. This free Google offering is exciting, free, and easy to navigate. Stop by now—and let your art adventure begin!
References
Google Art Project - https://www.googleartproject.com/
MS Blog - https://msmagazine.com/blog/blog/2011/02/01/where-are-the-women-in-googles-art-project/
Screenshots by author from Google Art Project