Spy Unfiltered Search Engines : Top Picks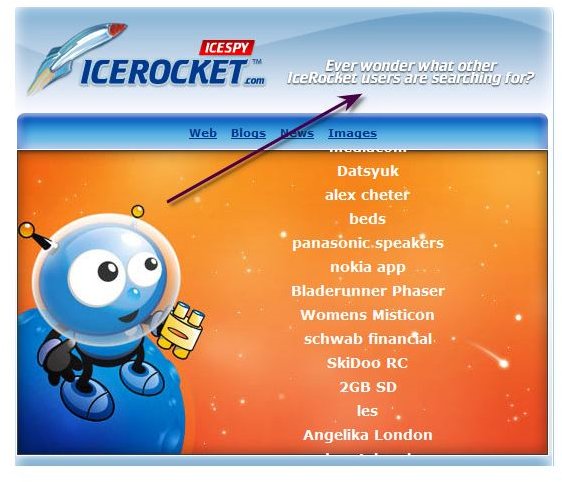 Spy unfiltered search engines offer useful information relating to the latest search queries entered into their search boxes. They help you discover the hot topics web visitors are looking for, useful if you want your blog or website to stay topical and relevant.
Here are five spy unfiltered search engines worth considering if SEO is your priority.
AOL Hot Search
If you are running a blog or website that touches on the latest hot news, you can get ideas for content by visiting Hot Searches, run by AOL.
On the right of the main page, you will see a category called What's Hot on Search where the top 10 searches are recorded.
There are also top 10 searches under the categories of Movies, Celebrities, TV, Electronics, Automobile and Vacation. I checked out the Electronics category and learnt that the top five searches are iPhone, Google Chrome, Verizon iPhone, Kindle and HP Tablet.
Search.Com Top 250
At first sight, Search.com looks like nothing more than a simple search engine, especially with its unassuming bluish-gray web page. If you care to dig deeper, you will come across an attractive feature – daily top 250 searches of the search engine records.
If you are a new webmaster or blogger looking to create niche content, this page is going give you great ideas to set the ball rolling. For example, number 88 currently displays the keyword phrase "New Year's resolution." Doesn't that give you the idea of setting up a blog or site that talks all about "New Year's resolutions?"
IceSpy
IceSpy is a handy feature of the IceRocket search engine. Here you see the top searches scrolling over a small window. Be warned though that the top searches are unfiltered and there may be some search terms that could offend you.
Infotiger
At the Infotiger spy unfiltered search engine, you will find randomly selected keywords that users of the search engine are searching.
Again, this unfiltered feature may pull up keywords that may offend you. I expected to come across some unsavory words when using Infotiger. However, my experience with this website is the keywords are mostly harmless, except for "free erotic stories."
Search Hippo Logs
Search Hippo Logs extracts the top 15 searches made over the search engine on any given day.
I checked out Search Hippo Logs and found the latest 15 queries among the 429186 queries for the day. Among the top searches were wrestling news world wrestlers, boyhoodparadise, Tino Rossi, Fredericksburg, Jenny Magenta and elevation garden design.
You can get updated queries by hitting your browser refresh button.
Metacrawler
If you would like to have access to popular searches that are updated every 15 seconds, visit Metacrawler, whose tagline is "Search the search engines."
Six of the most popular searches are listed on the main page of Metacrawler, where you can also search for your query in popular search engines like Google, Yahoo, Bing and Ask.
Among the current popular searches were gas prices, chocolates, spring dresses, horoscopes, comforter set and Disney vacation.
As you can see, spy unfiltered search engines offer you a speedy way to gauge the interests of web searchers with quick updates, which most keyword tools do not provide. Try them and see what you end up with.
References
Phil Bradley's The Advanced Internet Searcher's Handbook
https://www.freewritingcenter.com/search-spy-unfiltered-search-engines/