Finding an E-Text at Google Books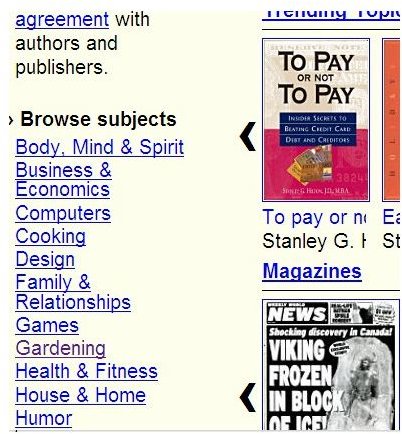 Google Books online text allows you to find books of all kinds, out-of-print, rare and public domain works in any view. However, only public domain books or the books with publishers' permission are full-viewed or free downloaded.
Google Books also offer the Advanced Search options to limit your search results by availability, type of content, language and other bibliographic details.
How to Find an E-Text at Google Books
1. Go to Google Books website.
2. If you just want to read an e-text, you don't need to sign in. Sign in is necessary when you want to create and manage personal bookshelves, such as mark your favorite books and indicate the books you want to read, share books with friends, and see what they are reading.
3. You can directly type the book title or author name in the Google search box, such as "Shakespeare," or browse the subjects such as click "Computers" (see the screenshot).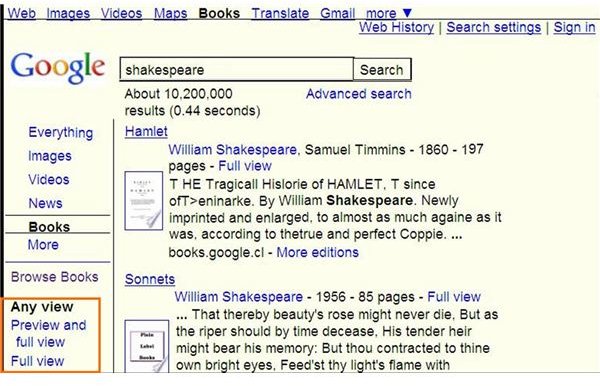 4. You can choose to find any view, preview and full view, or full-view books (see red rectangle in the screenshot).
a. Any View: The search results include no preview, snippet preview, preview (limited preview) and full view books.
b. Snippet View: View a few sentences surrounding the search term.
c. Preview (limited preview): The author/publisher has given you permission to see a limited number of pages as a preview.
d. Full View: View the entire book but not always free downloadable.
For example, click Full View, then select the book that was published after 1891 (The public domains in the U.S. as of 1 January 2011 are the works from authors who died before 1941 or the works created before 1891) and no download or PDF link is shown.
5. If you want to find a public domain E-Text at Google Books online text.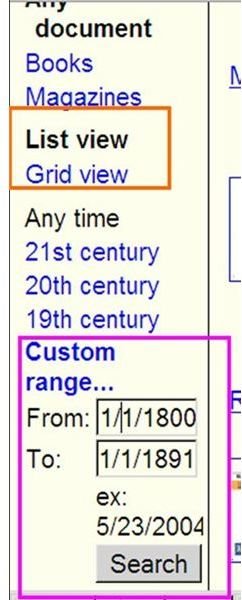 a. Click Custom Range**…** (see pink rectangle in the screenshot),
b. Enter the date range of published books, such as from 1/1/1800 to 1/1/1891.
c. Click Search button.
d. The results can be shown as list view or grid view (see red rectangle in the screenshot).
Advanced Book Search
To perform an advanced search, click Advanced Search
Example 1:
Find all full view William Shakespeare's books in Chinese.
1. Find results: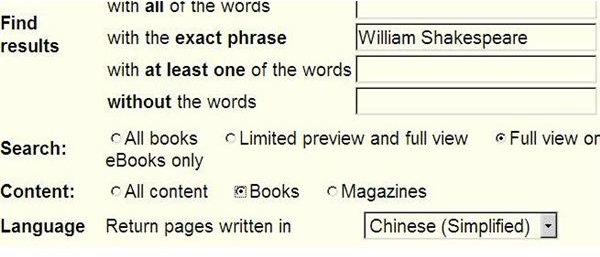 In the With the exact phrase box (see the screenshot) , type the keyword: "William Shakespeare." (If you select "With all of the words", the search results will include "William" or "Shakespeare" as the stand-alone word).
2. In Search section: select Full View only.
3. In Content section: select Books
4. Language: Return pages written in: select Chinese (simplified)
5. Press Enter
Example 2:
Find an e-text based on the ISBN.
1. In Search section: select All books.
2. Language: Return pages written in: select any language
3. In the ISBN box, type 1420926217
4. Press Enter. The result is "The Tempest - By William Shakespeare."