Building with Logs: The Best Natural Green Building Material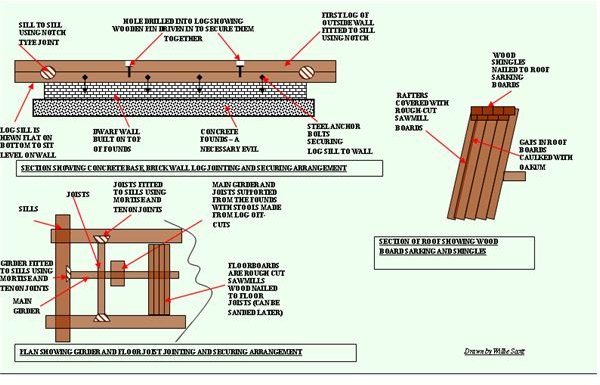 Introduction
What is the best natural green building material? There are numerous green building materials - sods of earth, straw bales are very popular, wood in the form of planks, roof shingles and, wood in the form of logs cut from sustainable grown or wind-downed trees.
There are considerations to be taken into account, such as the availability of green material locally, the strength of prevailing winds and whether you are building the dwelling yourself or hiring a builder. When you have taken factors these into consideration, then you can start selecting the best natural green building material that suits your own individual needs.
As most of us build our green dwelling houses in the countryside so these natural materials can usually be sourced locally from farms sawmills or forestry activities.
So how do we rate wood as being the best natural green building materials, lets look at how they fare against these criteria:
Insulation Qualities – wood has very good insulation qualities, especially wooden logs of over 20 cm diameters that we used. They store the heat in their cellular structured mass preventing the heat, cold and noise from escaping. The addition of oakum caulking between ill-fitting logs prevents drafts.

Aesthetic Qualities – wood log buildings always look good, especially when the bark has been carefully removed and, finished with several coating of wood preserve - in our case linseed oil.

Ease of Handling and Construction – the logs are heavy but can be handled by two or three strong men, but better and safer to use a small hoist arrangement to set them in place. I don't think I am alone in achieving great satisfaction from working with wood, therefore there should be no construction problems.

Durability in all Weathers – provided the seasoned, bark-free logs have been liberally coated with linseed oil and if this is carried out every three years or so, depending on the prevailing weather, there should be no problems with rot or water seeping.
In this first article we shall concentrate on log buildings, the second will be on the use of straw bales as a building material. I shall base the articles on building the dwellings in the Highlands of Scotland as this is where I reside and have knowledge of the local natural green building materials available.
Green Buildings - Plots of Land and Planning
Choosing the Land
Plots of land are for sale regularly, but take your time in choosing the plot that suits your needs, do not be rushed into buying it for the wrong reasons. Try to purchase a plot with outline planning permission included.
Building Plans
Plans should be drawn up showing the construction procedure, from foundations to roof beams, water and power supplies (renewable power supplies to remote areas is a future article). From the plans, the total number of the different lengths of logs must be given. These plans will have to be submitted to the local council for approval and issue of a building warrant.
Log Home Construction Techniques
The Materials
We in the Highlands of Scotland are fortunate that there is an abundance of softwood conifer forests ably managed by the Forestry Commission and sawmills. From here, we can purchase a selection of logs about 5m long and 250mm diameter to build the dwelling. It is preferable to purchase seasoned logs, but the bark must be completely removed before starting construction as the bark is home to many types of wood fungus and, beasties such as Horntail - Urocerus gigas.
Foundations
Concrete foundations may not be everybody's favorite means of holding up your building, but believe me I have seen some log cabins just set on blocks of hardwood and they soon begin to sag or get blown over. So again think it through, there will be the high CO2 footprint due to the concrete, but this will be offset by the many extra years the sturdier and safer dwelling will remain standing on a concrete foundation.
Walls and Floors
A small support wall is built from concrete blocks or stone on top of the foundations. The log sills which are hewn flat at the bottom and lie along the length of the outer wall are fitted and held down by anchor bolts. The ends of the sills protrude beyond each end of the walls where they are attached to each other using a nailed mortise and tenon joint. Internal joists hewn flat on top and bottom should also be fitted to support internal walls and the flooring. These joists themselves should be supported by up-stands made from log offcuts nailed together and set on top of the concrete founds. Logs used for the walls are joined together using notched joints at the ends and pinned to their neighbor using wooden pegs.
The Roof
Once all the door and window apertures have been cut in the walls the roof can be installed. Depending on available lifting plant the gable ends and rafters can be assembled on the ground then fitted to the wall top sills with notched joints.
Roofing boards or sarking (again supplied rough-cut from the sawmill) are nailed to the rafters then the wood roof shingles fitted over the boards using the same method as fitting roof slates.
Doors and windows are then fitted; all the inner room dividing walls and outside walls are then given a few liberal coats of linseed oil, leaving plenty of time between coats for them to dry thoroughly.
Any gaps between the logs on the outside walls, doors and window jambs, wooden roof boards can then be caulked with oakum, a mixture of wool and wood tar. This prevents water ingress and drafts but remember to coat the logs with linseed oil first, otherwise the oakum caulking will stain the wood.
Article Summary
Using wood to build a green home, receives the best marks all round, except for handling which can be dangerous and lead to back injuries. So wood is in the running for being nominated the best natural green building material.
We shall look at another type of building material in the next article, straw bales which have been baled into rectangles.
Sketch of Log Building Construction Details
Internet Sites Visited
https://outlands.tripod.com/farm/logcabin.htm
This post is part of the series: Green Construction Materials
Here we look at different green construction materials and rate their durability, insulation capability, aesthetic qualities and more. We will take a closer look at using materials such as logs, straw and rammed earth, and adobe, as well as the use of recycled building materials.