Oracle Fusion Middleware - Role of Oracle in Cloud Computing

Oracle Fusion Middleware - Introduction
Oracle Fusion Middleware offers a complete foundation for cloud computing - both public and private. Oracle Fusion Middleware is capable of delivering effective dynamic resourcing to the enterprise cloud by offering reliable, mature, and a high performance mechanism combined with unified security and management. These resources, offered in a Platform as a Service (PAAS), helps people build their own cloud networks easily without having to buy and set up infrastructure. Management of the infrastructure is also taken care of by Oracle Fusion Middleware.
"Though there are several issues that remain to be addressed in context of cloud computing, Oracle Fusion makes it easier for enterprises to achieve the maximum possible benefits of cloud computing," says the Oracle Corporation. The company describes its PAAS as a resource for consumers of computational capabilities to set up or make use of computing "in the cloud" (i.e. over a network) in a self-service manner, without direct involvement in how that computing is resourced.
Oracle further states that that the basics of cloud computing are based on a client-server model network - only that in the clouds, the server part is taken care of by the cloud service provider. This helps companies and individuals to get rid of tensions/costs associated with configuring, and maintenance of servers. Also, among the benefits are auto backups, etc. According to Oracle, the two main characteristics of cloud computing are:
Assets are set up and deployed in real time (over the Internet) without the need of binding to any specific physical computing resources; and,
The capacity of the cloud application is automatically adjusted per the needs of the organization. This means that the servers are able to configure, expand and shrink space reserved for user IDs, databases, and more.
The following sections will help you understand the role of Oracle Fusion Middleware in deploying cloud computing services.
Understanding Oracle Fusion - Platform as a Service
Most of the cloud computing services offer different software that make use of cloud infrastructure. The most famous of such software are the ones that help customers back up their data. These applications are known as Software as a Service (SAAS). One of the best examples of SAAS is Mozy that offers you a software that helps you create back up sets and back up the files in those sets. There are plenty more examples of SAAS right here on Bright Hub.
As per an Oracle Fusion whitepaper, cloud is divided into three essential parts: 1) SAAS; 2) PAAS; and IAAS (Infrastructure as a Service). Oracle has technologies for all three parts. However, we will discuss only the Oracle Fusion Middleware, which serves as a perfect PAAS for clouds.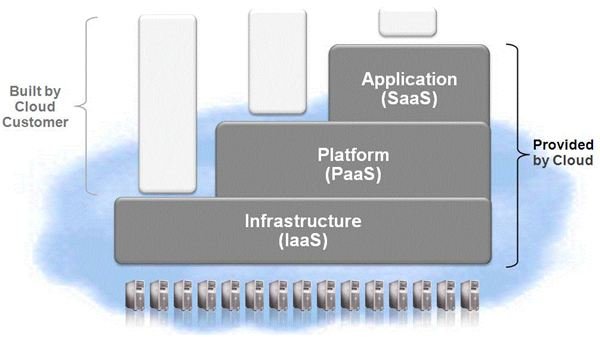 Per the above image, the most basic part is Infrastructure as a Service. This includes the hardware and operating systems, etc. Above IAAS, it is the platform - the resources required to create different software. Oracle Fusion Middleware fits here as it has a range of resources that help in creating any kind of software. Hence, we can say that Oracle Fusion works at the PAAS level of the cloud. The PAAS allows software to be designed and used by end users. We have already talked about SAAS above.
Image Courtesy: Oracle Corporation
Oracle Fusion in Private Clouds
One can easily set up a private cloud using Oracle Fusion Middleware. Clouds are of two categories: public and private. The public clouds are open to a range of customers including individuals. SkyDrive, Google Docs are examples of public clouds.
On the other hand, a private cloud belongs to a single business. This has plenty of advantages over a public cloud as it serves only one business or a single individual. As per Oracle, the characteristics of private cloud are:
Lower total cost over time
Full access and flexibility to integrate
Direct control over quality of service and security
For creating a private cloud, one should seek PAAS. If the IT department selects to work from the IAAS level, it would require highly trained professionals. Plus, the purchase of an infrastructure and its maintenance would nullify the purpose of cloud. A well-built PAAS allows designers to create software for different departments of the business. If the PAAS is neglected or poorly built, the flexibility of SAAS would be restricted, thereby depriving several departments from using the private cloud. Hence, Oracle places emphasis on PAAS first.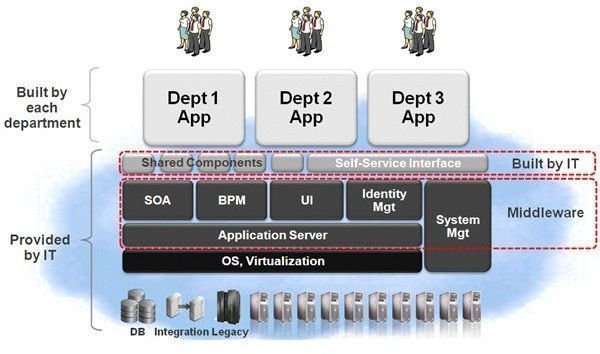 Check the above image carefully (click to enlarge). It shows all three levels of cloud computing: IAAS; PAAS; and SAAS. The basic IAAS (Infrastructure as a Service) may or may not use Oracle virtualization techniques. If Oracle virtualization techniques are used, the compatibility of PAAS would be even more so that software developers can better design Software as a Service (SAAS) for different departments.
In the above figure, you can see the Middleware. It includes technologies such as SOA (service oriented architecture), BPM (Business Project Management), user interface management, and identity management systems. The Oracle Middleware contains even more resources. However, you can achieve a good PAAS using the listed resources. Systems management such as Oracle Enterprise Manager spans the entire stack. These resources set a base for system and application designers to create different application software for different departments or sections of the business.
Oracle Fusion shows how it helps in construction of private enterprise clouds so that your data is secure and private. Of course, there should be some obligations on the part of cloud network designers and administrators. They should know how to allocate responsibilities on different aspects of the cloud. It is just like allocating access privileges so that the data on the cloud stays safe and secure. Finally, end-users should be trained to use the cloud effectively.
To sum up, Oracle Fusion Middleware is a great method for companies and small businesses looking to have their own private clouds so that they need not hire experts for constructing a client-server based network that employs physical elements. With an Oracle Fusion built cloud, it is a one-time expense to set up the PAAS (if you do not have expertise in this area, you may have to hire someone to set it up for you). Once the Oracle PAAS is engaged, the SAAS can be designed and changed as per the needs of the different departments of your company or small business.
Though I tried to cover Oracle Fusion in the easiest way possible, please use the comments section if you have any questions.
Images Courtesy of the Oracle Corporation
This post is part of the series: The Best Cloud Clients
This series covers best cloud clients based on the whitepapers released by the related companies. It includes: Microsoft cloud computing, IBM Infosphere, Ubuntu One, Enterprise Vault for BPOS, and Oracle Fusion for building your own private clouds.