Must-Have Top 10 Green Technology Gadgets - Part One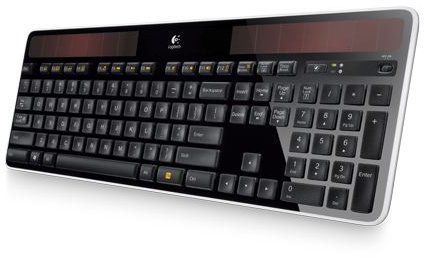 Be an Earth Steward
Often, to introduce eco-friendly tools into our lives, we just don't know where to begin, so why not start with some exciting green technology gadgets? Here we did the work for you and offer up a list of the top 10 techie gadgets that are green and will start your journey to becoming a responsible earth steward. Read on to find what we at Bright Hub feel are the gadgets of choice you need now.
1. Logitech Solar Powered Keyboard
Available only from Logitech, this eco-friendly keyboard holds a charge for up to three months. Priced nicely at around $80, this keyboard boasts, "Goodbye battery hassles!" This green tech gadget comes with a three-year warranty and works with all Windows operating systems. It's only 1/3-inch thick and is equipped with 2.4 GHz wireless technology. This keyboard will charge from sunlight or indoor lighting and is totally PVC-free and even comes in a recyclable box.
Screenshot courtesy of Logitech.
2. Thinksound Wooden Headphones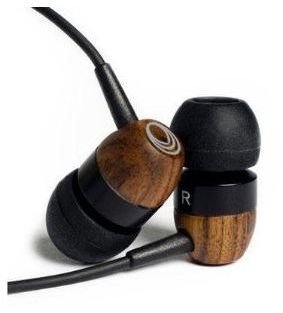 Check out this new green gadget at Amazon available in a great chocolate/wood color combo. Priced at approximately $47 and made from the environmentally friendly company Thinksound, these headphones will work with your iPhone, iPod, MP3, CD, DVD, and any computer. The wooden housing offers crisp sound and minimizes ambient sounds. Lightweight at only 1.6 ounces, these wooden headphones are PVC free and come with a cord clip and cotton carrying pouch.
Screenshot courtesy of Amazon.
3. Bedol Water Powered Clock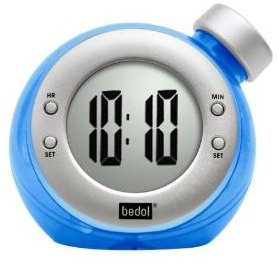 Busy people need to keep track of the time; and from Bedol, this water-powered clock is a great desktop accessory. Available from Amazon for only $17, it weighs only 14.4 ounces with dimensions of 3" x 4.2" x 4.2" and comes in four colors–blue, green, charcoal, and orange. This top-10 green technology gadget runs with just a splash of water and a dash of salt—and that means no batteries!
Screenshot courtesy of Amazon.
4. Kindle Wireless eReader – 2nd Generation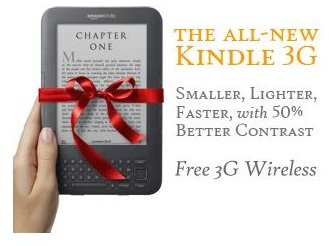 The Amazon Kindle is so popular and when it's time to take a break from work, why not use this battery efficient tool to read or catch up on some research? You can get this green gadget at the Amazon Kindle store for approximately $190. A review from Wired says this Kindle's battery life "Is long enough for a space shuttle mission!" Weighing in at only 8.7 ounces, this Kindle comes in two colors, white and graphite. It offers a 6" display and E-Ink Pearl technology. Longer battery life means energy conservation, and this great green technology gadget makes our top-10 list for every desk—home or office.
Screenshot courtesy of Amazon.
5. Voltaic Solar Backpack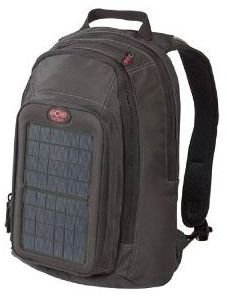 Who knew that you could take some of your greatest desk, phone, and gaming tools, place them in a backpack, and have them charged with solar power? Straight from Voltaic and available at Amazon for only $180, this solar-powered must-have weighs only seven pounds and is 5.9" x 12.2" x 18.1" in size—plenty of room for those needed office gadgets when you're on the go. The solar panels offer a choice of color trim including green, orange, charcoal, and silver.
Screenshot courtesy of Amazon.
6. Mode Home Office Recycling Center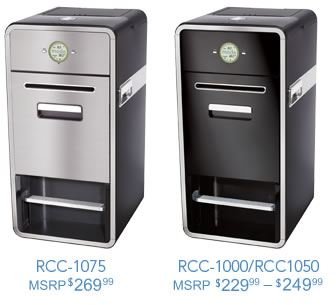 Printed drafts, emails, and other personal correspondence just builds up on your desk! Directly from Mode comes this office recycling center that can hold up to eight gallons of unwanted paper. Priced at approximately $270, this compacter weighs seven pounds and is 30.4" high by 15" wide. The neat mail-slot feature allows for easy paper consumption and it even comes with a recycle reminder to keep your office organized and free of unwanted paper. This small compactor holds three times more than similar recycling bins.
Screenshot courtesy of Mode.
7. Western Digital 2TB Caviar Green Hard Drive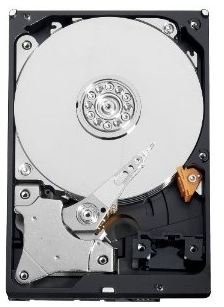 If you're looking for a greener hard drive, Western Digital has what you need in their 2TB SATA Intellipower 64MB Hard Drive. Available through Amazon, for just under $100, this green technology gadget reduces power consumption up to 40% due to its IntelliSeek feature that actually looks for speeds that will lower your power use. This green hard drive can hold up to 400,000 digital photos, 500,000 MP3 files, and 240 hours of your favorite HD video; the three-year limited warranty is also great. What's more, it's nicely packaged in 100% recycled packaging.
Screenshot courtesy of Amazon.
8. Dell G2410 LCD Monitor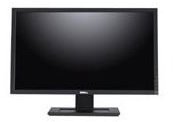 Need a new monitor and want to go green? If so, the Dell G2410 24-inch flat panel monitor has an LCD display in a widescreen format. Available at Amazon for around $483, it's packed in environmentally friendly materials and its high efficiency means less power. Digital resolution is 1920x1080 and it comes with a three-year warranty.
Screenshot courtesy of Amazon.
9. Kill-A-Watt Wireless Monitor Carbon Footprint Meter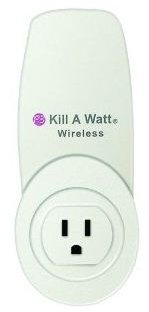 Direct from P3 International, and available at Amazon for around $42, this is a must-have for every green office! It features a 300-foot wireless range and offers eight critical units of measurement. Calculate your power usage by day, week, month, and even year to get you on the green path.
Screenshot courtesy of Amazon.
10. Green Gadgets for Dummies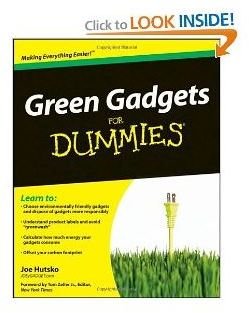 Last but not least, what a better way to become more environmentally aware than to read about it? The hottest book, Green Gadgets for Dummies, awaits you at Amazon and author Tom Zeller, Jr. offers all sorts of green gadget information. Priced at $19 for the paperback or $12 for your Kindle, learn how to minimize your carbon footprint in an entire section dedicated to your computer including tips for both PCs and Macs.
Any one of these top-10 green technology gadgets should be on your gift or wish list—so get out there, spend some money, go green, and be a better earth steward!
Screenshot courtesy of Amazon.