Office 365 Comparison: A Look at the Features and How They Rate

To begin the Office 365 comparison, let's look at the features of the latest cloud package from Microsoft. With the increasing scope of cloud computing, Microsoft released Office 365 in late 2010, in addition to its other cloud computing services such as Office Live Workspace and Windows Azure. Many of you must already be using Google Docs for storing and sharing your documents online. This comparison of Office 365, details the features of the latest endeavor from Microsoft so that you can get an idea of how it fares when faced with the other cloud packages.
As of now, Office 365 is still in beta phase but seems that many businesses have registered for the benefits if we are to believe the several reviews on the Internet. This is because Office 365 contains a range of the online versions - Exchange, SharePoint, and Lync - in addition to the normal storing, editing, sharing, and collaboration capabilities of documents, spreadsheets, and presentations.
The most basic service one can access on Office 365 is checking emails. It will cost around $2 per user per month. For using the online Office package for uploading, sharing, and collaborating on documents, etc., one will need to pay $6 per person, per month. There is no limit for storage, so any number of files can be uploaded - meaning Office 365 can also be used as a backup. However, there is no FTP facility available and you have to use the normal GUI of Office 365 to upload files. The FTP facility is seldom present in cloud computing packages that offer online file sharing services. The remote backup services may offer the facility as they focus basically on backup, while Office 365, Office Live Workspace, and Google Docs all focus on sharing and real-time collaboration of files.
Combining Microsoft Office 2010 Professional Plus with Office 365 offers you even more flexibility when it comes to sharing, collaboration, meetings, and online editing of files. If you wish to use the feature, you will pay $24 per person. The rate is nominal when you realize the ease of producing, uploading, sharing, collaborating, and editing your Word, Excel, and PowerPoint files. You can also access you email/calendars/documents from any corner of the world and from any device that has a local copy of Office 2010 Professional Plus with an Internet connection.
Screenshot by author courtesy of Microsoft Office 365 website.
Advanced Features of Office 365 - Exchange, SharePoint, and Lync
Besides the features to upload, share, edit, and collaborate on files from anywhere, Office 365 has some special features that allows users to move a step ahead when compared to Office Live Workspace and Google Docs.
The Exchange Online feature allows users to access their emails from anywhere in the world using any device that has Internet connectivity. They can access their calendars and schedules while creating and sharing schedules for meetings, etc.
SharePoint Online is a feature of Office 365 that allows users to create workspaces and sites where they can upload files for sharing and collaborating with their colleagues. If used with the Office 2010 Professional Plus feature, one can directly use the Office 365 without having to leave the local Office applications of Word, PowerPoint, and Excel.
Microsoft Lync Online is related to communications - Instant messaging, emails, and online meetings. This includes features from Microsoft Live such as Live Messenger. It also allows audio visual exchanges.
With these features in mind, let's check out Office 365 when compared to other cloud computing packages from Microsoft and Google.
Comparison of Office 365 with Office Live Workspace and Google Docs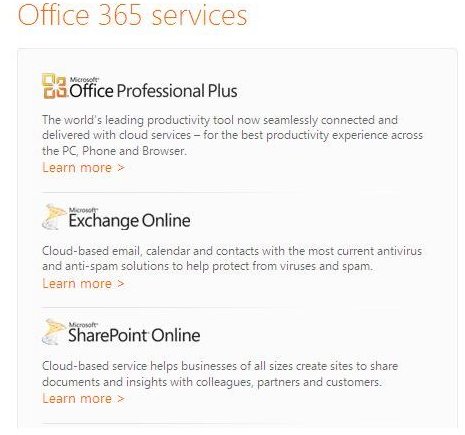 For comparison of Office 365 with Office Live and Google Docs, the criteria are only the ability to upload, share, edit, delete, and collaborate on files. Office Live Workspace and Google Docs offer only these facilities.
In Office Live Workspace, you can create different Workspaces for different project files. For each file in a "workspace," you can select privacy so that only the users you allow can see the files. You can also select privacy so that some of the users can view FILE-A while others can see FILE-B. Office Live Workspace allows you to edit documents online but the editing capabilities are limited unlike in Office 365 when you purchase the Office 2010 Professional Plus. While using the editing capabilities in Office 365 comes at a cost, Office Live Workspace is free to use.
Similarly, in Google Docs, you can create folders to arrange your files. Google Docs also offers limited editing. Though you can edit the documents, spreadsheets, and presentations online, the functionality is highly limited as Google changes the format of the files when you upload them. If you choose not to change the format, you cannot edit the documents online. As with Office Live Workspace and Office 365, you can set the privacy settings for each uploaded file. Again, you can set the editing permissions for each uploaded file. This service is also free.
For individuals and very small businesses that do not have much work related to real time collaboration, Office 365 may prove costly. For such entities, Office Live Workspace or Google Docs should suffice. For businesses into real time collaboration or having employees traveling across the globe, Office 365 is a better option.
Screenshot by author courtesy of Microsoft Office 365 website.
Office 365 Compared to Google Apps
Google Apps is a paid service that offers corporate emails, online storage, and file sharing. For each account, there can be several email accounts that are managed by an administrator just as one manages the local server. However, as the hosting part is offered by Google, the administrator need not worry about the technical aspects.
The cost factor covers all the components of Google Apps as against Office 365 that allows you to pay only for the features you use. The yearly cost of one account comes to $50 per account, per year. There is no limit of sub-accounts for employees in the Google Apps account. This cost may seem to be low when compared to costs of Office 365. The difference again is between the features of Google Apps and Office 365.
The components of Google Apps includes messaging (IM and emails), collaboration (storage - Google Docs, Google Video, and Apps Script) plus support. Support and Messaging is also present in Microsoft Office 365. You have to pay per user in Office 365 for messaging, whereas with Google Apps, it is a yearly fixed amount.
The only problem is that the collaboration feature involves Google Docs. This means limited editing facilities and change in file formats as explained in the above section. Another feature of Google Apps in comparison to Office 365 is that the former offers a limited period trial so that you can assess the Google cloud package before opting for it. I can't pass any verdict on which one is better for you when it comes to Google Apps and Office 365 because it depends purely upon your needs. If you want full functionality for your documents, you can go for Office 365 or you can stick to Google Apps as it may prove less expensive.
Office 365 Comparison - Windows Azure and Conclusion
Microsoft has another cloud package named Windows Azure. I won't be offering up information on Azure in this Office 365 comparison, as the former is meant for developers while 365 is more oriented towards employees who seldom engage in development of software and other related functions.
This Office 365 comparison with other products from Microsoft and Google is based upon my own experiences and observations. If you wish to add anything, please feel free to use our comments section.