Google Energy Saver Gadget: A Tool to Help Monitor and Configure Your Computer's Power Settings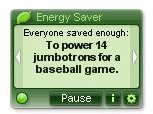 What is Google Energy Saver
Google Energy Saver is a tool for Windows XP and Vista which is designed to help you save energy. It does this by turning on the Windows power settings on your machine and tweaking them to meet the standards recommended by the Environmental Protection Agency.
The tool also displays a running total of how much energy you have saved, along with a total for everyone using the tool. As well as simply displaying the raw figures, the tool gives real world examples, for example the number of bikes which the equivalent pedal power could carry through one stage of
the Tour de France. Some users have complained that the units the tool uses are too big for individual users to get an accurate measure of their savings.
What are the Recommended EPA Settings?
The EPA suggests you should set your computer to go into either standby or hibernate mode (depending on which edition of Windows you run) after between 30 and 60 minutes of inactivity on your computer. It also suggests setting sleep mode (from which it's much quicker to resume your work) after between 5 and 20 minutes. Where in this range you choose is a personal trade-off between the energy savings any irritation you find from resuming your computer.
Are There any Drawbacks to Using the Gadget?
To use the Energy Saver gadget you must first install the latest edition of Google Desktop. This is a program which scans and indexes every file on your computer so that you can then search them in exactly the same way as you search the internet through Google. The program also allows you to add on Vista-style 'gadgets' including Energy Saver.
Google Desktop will be very useful for many users as it can perform more effectively and quickly than Windows' own search facility. However, it can take some time to search your computer to build the initial index, which means it's possible you won't be able to get the Energy Saver up and running right away. There are also some privacy concerns about how much access Google has to data stored on your computer.
Is it Worth Installing?
If you are worried about either the hassle or privacy and security implications, it probably isn't worth installing Google Desktop just to get the Energy Saver tool.
Other than this, it's a useful tool and does help remind you of the importance of saving energy. However, it doesn't really make any practical changes to your system that you couldn't perform yourself fairly easily. The only real benefit is that there is a built-in pause button which means you don't need to go into the Windows Control Panel and change settings when you want to put energy saving modes on hold, for example during a presentation or when watching a long video file.
If you don't want to use the tool but are still interested in saving energy by tweaking power settings, you may be interested in my reviews of tools which can calculate your potential savings.