What are the Advantages of Cloud Computing?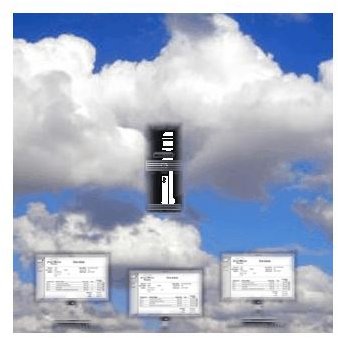 An Introduction to Cloud Computing
Before talking about the advantages of cloud computing, let's look at what cloud computing is and its various types. Cloud computing offers several advantages by allowing you to use services that include infrastructure, applications, and/or storage space for a nominal fee. As these services are created and offered by the cloud service provider, you need not purchase additional infrastructure for use at your own premises (servers, application programs, operating systems, etc.).
One can define cloud computing as a pay-per-use model for enabling on-demand access to reliable and configurable resources that can be quickly provisioned and released - with minimal consumer involvement in terms of management. You pay only for the resources you use. You need not set up the infrastructure or buy the software. This is just an abstraction of the many advantages of cloud computing.
Any cloud should have the following characteristics irrespective of whether it is private or public and irrespective of the type of service it offers:
1. It should be able to quickly allot and relieve resources whenever required by clients
2. It should have real-time backup to offer maximum up time to clients
3. It should be able to cater to the needs of clients without having to involve clients into management of the service
The next section takes a look at advantages of cloud computing by studying the different types of clouds based on the service they offer.
Image by author
Types of Cloud Services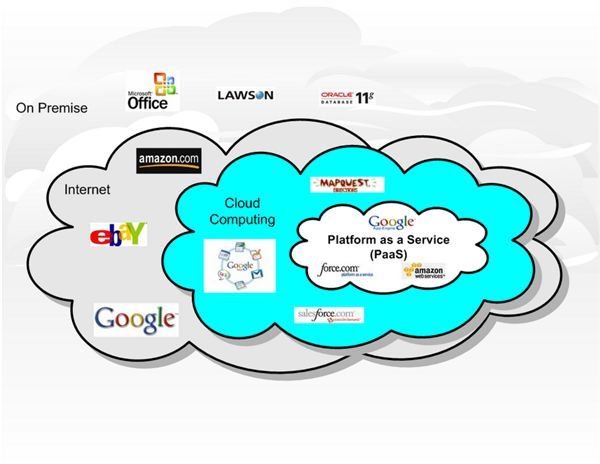 SaaS (Software as a Service): This is the most popular form of cloud services. The service provider offers a software to support the service on offer. The software is built by the service provider while the end users can configure it to suit their needs. The clients (end users) however, cannot change or modify the software. Mozy is an example of SaaS. It is basically a backup service that offers a software to help people back up their data. Thus, you can use the service without actually having to code or buy the software. You just have to pay a monthly or annual fee to use the service.
PaaS (Platform as a Service): Offers a platform to clients for different purposes. For example, the Windows Azure offers a platform to developers to build, test, and host applications that can be accessed by the end users. The end users may or may not know that the application is hosted on the cloud. As mentioned earlier, the storage space for user data may be increased or decreased per the requirement of the applications. As with the SaaS, you do not need to build the platform. You just pay a nominal fee for using the service.
IaaS (Infrastructure as a Service): Offers infrastructure on demand. The infrastructure can be anything from storage servers to applications to operating systems. Office 365 offers a combination of these infrastructure and falls under this category. With Office 365, you can get plenty of applications along with storage space. Buying infrastructure or renting it out in traditional models can be very expensive. When you opt for IaaS, you save a lot on expenses, space, and personnel required to set up and maintain the infrastructure. The cloud service provider takes care of setting up and maintaining the infrastructure. You just pay a fee to use it per your requirements.
As you can see, there are numerous advantages of cloud computing, the most basic ones being remote accessibility, lower costs, and quick re-provisions.
Image credit: https://cloudtimes.org/the-cloud-computing-revelations-of-2010/
Green Computing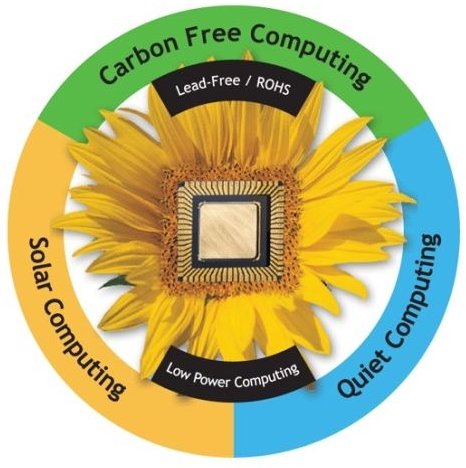 This section talks about advantages of cloud computing under green computing. Green computing can be defined as energy efficient usage of computing resources. Most of the computers today are Energy Star certified. They are designed to reduce the consumption of electricity while also reducing emissions that damage the environment. Taking the advantages of cloud computing further contributes to green computing.
As cloud computing can always be used to re-provisioning of resources, when you need to expand, you need not buy the infrastructure to increase the carbon emissions by way of using more electricity to cool off the computer resources. You can just expand to the cloud to use the pre-built resources to stop the increase in electricity usage at your end. You also need not add cooling components thereby reducing the hazardous emissions. Thus, you save the environment while also saving on the expenses incurred due to a demand for expansion.
The expansion can be as small as writing a code for your business. There are several generic software available through SaaS. You can use the one that suits your company or personal needs. This saves you the trouble of adding one or more computers to your infrastructure for the purpose of storing the database(s) used by the code. This keeps a check on your electricity usage, thereby contributing to green computing.
Cloud computing also allows you to let your employees telecommute. This means large savings while contributing heavily to environmentally friendly green computing. Your employees can access the cloud - public or private - from any corner of the world and can work from their homes. This means they need not drive to the business premises. This saves them fuel and reduces carbon emissions, which in turn, saves the environment. You can also cut down the number of electronic devices when your employees are telecommuting. You use less computers and other machinery, which means reduced usage of electricity. If you use less computers and servers, you also cut down on cooling resources, which reduce both electricity usage and carbon emissions - again contributing to the environment and green computing.
Image credit: https://www.solunaitservices.com/green_computing/green_computing.html
Conclusion
As you can see, there are several advantages of cloud computing. Here's a summary:
Remote Accessibility: With cloud computing, your business is not restricted to a particular location. This applies to individuals also. You can access the services from anywhere. All you need is your ID and password. In some cases, there may be extra security requirements but as they too are mobile, you can easily access your cloud services from any part of the world.
Easy Expansion: As of the characteristics of cloud computing is its flexibility, you can quickly access more resources if you need to expand your business. You need not buy extra infrastructure. You just need to inform your cloud provider about your requirements and they will allocate resources to you. In most cases, the entire process is automated so the expansion takes just a few minutes. The same is applicable if you wish to use less resources. One of the best advantages of cloud computing is easy re-allocation of resources.
Security: Though people doubt cloud computing, clouds tend to be more secure than the traditional business models. Clouds offer real-time backup which results in less data loss. In case of outage, your customers can use the backup servers that sync with the main ones as soon as they are up. Your business gets maximum uptime without any loss of data during the transitions. Other than this, clouds are less prone to hacks and DDoS attacks as people don't know the whereabouts of your data.
Environmentally Friendly: Usage of ready-made resources tailored to your needs helps you reduce the electricity expenses. While you save on electricity, you also save on resources required to cool off computers and other components. This reduces the emissions dangerous to environment.
This summarizes the advantages of cloud computing. If you wish to add anything, please feel free to use the comments section below.