iPod Classic (160 GB) Review: What Does the 6th Generation iPod Classic Have to Offer?
Introduction
The iPod Classic (160 GB) is the newest and most capacious offering from Apple. It is an update to the 5th generation iPod Classic, otherwise known as the Video iPod. Unsurprisingly, Apple doesn't stray far from the formula that has made the iPod Classic the best-selling MP3 player on the market. However, there are some notable changes and additions .
Specifications (5 out of 5)
The 6th gen iPod is available in one size - 160 GB - and is much the same technically as earlier iPod Classics. The iPod gets an impressive claimed battery life of 36 hours (6 hours video playback), which is of course usually less in typical operating conditions. The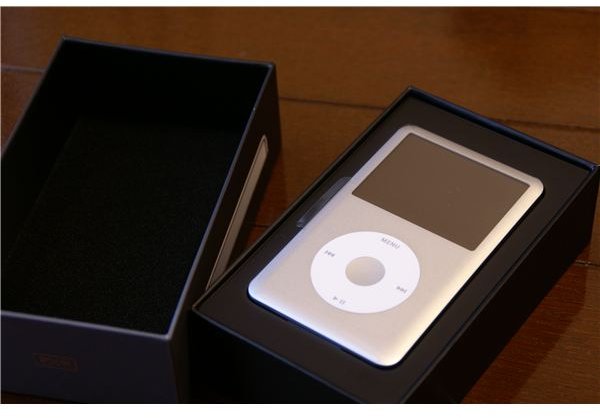 dimensions of the iPod are 4.1 inches height, 2.4 inches width, 0.41 inch depth, and 4.9 ounce weight. Measured diagonally, the screen size is 2.5 inches; the screen is a full-color LED with backlight. The iPod supports AAC, HE-AAC, MP3, MP3 VBR, Audible, Apple Lossless, AIFF, and WAV audio formats.
Features (4 out of 5)
The features of the iPod Classic are virtually identical to those of the 5th generation.
Video Playback
The iPod Classic 160 GB supports several file formats for video playback: H.264 or MPEG-4 video files in the MP4, MOV, and M4V formats. It supports a resolution of up to 640x480 pixels, at a rate of 30 frames per second.
One major improvement to the video playback system is that the iPod is now able to recognize chapters in movies, allowing users to skip forward as they would on a normal DVD. It can also start up where you left off watching the last time.
Shuffle updates
When using Shuffle (which plays a song from your library at random), you can now choose one of three shuffle settings at any time. You can choose to shuffle songs, shuffle albums, or turn off shuffle. This is nice when a song comes up and you want to listen to more songs by the same artist, but don't want to have to go back and manually select that artist.
Genius
Genius is still a relatively new feature. It can be somewhat strange, and I personally don't use it very often. Genius is supposed to find songs similar to the one currently playing and create a playlist; however, the songs often bear little relation to each other.
USB Hard Drive
This is a useful little feature. The iPod can now double as a flash drive of sorts (though data is stored on the hard drive, so it technically isn't a flash drive), as users can store data on the iPod through a USB cable.
Design (4 out of 5)
The iPod Classic 6th generation has some slight design updates, but its design is not a wholesale departure from that of the 5th generation iPod. It is noticeably thinner and lighter, for one. Also, the front panel is now made of anodized aluminum rather than plastic. This makes more scratch-resistant and (hopefully) better at withstanding falls. The screen is still made of plastic, though, and that spells trouble. It wouldn't be a bad idea to purchase some sort of screen protector, because the plastic is prone to scratching. As careful as I have been with my iPod, it already has several scratches on the screen. More cosmetically, the back is still made of chrome, which tends to attract smudges. This isn't really much of an issue, and otherwise the design is very nice and streamlined.
Performance (5 out of 5)
Apple claims that the iPod classic 160 GB gets 36 hours of song playback and 6 hours of video playback, which is the best battery life available. I tested this on my iPod, and was surprised to find that I actually got better than 36 hours of song playback. This is really excellent battery life, especially compared to some other MP3 players that barely seem to get 10 hours of playback. You won't get that kind of battery life without fully charging, though, and it takes about 4 hours to fully charge the iPod. The lithium ion battery used in the iPod also tends to lose capacity as it ages, so the playback time will naturally decrease.
The video playback function is also impressive, but I have noticed some glitchiness with playback. The operating system seems to struggle at times with very long movies. Video quality is excellent, but the screen is a bit small.
The menu system is still very easy to use, with users choosing from albums, artists, or songs. One new option is the cover flow navigation system, in which you can scroll through images of every album. This feature, originally from the iPod Touch, works much better with touch screen capability, and is a bit useless here. It also tends to run slowly, especially if you have a lot of albums (as I do). It is nice looking, if you're into that kind of thing.
The one major complaint I have is a change to video output. You now need to use a proprietary cable for video output, which is expensive and wasteful if you already own video output cables.
Price to Value (5 out of 5)
At $249 for 160 GB of storage capacity, the iPod Classic is an excellent value. Compare that to the iPod Touch, which costs nearly $400 at the time of this review and comes with a paltry 64 GB of storage space. The Classic does lack some of the flashy features that iPod Touch and iPhone users have gotten used to, but as a functional music player the iPod Classic remains unbeaten. Apple doesn't tend to lower the price of its iPods much, preferring to release new versions instead, so don't hold your breath waiting for the price to come down.