Apple 8GB iPod Nano Review - What's the Best iPod?
Apple iPod Nano Review
The most recent generation of iPod Nano boasts an impressive set of features that gives the Nano more options than ever before. I dare to say that it's the best iPod Nano that Apple has made. In this 8GB iPod Nano review, we'll look at all the features of the new Nano as well as how it performs.
Features (5 out of 5)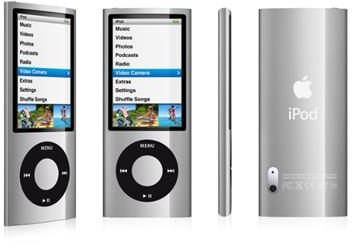 Apple originally made the iPod mainly as a music player, but the number of features grew over the years to include video and photo playback, FM radio, and much more. The latest fifth generation (5G) model iPod Nano now includes a built-in video camera, a 2.2 inch widescreen color display, FM radio tuner, a feature called VoiceOver which speaks song title information so you don't have to look at the screen, a pedometer for keeping up with walking distance, and the ability to record voice messages. You can play some games on it, too.
I think the Nano is really easy to use because of its simplified interface that doesn't take long to figure out. The iPod Nano is controlled mainly by a set of five buttons configured in the shape of a wheel on the face of the device. One button is for playing or pausing, which also works as an Enter key of sorts. Another is a Menu button which will back you out of whatever area you are in to take you to the main menu. You have left and right skip buttons for going forward or backward through song or video tracks, or to press and hold for skipping within the current audio or video. You also have a center button which enables other options. The circular wheel itself works as a volume control, plus you can shake the Nano to make it change tracks. To turn off an iPod Nano, just press and hold the play button for a few seconds.
Audio Playback (5 out of 5)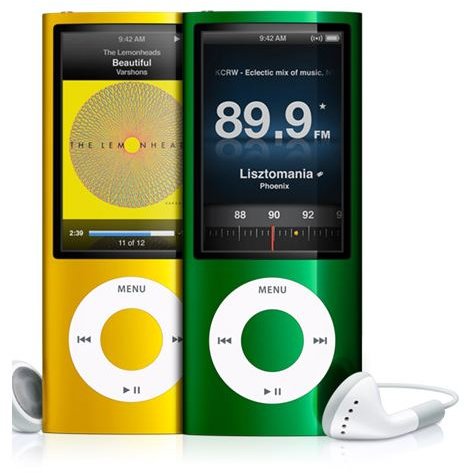 For playing music, the iPod is great because you can sort by artist, album, song title, and so on. I like to put mine on shuffle for when I am driving, then I just hit button to skip to the next track. It sure beats having to switch CD's when I've got over 1,000 songs on my iPod. I connect my iPod to my car stereo with a simple audio cable. The FM radio tuner also features a 'live pause' where you can pause and rewind up to 15 minutes, plus it'll tell you who you are hearing play on the radio.
There is a built-in speaker with the Nano, but it's not real great for playing music since the speaker is so small and weak. It sounds worse than a cheap alarm clock radio. The built-in speaker is best used for watching videos or listening to audiobooks where the sound is mainly just from voices. You can also use a built-in software EQ that will adjust the way your music sounds when listening via headphones or external speakers, but the equalizer does run down your battery more quickly.
To load music on the iPod Nano, you have to use free software called iTunes. I am using it on a Windows computer and it sometimes can be slow to load up, but it works well enough. You can buy music from iTunes or import your own CD's, which is always nice. If you have music in MP3 form, such as the audio tracks you buy from Amazon.com, you can drag and drop them into your main music listing. The process is all pretty simple.
Video Playback (5 out of 5)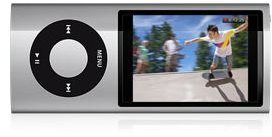 The fourth and fifth generation iPod Nanos comes with elongated screens that are more comparable to the larger screen on an iPod Touch or iPhone. This is great for playing widescreen videos because you can hold the Nano sideways and watch the video without the ends being chopped off like they are on older model Nanos. Videos on this little device are incredibly clear and you might think it would be weird to watch a movie or TV show on such a small screen, but it can be a lot of fun when you're stuck somewhere with nothing else to do.
You can buy or rent movies and television show episodes from iTunes, or you can copy over your own videos. Many DVD and Blu-ray movies now include digital copies, which is very nice so that you can have a portable version of the movies you purchase. Just be careful putting too many videos on your iPod Nano because those eight gigabytes of storage can be used up very quickly since the average movie takes up several hundred megabytes or more. Watching video files also uses a lot more battery power, so keep that in mind on long road trips where you may not be able to recharge.
Built-In Video Camera (5 out of 5)
One of the biggest improvements in the current fifth generation iPod Nano is that it now includes a video camera. I have been really impressed by the quality of the recordings that it makes given the small size of the lens, and it puts my BlackBerry 8330 to shame. The video camera works best when there is bright light, but it still does OK in darker situations. The sound is also good for picking up something in a room, so it's great for shooting short videos that you may want to share with others via email or on Facebook. You will have to use iTunes to get the videos off your iPod Nano, but it's very easy.
The video recordings are shot at 30 fps at a 640 x 480 resolution, which is actually better than what the Nano screen can show.
Overall (5 out of 5)
I am really impressed with the current fifth generation (5G) Apple iPod Nano. I love all the features it provides beyond just playing music, and I am always blown away by how great the little screen looks as far as image sharpness and overall quality. Should you decide to buy a Nano, be sure to get a strong iPod case to protect your investment.
(Image credits: Apple.com)