Sony Walkman W250 Review: A Great MP3 Player for Athletes
Sony Walkman W250 Review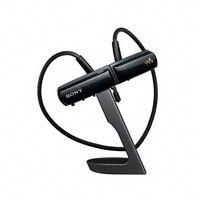 Using MP3 players always involves a bit of a hassle dealing with the earphone wires and sorting them out. For joggers and athletes, it is even more troublesome to manage the cables when running or exercising. You could use an armband for more convenience but that isn't a very elegant solution. You could also use a good Bluetooth headset with your cellphone but that would be quite expensive. The best solution would be to combine the MP3 player and the earphone into a compact package which obviates the need for any cables. The Sony Walkman W250 does exactly that. It combines the MP3 player and the headset in a compact combo.
Sony Walkman W250 Specifications
Weight: 43 gms
Battery Life: 11 hours music playback
Supported Formats: MP3, WMA
Storage: 2 GB, 4 GB
Colors: Black, Lime Green, Pink, White
Price: $60
Features: Water resistant, Quick charge, Zappin, Playlists, Shuffle
Design (4 out of 5)
The Sony Walkman W250 has a nice design coupled with great build quality. It has two ear pieces connected with a rubbery cable. The body is composed mainly of plastic and feels quite sturdy. The two earpieces click together into place thanks to a magnetic lock mechanism. When that happens, the player is automatically turned off to conserve battery life. The body is water resistant but not waterproof. It has an LED indicator which shows when the player is charging and another which shows when it's in use.
The Sony Walkman W250 comes with a clip, a mini USB cable used to connect the player to your PC to transfer music and three different ear tips which you can choose from. It comes in three colors: black, lime green, and pink and white. The black version is the best looking, in my opinion.
Features (3 out of 5)
The Sony Walkman W250 has good controls which allow you to adjust volume, play/pause tracks and switch tracks easily. On one side of the player, you have a rocker button which has the forward, back buttons and the play/pause button on the center. Pressing the center also turns on the player. Next to that is the volume + and - buttons. On the other side, there is the shuffle/playlist button. Whenever you press a button, you get feedback as a voice.
It also comes with a Zappin feature which allows you to listen to the best parts of a song and skip through them by long pressing the play/pause button. It supports the MP3 and WMA formats.
You can transfer your music to the Walkman W250 by connecting it to your PC using the USB cable. It supports the MTP transfer protocol and works with all Windows PCs.
Performance (4 out of 5)
The performance of the Sony Walkman W250 is really good. It is really comfortable and easy to use and offers very good audio quality. However, there are no customization settings or the ability to use your own headphones which may be a deal breaker for some. The audio quality of the W250 is more than enough for casual listeners.
It comes with a moderately powerful battery which provides up to 11 hours of music playback on a full charge. It also supports Quick charge, which enables it to play for about 90 minutes after a quick charging time of 3 minutes.
Conclusion (4 out of 5)
The Sony Walkman W250 is a very good MP3 player option for athletes, joggers and the gym crowd. If you are willing to sacrifice a display for the convenience of not having to use wired earphones, this is definitely a good deal. It is priced at around $60 for the 2 GB version.