UWaterG2 Review: Are the Waterproof Features Worth the Price
UWaterG2 Overview
We've always had to quickly cover up our MP3 player if it starts raining or if we just get splashed with water. But, what if you didn't have to? The new UWaterG2 Waterproof MP3 player is small, attractive and waterproof. Plus, it's relatively inexpensive at less than $100. This UWaterG2 review will help you decide if this is a must-have or just skip.
Body (4 out of 5)
The first standout feature of this player is the size. It is extremely small, which will satisfy anyone who does not want a clunky MP3 player. Its dimensions are 1.2 inches wide by 1.8 inches deep by 0.4 inches high. It is available in different colors such as white, black, red, yellow and blue.
Waterproof (5 out of 5)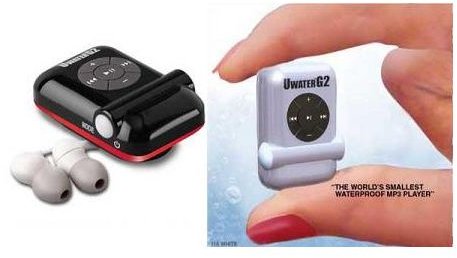 The main selling point, however, is that it is completely waterproof down to the earphones. It comes with a "Twist & Lock" earphone jack that keeps water from entering the player. This feature does more than simply keep water out. It also keeps the player from corroding. Regular jacks often lead to this problem, ruining a perfectly good player.
If you are planning to take advantage of the waterproof feature, then you can only use waterproof earphones. Fans of particular earphones such as Skull Candy headphones will have to forgo these for the waterproof ones.
The player also comes with a small clip that allows you to clip this to your belt buckle, purse or even your underwater goggles. It also comes with an armband and four pairs of ear tips.
Memory/Battery (3 out of 5)
The player has a decent amount of memory: 2 GB of integrated Flash memory. This player only supports MP3s and it does not have a LCD screen. If you want something that plays videos and music, then you will probably want to go with another player.
It only has two player modes: normal and random. The battery life of this device is a little disappointing. You only get about eight hours of life on your Lithium-ion rechargeable player battery. If you are planning to use your player all day, you will have to invest in a car charger.
This player connects to your computer via a USB port and is compatible with both Mac and Windows operating systems.
Bang for Buck (4 out of 5)
Overall, this player is relatively cheap, but still gives you a lot of memory. The standout feature, of course, is that it is waterproof. For boaters, swimmers and beach travelers, this is the perfect device since you do not have to worry about getting it wet. However, if you like watching videos on your MP3 player, then this is not the player for you. In addition, the battery life may be a deterrent for many.
Still, despite a few minor shortcomings, this player is attractive and comes in multiple colors. Moreover, you just cannot beat the waterproof feature.
References
CNET Reviews, https://reviews.cnet.com/mp3-players/uwaterg2-metallic-black-deep/4507-6490_7-34469265.html?tag=specs
SNSFox, https://www.snsfox.com/new-cool-tech-gadgets/uwaterg2-waterproof-mp3-player-worlds-smallest-waterproof-mp3-player/