iHome IH20W Shower to Beach Portable Speaker System for iPod Review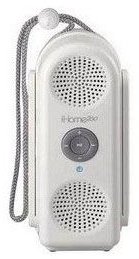 Overview
I do not have a good singing voice, but in the shower, I do like to think I sound a little better (I have a sneaking suspicion all wannabe singers think they sound better in the shower, too). So what better accessory for singing in the shower than the iHome IH20W Shower-to-Beach Portable Speaker System for iPod? At under $100, it could be the perfect singing partner.
But I admit I was skeptical about this product at first. I love my iPod, so the idea of subjecting it to any kind of moisture didn't sit well with me. However, I am also one of those people who takes their iPod everywhere. In fact, I have an adapter/charger for my car, a portable docking station with speakers for the backyard listening, and even a plug-in adapter for the stereo so I can play my iPod through the speakers. So I decided to plunk down the cash for the iHome IH20W, and here's what I found out about this iPod accessory.
Performance (4 out of 5)
First impressions are always important, and the first thing I noticed about the iHome IH20W Shower-to-Beach Portable Speaker System for iPod was its weight. It was surprisingly heavy, and the case is much larger than the photo to the right would lead you to believe. Despite the brick-like weight, however, the iHome IH20W has a sleek look (only available in white) and comes with a handy hanging rope and hook to suspend from just about anywhere.
Now let's look at some specific pros and cons on the performance of the iHome IH20W Shower-to-Beach Portable Speaker System:
Pros and Cons: The Sound
If you want your music to drown out your own voice in the shower, you'll be happy with the speaker sound coming from the iHome IH20W. Sound quality is very good for what is essentially a mono speaker. I have found, though, that if you like to play your music loud, it is best to set your iPod volume to its highest setting first, then set the volume controls on iHome IH20W to the volume you like, or need for the surroundings. Be aware, though, that the speakers in the iHome IH20W are small; you could easily blow out the speakers if you are not careful.
Pros and Cons: The Controls
The iHome IH20W Speaker System has a control wheel for navigation, but while you can move back and forth through a playlist, you cannot access another playlist in your iPod, nor can you navigate back to the menus, etc., while your iPod is in the case. But if you need to listen to more than one playlist while you are in the shower, you may want to rethink how much time you're spending in there.
You also cannot scroll using the iHome IH20W's control wheel, nor can you use shuffle, but the key features you'd want in an iPod accessory are there, such as pause, rewind, and fast-forward.
Pros and Cons: The Case
Big caveat: This case is not waterproof – it is only water resistant. Thus far, I have managed to keep my iPod dry, but clearly, if it were to drop into water, it could spell the end of your iPod. There are iPod speaker cases for the shower that are waterproof, but you will spend more for them. Bottom line, if you purchase the iHome IH20W, you should still be careful using the case for your iPod anywhere near water.
Note: I have yet to make it to the beach with this product, but the same caveat likely applies; that is, dropping it in the sand would likely impact your iPod similarly to dropping it in water (in part this is because you cannot keep a protective case on your iPod and then insert the iPod into the iHome IH20W case – your iPod will not fit into the iHome IH20W with a protective case).
And speaking of dropping, the iHome IH20W case is quite sturdy. I have dropped it in the house and yard and no damage to the case. Just don't mistake its durability in water!
Finally, it's worth noting that the iHome IH20W cannot easily be set on a table or the edge of the sink because the case has latches on the side to hold your iPod in place. It is really meant to be suspended from a hook or bar. There are other options for portable iPod speakers that you can set anywhere if that is what you are looking for.
Features (2 out of 5)
I give the iHome IH20W a below average rating because despite being advertised as a 'shower-to-beach' iPod speaker system, it is only water resistant – not waterproof. My iPod has stayed dry in the iHome IH20W case, but obviously, waterproof accessories for an iPod would seem offer more carefree options.
The iHome IH20W also lacks some of the functions of the iPod on the control wheel making it somewhat limited as a device – you shouldn't have to remove the iPod from the case to scroll to the next playlist, for example.
That said, the iHome IH20W acts as a portable iPod charger, powering up your iPod nano as you listen. And the iHome IH20W works with most generation iPods, including the iPod mini 1G; the iPod nano 1G, 2G, 3G, and 4G; the iPod Classic 4G, 5G, 5.5G, and 6G; and the iPod touch 1G and 2G, making it a pretty flexible speaker and charger system. (Note: while all iPods fit the iHome IH20W case, you will not be able to also use a protective case on your iPod with the speaker case.)
The iHome IH20W also comes with an AC adapter, so while it provides a built-in iPod charger that runs on batteries (takes four "AA"), when your battery life wanes, you can simply plug in the case to charge your iPod. Note that I have run my iPod on the batteries in the iHome IH20W speaker case for more than an hour and it was still going strong when I turned the music off.
Price to Value (4 out of 5)
The iHome IH20W Shower-to-Beach Portable Speaker System for iPod provides a lot of bang for your buck. It charges your iPod while you listen. It provides great sound for when you are on the go. And it provides more portability for your already portable iPod. For just under $100, you get a durable, water resistant iPod speaker system and iPod charger you can use anywhere.
Overall Rating (4 out of 5)
The iHome IH20W Shower-to-Beach Portable Speaker System for iPod is a simple accessory that gives you some additional portability for your iPod. The speakers are of good quality and sound, the case is durable, it recharges your iPod as you listen, and it's small enough to take anywhere you take your iPod. It may lack some of the bells and whistles of the iPod itself, and it is not waterproof, but if you've been wishing you could listen to your iPod while in the shower, check out the iHome IH20W.