Four Waterproof iPod Docks: Take Your Music to the Pool With You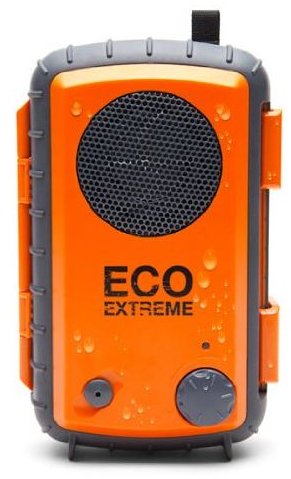 Eco Extreme
The Grace Digital Eco Extreme is an excellent choice for any outdoorsy person. This iPod dock is completely waterproof and dust proof. It will keep your iPod or smartphone safe as you go camping, hiking or fishing. Simply throw it in the back of your canoe and don't worry about it getting splashed on! It has 30 hours of battery power and includes a strap so you can attach it to a backpack or belt. Also includes extra room to store credit cards or cash. This is a good pick for anyone who wants to bring their ipod anywhere with them, including the beach. It also comes in wide range of colors! Currently available on Amazon for less than $35.
WCI Quality iLobo-Water Resistant Case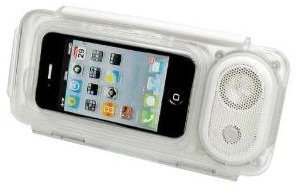 This water resistant case makes a great accessory for your iPod or Smartphone. This will not protect your iPod if it is completely submerged in water, however it works great to protect from splashes and spills. This makes an excellent dock to take with you poolside or on any outdoor adventure. Also comes with a strap for easier transportation. Another cool feature is being able to use your iPod's touch screen while it is in the case! You can find it on Amazon for $25.00. This device might make it's way onto my Christmas wish list this year.
Smartak Audio Wireless Waterproof Shower Speaker With Dock Transmitter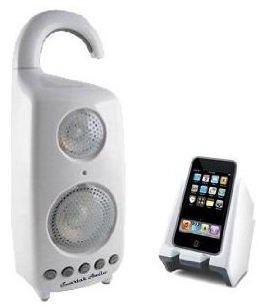 For something a little different, that is definitely intended for shower use, you might consider this waterproof iPod docking station from Smartak. Incorporating 2 units - 1 designed to look like a bottle of shower gel that leaves you access to all the controls; whilst the second unit docks your iPod securely away from any water. You don't even have to be anywhere near the docking station either, for the control unit to work - they can work together up to a distance of 150ft. The control unit does not contain any power at all, so is not only 100% waterproof it is also 100% safe. It gets its power from a circuitry system that connects to the docking unit. The dock is also suitable to use as an iPhone docking station, meaning 2 gadgets in 1.
Set-up is surprisingly easy for a 2 unit model, and users also remarked on the high quality and volume of the speakers. Now you can sing in the shower safe in the knowledge that your iPod is protected.
Available from amazon.com for $69.99.
eGo Waterproof Sound Case with Speaker for iPod
The eGo Waterproof iPod Dock with speakers, is a compact model that allows you to use your iPod in depths of 3 ft, and can even float on water.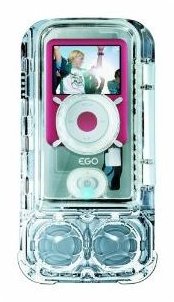 The clear model means you can keep an eye on your iPod, and still have access to the click wheel. There are 2 small speakers incorporated into the case design, that actually work pretty well despite their mini size, but there is a waterproof protected option to use your earphones if you prefer. It needs 4 AAA batteries to power it giving around 16 hours playback at medium sound levels. Also known as the "icebar", this highly portable model is perfect for those that enjoy watersports like kayaking, without worrying about your iPod getting wet or damaged - thanks to a polycarbonate shatter-proof body, and rubber bumper guards.
You can buy used ones for as low as $48 on Amazon.