The Vision Series ARCHOS MP3 Players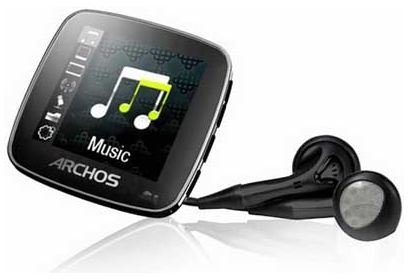 ARCHOS 14 Vision (5 out of 5)
The ARCHOS 14 Vision is small and very portable. With 4GB of space, you will be able to fit 2000 songs (MP3, WMA, WAV, FLAC, and APE formats) and you can include lyrics files (.LRC) so you can sing along with your favorite artists. One of my favorite features is the conversion software included in this player's memory, which will convert your video files to AVI and make them fit the small screen. Other features include FM radio, a voice recorder, the ability to display photos, a multi-language interface, and an adjustable sound equalizer. Unfortunately, the 14 Vision has a short battery life (11 hours music and 2.5 hours video).
Price: $30 to $60
Image Credit: https://www.computerriver.com/images/Archos-Vision-A14VG.jpg
ARCHOS 3 Vision 8 GB Video MP3 Player (4 out of 5)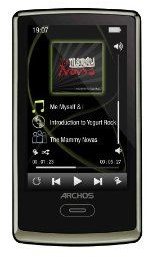 With this touch screen 8GB player you can watch movies in most video formats without converting them first and you can store up to 4,000 songs (MP3, WMA, WAV, and FLAC formats). You can add lyric files, listen to FM radio, record memos, look at photos, and adjust the sound. The Vision 3 also includes the ability to read text files, a stopwatch, and a calendar. You can even record directly from the FM radio and listen to music as you watch a slideshow of your photos.
Overall, the ARCHOS 3 Vision works fairly well. Some issues that come up regularly, though, are the player will not remember your personal background picture, the virtual scroll wheel and volume control can be tricky to calibrate and some people are disappointed with the filing system. Also this player is a little fragile, so you should invest in a protective case. The video and music functions work really well, but the short battery life is disappointing (14 hours music, 4 hours video).
Price: $99.99
Image Credit: https://audioflix.com/images/20100308/1862/archos-3-vision-8-gb-video-mp3-player.jpg
ARCHOS 3 Cam Vision Player with Built-in Video Camera and FM Transmitter (3 out of 5)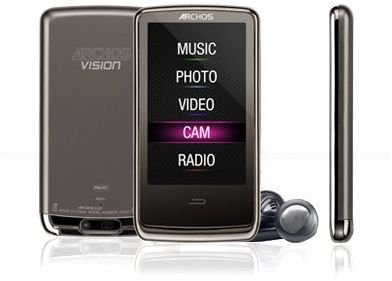 This is a second version of the previous player – the only real difference is the built-in camera, which works okay but the pictures and videos tend to come out a little fuzzy. Everything else is the same. If you already have a good digital camera that you carry with you, you should stick with the regular version of this MP3 player.
Price: $99.99
Image Credit: https://www.advancedmp3players.co.uk/shop/images/products/501513/501513_LARGE.jpg
ARCHOS 24 Vision 8GB Media Player w/ Camera (5 out of 5)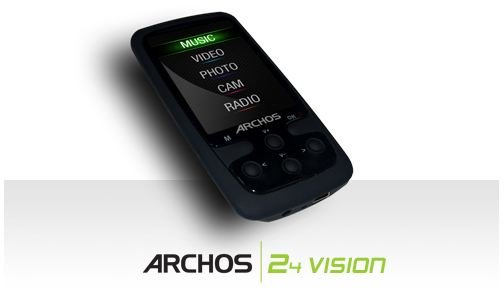 The 24 Vision boasts a larger screen than most others of its type (2.4 inches). It includes all of the features that the 3 Vision has, but it uses buttons instead of a touch screen. If you do not like touch screens or if you have doubts about the reliability of the 3 Vision's control interface, this player would be a good alternative.
Price: $95.00
Image Credit: https://www.data-mind.co.uk/acatalog/archos-a24vb.jpg
ARCHOS 43 Vision (5 out of 5)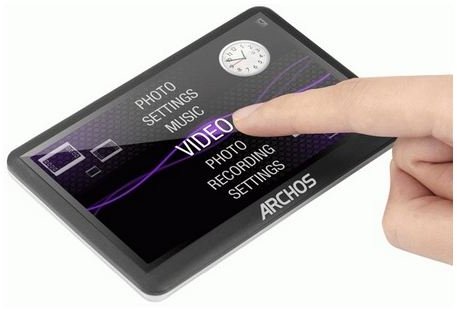 This player looks great and the price is surprisingly low. You get 8GB of memory and the option to add more space with a micro-SD card. It has a lot of the same features as the other ARCHOS MP3 players on this list. The main difference is that the 43 vision is designed primarily for video with its 4.3 inch touch screen, 6 hours of video playback and high resolution. It supports a large number of formats, so you do not have to worry about converting your videos.
Price: Around $135
Image Credit: https://www.mp4playerreviews.co.uk/wp-content/uploads/2010/05/Archos-43-Vision-MP4-Player.jpg
Overall
To me, the prices of ARCHOS MP3 players seem to be more than fair, especially when you look at what similar models from some of the better known brands cost. As with most MP3 players on the market today, the ARCHOS MP3 players do not come with an MP3 player headset; instead, with your purchase you will receive high quality ear buds. If you would like an MP3 player headset, most major electronics retailers carry them.
If you are not obsessed with screen size, my advice would be to choose the 14 Vision. It seems to have fewer issues and the price is much lower. To see the rest of the Vision series ARCHOS MP3 Players, visit ARCHOS's official website.