The Best Philips MP3 Speakers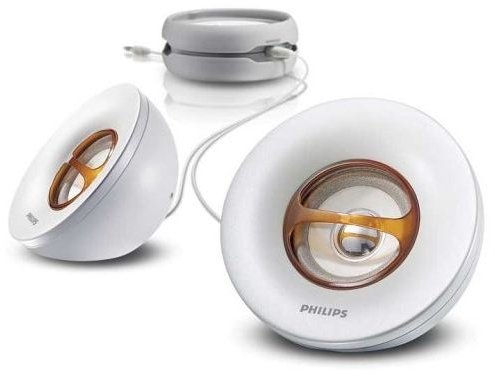 You do not have to use an MP3 player headset or ear buds to listen to your MP3 player; you can choose to use a product like Philips MP3 speakers instead for your Philips MP3 player or of any other compatible brand. Philips makes a number of different speakers. Here are 5 of their best.
Philips SBA1500/37 Portable Speaker System (5 out of 5)
This is probably the best cheap set of portable speakers you will find on the market. The SBA1500/37 Portable Speaker System comes with a set of 2 speakers and a power supply to amplify the sound. The power supply is magnetic, so you can place one speaker on top and the other to create an egg-shaped package that is easy to travel with. They can plug into any device with a 3.5 millimeter jack (the same type that most MP3 players use).You can use it as a passive system, or you can plug the speakers into the power supply and get a huge boost. The lack of AC adapter is disappointing; however the batteries (3 AAA's) last for a long time – at least 20 hours or more. You cannot comfortably fit the SBA1500/37 Portable Speaker System in your pocket or most purses, but they do fit well into a book bag, computer bag or luggage.
Price: $20.00 to $30.00
Image Credit: https://ecx.images-amazon.com/images/I/4141BMT0CNL.jpg
Philips Fidelio DS3000 Desktop Speaker Dock for iPod/iPhone (4 out of 5)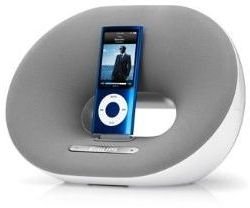 With these Philips MP3 speakers, you can dock any iPod with a 30-pin connector (except for the iPod Shuffle) and play music, charge your iPod and even sync your iPod with your computer. There is also a jack to connect other MP3 players or a CD player to the speaker. The sound quality is very good and the unit as a whole is very easy to use. All you have to do is take it out of the box, plug in the AC adapter or put in some batteries, and then attach your MP3 player or iPod. If you are using an iPhone or an iPod Touch, there is an iPod app you can download which gives you more sound control, allows you to display a clock on the touch screen while your player is docked, and more. For a set of Philips MP3 speakers of this quality you would expect to pay at least a few hundred dollars, but this one is very nicely priced at $79.99.
Image Credit: https://www.mercadolibre.com.pa/jm/img?s=MPA&f=1375427_9403.jpg&v=P
Philips SBA220/37 Portable Speaker System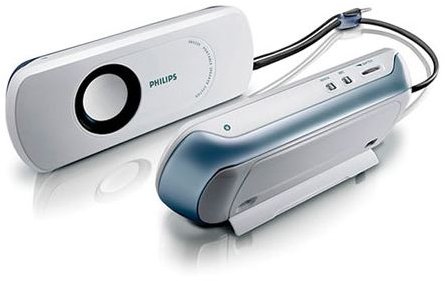 The SBA220/37 is the next generation of the first set of Philips MP3 speakers listed in this article. They sound great - much better than other brands of portable speakers - and they are more compact. A major con, though, is the fact that it takes 6 AAA batteries and while the advertising from Philips says you can use an AC adapter, the truth is that you cannot. If you buy a decent set of rechargeable batteries, this speaker is a good buy for its price.
Price: $49.99
Image Credit: https://www.mcmelectronics.com/content/productimages/s4/58-12710_2.jpg
Philips Fidelio DS7550 Rechargeable Portable Docking Speaker for iPod/iPhone (4 out of 5)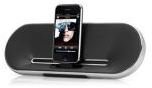 This system from the Fidelio line of Philips MP3 speakers delivers crisp, detailed sound and you can still hear the details of your music when you turn up the base. You can dock any iPod or iPhone, and you can also download the free Fidelio application to your iPhone or iPod Touch. The app allows you to do things like set customized music alarms and check your speaker's battery life. This speaker also comes with a carrying case, which makes transporting it easier. The slim design allows you to slip this speaker right into your luggage or computer bag. The DS7550 is a little on the pricey side, but it is worth every penny.
Price: $129.99
Image Credit: https://edge.shop.com/ccimg.shop.com/230000/236200/236207/products/384456606__150x150__.jpg
Philips DC570/37 2.1 Audio System with Built-In Subwoofer and iPod Docking Tower

This speaker has the great sound that people have come to expect from Philips products. It takes up very little space and fills the room with songs from your iPod. The iPod dock is universal and it allows your iPod to keep charging while you are playing it. Some of its other features include: a digital FM radio: a USB port and a 3.5 millimeter auxiliary port which allow you to connect other devices like an MP3 player, a laptop or a television, a digital alarm clock, and a remote that controls both the speaker and main iPod functions. Set up is really easy (it takes about 5 minutes) and, for a speaker of this quality, the price is reasonable.
Price: $299.95
Image Credit: https://images.buzzillions.com/images_products/09/37/philips-dc570-37-2-1-channel-ipod-docking-tower-audio-system-subwoofer_8799313_175.jpg
With reviews in hands, now you can choose among the best Philips MP3 speakers according to your requirement and budget.