Top Philips Case: MP3 Player Protection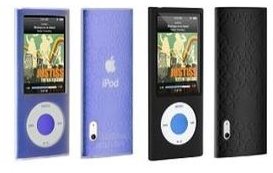 It is important to protect your iPod, and one way you can do that is by purchasing a Philips case MP3 player protector. Philips makes a number of different cases for Apple iPods. This review will take a closer look at just two of them: the Philips Jam Jacket for the iPod Nano 5G and the Philips DLO HybridShell Grip Case for the iPod Touch 1G.
Image Credit: https://di1-3.shoppingshadow.com/images1/pi/41/4f/24/97808701-260x260-0-0_Philips+Philips+iPod+Nano+Jam+Jacket+2+pack+DLA690.jpg
Design (5 out of 5)
Both of these cases are well designed. The Jam Jacket Philips case for the iPod Nano is made from thermoplastic polyurethane which allows for a better grip and shock-absorption. When you put the Jam Jacket on, it fits the player perfectly and still gives you access to the dock connector and controls. Your iPod Nano is protected completely by this soft-shell case.
The Philips DLO HybridShell case is made from a combination of clear polycarbonate and gripable silicone. It features a DLO Surface Shield (through which you can still use your touch screen) and silicone dots on the back that add an extra layer of grip. Once this case is on, you can still easily plug in an MP3 player headset or a dock connector.
Performance (5 out of 5)
The Jam Jacket is very easy to put on, all you have to do is place your iPod Nano inside and snap it shut. Once it is on, you still have quick access to all of the features, including the controls and the jack for an MP3 player headset or ear buds. For the 5G iPod Nanos, this case has an opening in the back to allow the camera lens to remain uncovered. If you get the case dirty, a slightly damp cloth should be all you need to get it clean again.
As with the Jam Jacket, all you have to do to put on the DLO HybridShell Case on is place your iPod Touch inside and snap it shut. The case is very sturdy and does not scratch easily or pop open. With the DLO Surface Shield, there is not a noticeable difference in sensitivity on the touch screen. You still have full access to all of the features of your iPod Touch with this case.
Value (5 out of 5)
In stores, you may find that the iPod Nano Jam Jackets sell for as much as $20, and the iPod Touch DLO HybridShell Case can cost as much as $25 to $30, but if you shop on the Internet you should be able to find a better deal. For example, on Amazon.com you can get a 2 pack of the Jam Jackets for $4.95 plus $4.99 shipping. Considering how much an iPod costs, these cases are a very good value.
Overall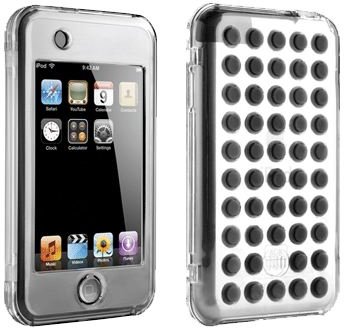 Image Credit: https://imgs.inkfrog.com/pix/HotDigital/23439.gif
It is my opinion that Philips makes some of the best MP3 player cases available. In addition to iPod cases, they also make cases for other brands of MP3 players and generic cases. Please keep in mind when choosing a Philips case MP3 player protector that many of them are customized to fit a specific MP3 player. If you have a fifth generation iPod Nano, then you should select a Philips case MP3 protector that is made specifically for that player for best results.