Using the Different Video Functions on the iPod Touch 4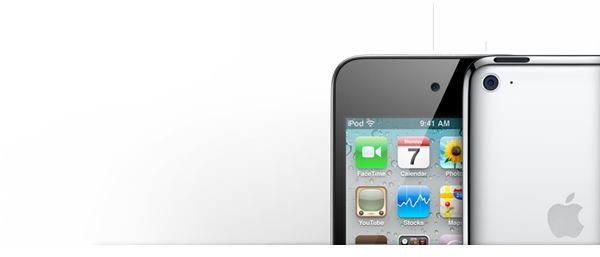 Just Add Video
iPod Touch users have been waiting long enough and now they finally have the HD video features that have been a part of the newer iPhones in the iPod Touch 4. With the iPod Touch 4, Apple made a major jump forward and actually mirrored the video functionality of the iPhone 4 in a very elaborate way. Now iPod Touch 4 users will have most of these features and will be able to utilize the dual cameras in an equally complete fashion. Here are a few tips for those who are new to using the iPod Touch 4's video function.
Dual Cameras and FaceTime
The iPod Touch 4 does bring in the dual camera mode that we saw in the iPhone 4, and just like with the iPhone 4 this was included so that
the iPod Touch could use the FaceTime video chat. With the iPod Touch FaceTime, you essentially have the same functions as with the iPhone 4 and you will also be utilizing the Wi-Fi connection. This will transform your iPod Touch 4 into a full communication device with a practical use for Contacts and full iPod Touch screen resolution to support it, this time through the Retina Display. When you are using the iPod Touch FaceTime you will need to make sure that your Wi-Fi connection is both adequate and secure. The iPod Touch FaceTime connection needs to be fast enough to work, so try to only utilize those run by yourself or approved institutions.
The iPod Touch 4's dual cameras are designed for FaceTime, which means that the front camera that is on the same side as the touch screen is primarily used for FaceTime. This is not the one that should be used for standard iPod Touch 4 video recording, unless you want to record yourself and see the framing as you do this.
The back camera can be useful for the iPod Touch's FaceTime as well because you will be able to record video with it and include it in your FaceTime call. All of these features can become intuitive as you work with your iPod Touch 4's cameras, but what FaceTime will do is allow you to switch between cameras. For example, if you are talking to your friend on FaceTime using the front camera and your roommate wants to say hello from the other side you can just switch to the back camera temporarily.
iPod Touch HD
The new iPod Touch will allow for full HD video recording as well as editing right on the device. All of this is done so that HD video can be just as spontaneous and easy to upload as anything else, making it much more accessible to non-filmmakers. Conventionally, if you want to upload your HD video from your iPhone 4, and now your iPod Touch 4, it is going to downgrade the video quality when uploading it to YouTube directly from your phone. To bypass this you would then have to sync it to your computer and then upload it from there, but new updates state that this should be fixed and the iPod Touch 4 should be able to upload this at the steady rate of 720p HD.
Since the 720p HD video size is fairly large you may want to sync it to your computer when it is done anyway that way you can just delete it immediately from your iPod Touch. The iPod Touch 4 model allows for larger possible storage space, up to 64 GB, but the video size is still fairly large.