Cheap MP3 Players with FM Tuner Round Up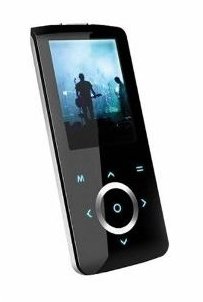 Coby 2 Inch Touchpad Video MP3 Player with FM 2 GB
The Coby 2 Inch Touchpad Video MP3 player closely resembles the iPod Nano's slim profile and form factor. It features a 2-inch full color TFT LCD with 176x22 display resolution and FM and touchpad control. The MP3 players comes built with an integrated 2GB flash memory and supports MP3, WMA, OGG audio files as well as WMV, FLV, AVI video files. You can also load it up with photos in JPEG, BMP, GIG and TXT as well as DRM supported files. With those features and 8 hours of playback, the only reason that might stop you from buying this MP3 player is its price. (Price: $34.97)
Sony 2 GB Walkman Video MP3 Player with FM Tuner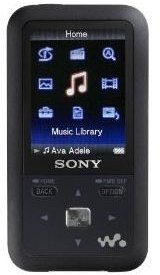 The Sony 2 GB Walkman Video MP3 Player with FM Tuner is a pretty sleek-looking audio and video player. For its audio playback function you can't really ask for more from this device, that's what Sony is known for. However, it is also a video player which should have been a plus factor if only its 1.8-inch QVGA display was a bit bigger. Other features of this MP3 player include it's 2 ounce weight, that it can store up to 1,150 songs, and of course the built-in FM Tuner. (Price: $66.72)
Sandisk 1GB Sansa m240 MP3 Player with Digital FM Tuner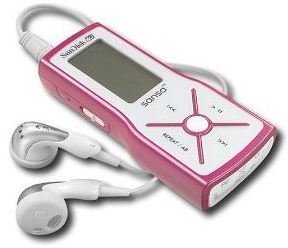 Here's one of Sandisk's many MP3 players in the Sansa product series. This flash-based MP3 player provides high-quality digital music playback and comes with excellent navigation system that lets you sort songs by title, artist, album and genre. It also lets you create playlists. It supports MP3, WMA, secure WMA and audible audio file formats and accepts content downloaded from online content providers. The MP3 player offers up to 19 hours of continuous playback using one AAA battery. It's FM Tuner has 20 preset stations. Other features of this MP3 player include - built-in microphone and voice recorder. The only problem with this MP3 player is that the 1GB storage capacity may note be enough for you.
Sony NW-E005 2GB Flash Drive MP3 Player with built in FM Tuner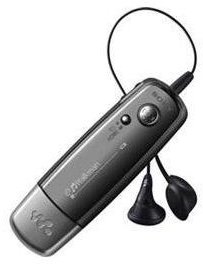 With 2GB flash storage, the Sony NW-E005 MP3 Player with FM Tuner lets you load up to 1350 songs which you can transfer from your PC via a USB cable. The MP3 player supports MP3, ATRAC3, WMA and AAC Media formats. The FM Tuner allows you to listen to local FM stations. (Price: $39.99)
Impecca MP1202FR 2GB MP3 Player with FM Tuner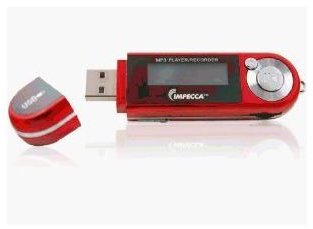 Best feature of the Impecca MP1202FR MP3 Player is of course its color which comes in various funky tones that complements your personal style. It has a blue screen with a blue backlight which displays song titles clearly. It also has a voice recorder function so you can use it for interviews. It's FM Tuner has 7 presets and the player supports various languages as well. (Price: $19.99)
Samsung YP-T7JZ 1 GB Digital Audio Player with FM Tuner & Recorder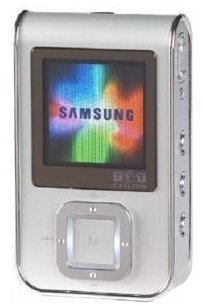 Weighing just 1.3 ounces, the Samsung YP-T7JZ Digital Audio Player offers 1GB storage for your music files as well as an FM Tuner and Recorder features. It lets you play MP3, Audio ASF, OGG and WMA files as well as display your JPEG still images. It's built-in lithium-polymer battery can be charged through the USB connection to your PC and gives you up to 10 hours of music playback. The device's FM Tuner lets you record FM radio at specified time. It also has a 7-band user customizable EQ and EQ presets such as rock, classical, jazz, house, and ballad. Other features of this MP3 player include - USB host support, 1.2-inch color TFT LCD screen, playlist playback and line-in jack. (Price $29.99)
TrekStor i.Beat 1GB Mp3/Audio/Video/Movie Player w/FM tuner/Radio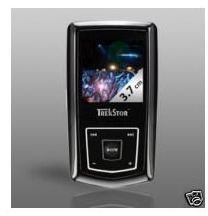 The TrekStor i.Beat MP3 Player also serves as a video and movie player plus FM tuner. It supports MP3,WMA, WAV, and SMV for music purchased on the Internet. It comes with a 1.44-inch CSTN display with 65,000 color. It gives you up to 10 hours listening time and also lets you record notes directly from radio as WAV or from its integrated voice recorded also as WAV files.(Price: $19.99)
Philips HDD082 2GB MP3/WMA Player with FM Tuner

The Phillips GoGear Micro Audio Jukebox can hold up to 1000 of your favorite MP3 files with its 2GB storage. It lets you play both MP3 and WMA files. The device also comes with a built-in FM Radio and has five-band DSP controlled equalizer. It lets you listen to your music for up to 10 hours. Design-wise, the device sports a solid body in compact and lightweight profile. The device also has an easy-to-use interface menus with SuperPlay function for a hassle-free one-touch jukebox playback. Its SuperScroll navigation interface lets you find songs quickly. Other features of the MP3 player include, 10 FM radio station presets, voice recorder function, upgradeable firmware, auto-sync with Windows Media Player, Dynamic Bass Boost System and Black/White LCD.
(Price:$29.95)
Coby MP-C855 MP3 Player with 512 MB flash Memory, FM Radio & USB Drive

Don't underestimate the Coby MP-C855 MP3 Player with its 512MB flash storage and its small form factor. This MP3 player certainly comes loaded with features including direct USB plug, 8 hours listening time and mobile storage function. Yes, this device can also serve as a USB flash drive allowing you to store data files such as text documents, JPEG and more. Other features of this MP3 player include - high contrast LCD display, built-in digital FM Tuner, synchronized lyric information display, and high-speed USB 2.0 interface. If you don't mind its 512MB storage capacity then this MP3 player is the right device for you. ($33.00)
GoVideo ARC2.5C Rave 2.5GB MP3 Player with FM Tuner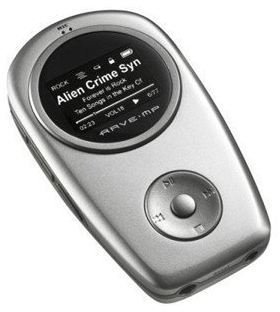 The GoVideo ARC2.5C MP3 Player allows 40 hours playback of MP3 songs or 80 hours playback of WMA files. Its great features include LCD Display, FM Tuner with 20 presets, radio recorder, and voice recorder. It suppoers MP3, WMA, and WMA DRM. Best feature of this device has got to be its unique design which is very rare for an MP3 player. (Price: $49.95)