Best iPod FM Transmitter Reviews: Top 5 FM Transmitters for Your iPod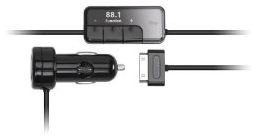 Griffin 4045-TRPAUTOS iTrip Auto FM Transmitter with SmartScan for iPod
This is possibly your best bet when it comes to iPod FM transmitters. Using SmartScan, this device lets you wirelessly send music from your iPod to your car radio. Griffin, in case you're not aware, is famous for FM transmitter technology with combined charging facility. So, this FM transmitter is not only for music purposes but for re-charging your iPod as well. The device scans the radio dial for the best frequencies and saves them to preset buttons. It has a high-contrast display which is easy to read and also has a three-stage light ring that changes color to indicate charging status. The device supports iPod 4G and 5G, iPod Nano (1G, 2G, 3G) and iPod Touch. If you're unsure which version of iPod you have, read What Generation is My iPod? for tips on how to tell.
Monster iCarPlay Wireless Plus FM Transmitter/Charger for iPod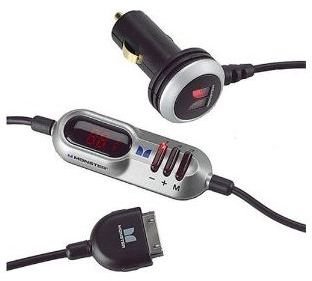 Unlike the Griffin FM transmitter, the Monster Cable iCarPlay Wireless Plus FM transmitter lets you wirelessly access your entire iPod Library and play it on your car stereo. While doing so, the device also charges your iPod. The device offers full FM tuning functionality with top-quality, interference-free sounds. The device also has three programmable "favorite station" preset buttons, easy-to-ready LED display and 24K gold contacts for maximum corrosion resistance and power transfer. It is compatible with all iPods provided you use a dock connector.
Belkin TuneCast Auto 4 for iPod

Next on our list of the best iPod FM transmitter reviews is the Belkin TuneCast Auto 4 for iPod. What you will probably like about the Belkin TuneCast Auto 4 for iPod is its small form factor. Like all FM transmitters, this device lets you listen to your iPod in the car while charging. It employs ClearScan technology to quickly scan and search for the best FM frequency. It also features PRO setting to optimize audio and boost volume, 2 programmable preset buttons, and high-contrast backlit display.
Scosche Digital FM Transmitter and USB Charger
This FM transmitter is quite unique from the rest of the devices on this list for the simple reason that it doubles up as a USB charger for your other devices. It has a USB jack that lets you charge your other devices that use a USB charging cable. This device gets its power from your car's 12V power port and comes with a 3.5-mm auxiliary cable that connects your iPod, iPhone or MP3 player to the transmitter. It lets you select from up to 100 transmitting FM frequencies for finding the best signal. Its LCD display helps you out by letting you keep track of these signals. Of course, the main function of the device is to let you enjoy music from your iPod through your car stereo, and it lets you do that easily.
Aerielle i2i FM Transmitter and Charger for iPod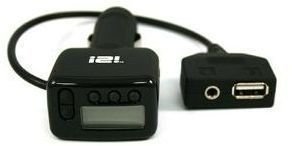 Like the Scosche Digital FM Transmitter, the Aerielle i2i FM Transmitter is also a charger for your USB charging devices. It lets you play your iPod tunes through any available FM radio frequency on your car's stereo using the standard 3.5-mm audio connector. This iPod FM transmitter turns on when audio is detected and operates on full FM band giving you good signal most of the time. What's more, the device uses Aerielle-enabled technology which effectively reduces noises while at the same time enhancing stereo separation for great audio quality. It also has 3 station presets. Another nice feature of this device is that it automatically turns off after your iPod turns off, ensuring that it will not drain your car battery if you forgot to turn it off.