The Best Cheap Touchscreen MP3 Players: Find the Perfect MP3 Player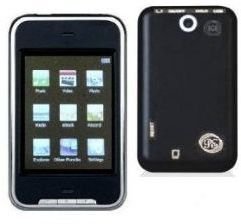 The iPod touch is one of the more expensive mp3 players, but for those who don't want to spend a lot of money there are cheap touchscreen mp3 players available. In no particular order here is a list of the top 10. Please note that none of these mp3 players are actual iPods; some of them are generic versions of the popular device.
Price: $49.99
In addition to playing several types of audio and video files, you can take pictures and listen to FM radio with Pyrus Electronics 8GB MP3 Multi Media Player with Touch Screen and Digital Camera. If 8GB isn't enough for you, there is a slot for a miniSD card. The main disadvantage to buying this player is that if you want to use your favorite conversion software, you can't. You have to use the included converter.
2. 4 GB Coby 2.8 Inch LCD Touch Screen Video MP3 Player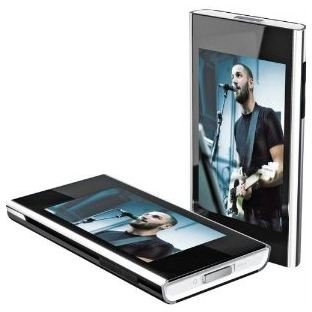 Price: $59.99
Coby 2.8 Inch LCD Touch Screen Video MP3 Player supports all of the standard formats, and you can watch video vertically or horizontally. You can also listen to your favorite FM radio stations. One drawback of this series of players is that if you want more space, it doesn't have a card slot. Coby does offer an 8GB version for $69.99 and a 16GB version for $89.99.
3. Sylvania 4GB MP3 Player with 2.8-Inch Color Touch Screen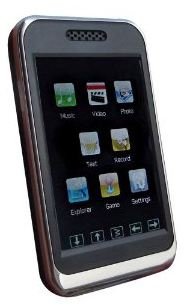 Price: $99.99
Unlike some of the other cheap touchscreen mp3 players on this list, the Sylvania supports rkp game files. At maximum quality, you can store about 2,000 songs and it is expandable with a microSD card slot. A single charge gives you at least 4 hours of video or 8 hours of music.
4. Sly Electronics 4GB Video MP3 Player with 2 Inch Touch Screen
Price: $49.99
This is not an iPod Touch clone! The Sly Electronics video mp3 player has its own sleek design and it has touch pad controls that make browsing through your files much easier. It also has a dual headphone jack so you can share videos and music with a friend. You can store up to 2,300 songs and the microSD card slot gives you up to an additional 8GB of space (4,600 songs).
5. Bear Motion 8GB 3 Inch TFT Touch Screen MP3/MP4/MP5 Player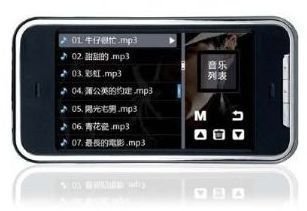 Price: $55.99
Mp5 is the future of personal media players. It allows you to transfer most music and video files to your player without converting them first. This Bear Motion player has a lot of the same features as the other cheap touchscreen mp3 players on the list, but you get 8GB of storage space with up to another 12GB using a microSD card. A single charge will get you about 12 hours of music or 5 hours of video.
If those top picks are making you rave to replace your existing MP3 player with a new touchscreen, then wait a bit longer. Check out the remaining 5 of the top 10 cheap touchscreen mp3 players and then decide which one suits your needs..
6. IBoost 10066-0 Touch Screen MP3/MP4 Player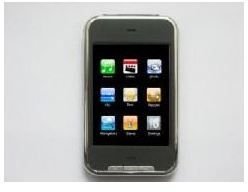 Price: $40
This is another generic version of the iPod Touch. Some of the features that IBoost 10066-0 has and the iPod Touch doesn't are an FM radio tuner, an SD card slot, and the ability to store and read eBooks. Keep in mind that like the iBoost, many of these generic players can only be found on the Internet and a lot of them are by the same manufacturer. You may find the same exact player for a lower price under another brand name.
7. VedeGo 28 Personal Media Player with Touch Screen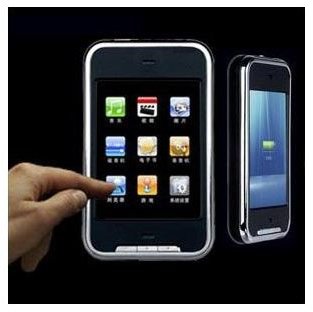 Price: $45
With Vede Go player you can play mp3, wma and wav audio files or listen to your favorite FM station. M-peg 4 (avi) videos are shown in full color. Unfortunately, the VedeGo 28 media player is 2GB and it only supports an external miniSD card. If 2GB suits your needs, than go for it. Otherwise keep looking. Also, you have to use the included software to transfer files; it can get a little complicated.
8. Pro Ebiz 4GB Video MP3/MP4 Player with 2.8 Inch TFT Touch Screen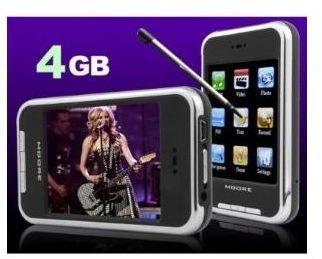 Price: $69.95
You can listen to music, watch videos, play games, read eBooks and more. The built-in memory of Pro Ebiz player is 4GB and you can get up to 2GB more by using a miniSD card. Conversion is required for video files. One thing that turns some people off of this player is that it doesn't have a playlist function.
9. Ricatech 2GB MP4 Player with Touch Screen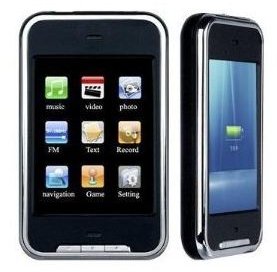 Price: $40
This iPod Touch clone is also only 2GB. However, it does have a SD card slot which gives it an additional 2GB of space. It plays the standard music and video files. The FM radio function allows up to 20 presets and you can record from the radio. You don't need software to transfer files – you just copy them from the folder on your computer to your player. If the low memory doesn't bother you, the Ricatech mp4 player is a good deal.
10. Creative Labs Zen X-Fi2 8GB MP3 Player and Video Player with Touch Screen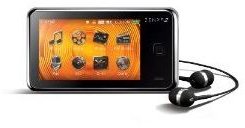 Price: $109.99
Even though this player is pricey, I felt it was important to include Creative Labs Zen in this list of cheap touchscreen mp3 players. For at least $100 less than the bigger brand names you get a lot of good features including: video outputs to connect the player to a TV; it supports a lot of the popular music and video formats (without conversion); you get 25 hours of music playback; and you receive premium earphones that are worth about $40. Most importantly, the X-Fi2 restores audio to achieve better sound and clarity than other players.