Updating iPod Touch Software to iOS 4: Tips on iPod Touch Software Updates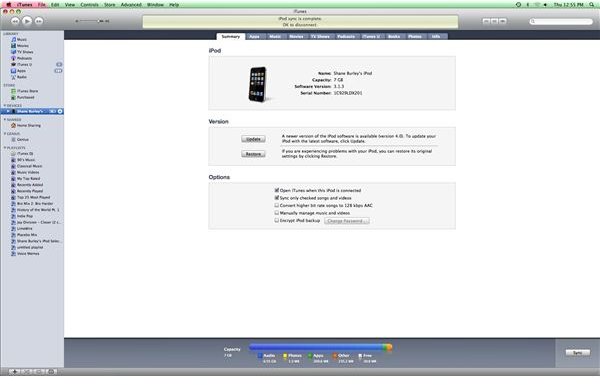 Like New Again
There has been a lot of talk about picking up your new iPhone 4 and updating your existing iPhone 3G or iPhone 3Gs to the new iOS 4, but few people have mentioned the possibility of updating your older iPod Touch. The iOS 4 update does work for the iPod Touch as well, though the amount of features you get from the iOS 4 on the iPod Touch is limited by the iPod Touch's framework. Here is a step by step tutorial on how to update your iPod Touch to the iOS 4.
Plug In
The likelihood is that once the iOS 4 was released, when you plug in your iPod Touch to your computer iTunes will automatically ask if you want to update it. If it does not you can easily go through the manual process. In the left hand panel of iTunes select your iPod Touch from under the Devices heading. In the opening Settings tab you will get the basic information about your iPod Touch. Go to the Version section and select the Update button, which is right above the Restore button. This will give you a pop up menu explaining what is going to happen when you update your iPod Touch to the iOS 4 software, such as the backup of your iPod Touch's content. Select Update in the bottom right of this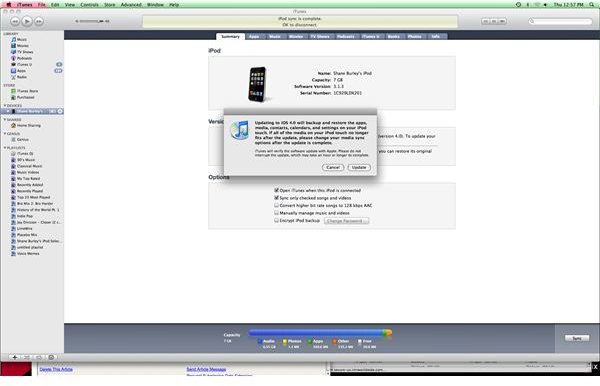 menu.
Menus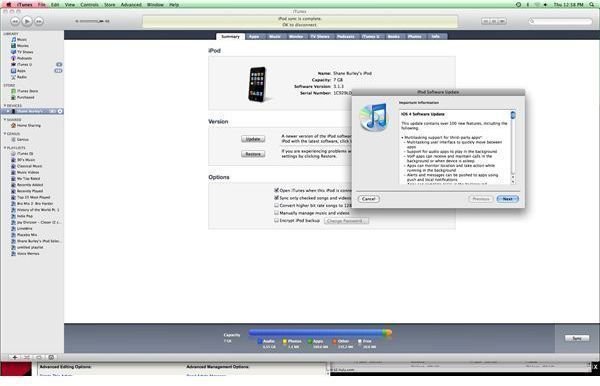 Now you will go through an iPod Software Update menu system where you will first be told what new features you will get with the iOS 4 Software Update, and just press next through that. On the next section you will need to then make sure to press the Update button in the lower right hand corner, and this menu essentially gives you basic agreement information for the software.
Converting Your iPod Touch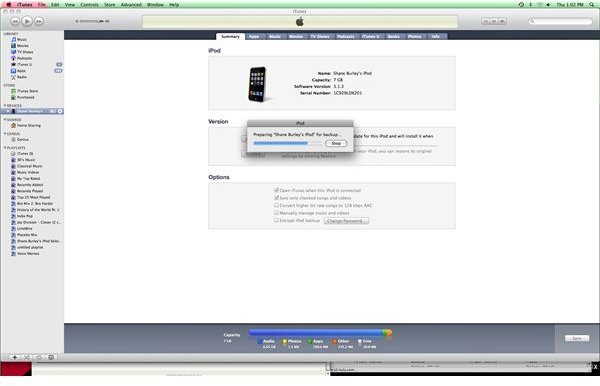 Once you have completed this process your iTunes players will download the software update, and you can view the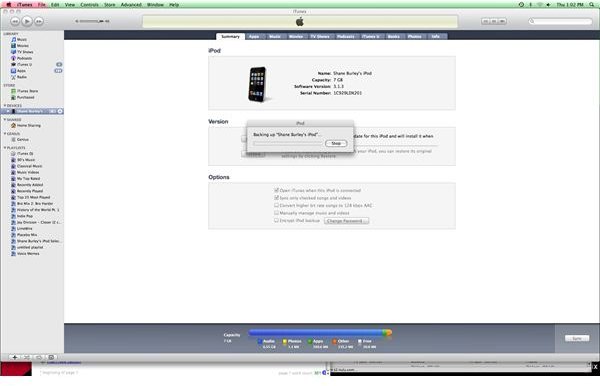 progress in the top play display. It will then process through your iPod Touch, preparing it for the update. This is part of the process of syncing your iPod Touch. This is followed up by backing up your iPod Touch, which is important to save the information before putting in the iPod Touch iOS 4 update. This process is going to take a little bit of time. Once that has finished it will extract the software, and then prepare the iPod Touch for restore. This will turn off your iPod Touch and then prompt it to restart again. You will be able to watch a progress bar on your touch screen while this occurs, so you will know when it has completed. Your iPod Touch will then be returned to its factory settings, and after its restart occurs you will be able to see it back in your iTunes. Once this is done your iPod Touch will then restore itself from the back up you selected on iTunes, which will return all the relevant media and content to your iPod Touch that was lost in the iOS 4 update process. This will take several minutes. After this it will go through a normal syncing process.